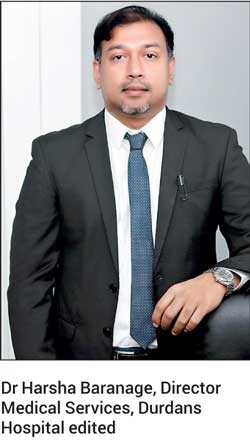 Durdans Hospital is currently involved in developing state-of-the-art healthcare services delivery, with Dr. Harsha Baranage at the helm of its medical services department.

Dr. Baranage said, "The next generation of healthcare will be the integration of technology with highest standards in medical and nursing care using a multidisciplinary approach. The aim is to position Durdans as the benchmark hospital: a single entity with the availability of a broad spectrum of services for patients as well as individuals who would opt for health screenings."

Dr. Harsha Baranage took up duties as Director Medical Services in December 2018. He is focused on further developing the quality of care given to patients by training and developing nursing, medical and allied health staff in a patient-centric environment to meet the needs of the modern patient.

In spite of multiple high quality resources existing in Sri Lanka to meet their needs, many patients continue to travel overseas seeking better medical care. Dr. Baranage is keen to ensure that more patients would receive private health sector care in Sri Lanka by implementing international standards.

Due to the increase in Sri Lanka's disease burden and changing demographics such as the prevalent ageing population, a new outlook is necessary to revamp the healthcare landscape.

Dr. Harsha Baranage also said, "Preventive healthcare in Sri Lanka is still in the preliminary stages when compared with other countries, primarily due to lack of public awareness. Durdans Hospital will be promoting preventive medical services to meet the future needs."

Among Dr. Baranage's many career highlights are included the establishment of the 1st Bone Marrow Transplant Unit in Sri Lanka and an advanced Neuro Surgical Unit which includes the first stroke unit in Sri Lanka.

Dr. Baranage began his career as a medical officer and was later promoted to the post of medical director of Asiri Hospital. He studied at S. Thomas' College - Mount Lavinia and Melton Mowbray College in the United Kingdom and followed his higher studies at Riga Stradins University of Latvia. He holds a master's degree in health administration and MCGP diploma from the College of General Practitioners in Sri Lanka. He is also experienced in achieving health accreditation.