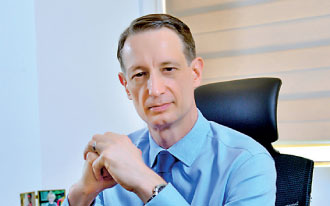 Allianz Insurance Lanka CEO, Country Manager Alan Smee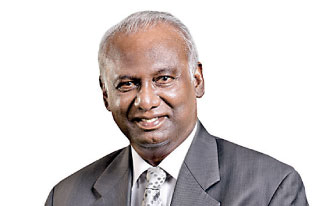 Nawaloka Hospitals Chairman Dr. Jayantha Dharmadasa
---
Leading insurance provider, Allianz Lanka, a member of the global Allianz SE Group, recently entered into a partnership with Nawaloka Hospitals, to provide a range of exclusive and unmatched benefits for Allianz Global Healthcare Insurance policyholders.

A complete medical insurance plan that provides comprehensive pre-to-post hospital care for policyholders and their families, Allianz Global Healthcare Insurance assures high-quality, world-class healthcare anywhere in the world.

The benefits of Allianz Global Healthcare insurance include global hospitalisation cover, COVID-19 cover, special discounts for families, eligibility up to 64 years of age, elective treatment (overseas), medical evacuation and repatriation, 24/7 emergency assistance, direct settlement facilities and much more.

Through the new partnership between Allianz Lanka and Nawaloka Hospitals, this extensive range of benefits will be further augmented for policyholders with exclusive benefits at Nawaloka Hospitals. These include, zero emergency ambulance fees within the Colombo City Limits, discounts on lab investigations at all islandwide Nawaloka Laboratories and Collection Centres, preferential rates on hospital rooms, and further discounts on hospital bills.

Most significantly, the new partnership will empower Allianz Global Healthcare Insurance policyholders with exclusive discounts on health checks, a dedicated relationship manager for healthcare needs at Nawaloka Hospitals and free membership in Nawaloka's Platinum Circle; an exclusive loyalty programme providing even more enhanced benefits, for qualifying policyholders.

Expressing Allianz Lanka's commitment to customers while discussing the partnership, Allianz Insurance Lanka CEO, Country Manager Alan Smee said, "We are committed to helping people protect the most precious things in life, and what could be more precious than your health? It is this passion for providing exceptional insurance products to our customers that inspired us to enter into this partnership with one of Sri Lanka's leading private healthcare services providers, Nawaloka Hospitals.

"Through this partnership, our valued policyholders will enjoy the best level of care and exceptional value, if and when they require medical treatment. Therefore, it gives us great pleasure to announce this partnership with Nawaloka Hospitals, and we look forward to working together in the future."

Nawaloka Hospitals PLC Chairman Dr. Jayantha Dharmadasa also commented saying, "Partnering with one of Sri Lanka's leading insurers, with global backing, gives us great pleasure and pride. As a healthcare provider of choice in Sri Lanka, we provide unparalleled services to all Sri Lankans, and connect those seeking treatment with the best medical professionals and cutting-edge technologies and therapies. The synergies that will arise out of this partnership will no doubt create value for both our organizations, while enhancing the quality of life of our growing base of mutual customers."

Allianz Insurance Lanka and Allianz Life Insurance Lanka, known together as Allianz Lanka, are fully-owned subsidiaries of Allianz SE, a global financial services provider with services predominantly in the insurance and asset management business, headquartered in Munich, Germany. The global strength and solid capitalization of the Allianz Group, coupled with local expertise and business know-how, have been Allianz Lanka's powerful formula for success.