Human life is something we take for granted. We often confuse the quantity with the quality; we think of the number of years that we can live here on this earth without spending much time thinking how we can contribute to humanity. We feature below an interview with an exceptional young person who has turned what could be a depressive situation into a beacon of light not only for herself, but for others.
Thirty-eight-year-old Sri Lankan Shavini Fernando, currently residing in the United States, is the inventor and Founding CEO of OxiWear, a device that monitors oxygen level in the body to help patients such as those suffering from the ailment she is grappling with. This device will also help others struggling with breathing difficulty connected to oxygen inflow to the body such as witnessed in some COVID-19 patients. Shavini describes her invention as reducing insecurity through continuous oxygen monitoring.
Following are excerpts:
---
By Surya Vishwa
---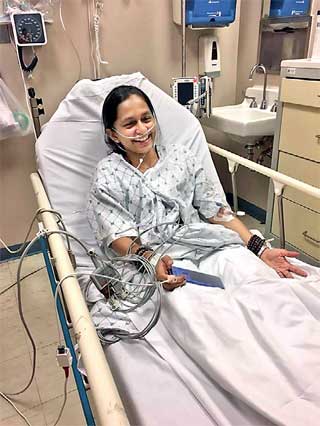 Shavini Fernando, inventor and Founding CEO of OxiWear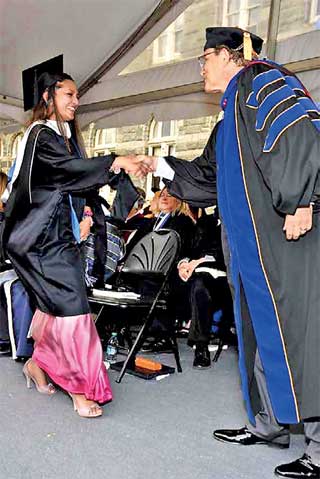 Q: When were you identified as having hole in the heart?

I had breathing issues since I was a baby, but it was diagnosed as asthma. In 2015 when I started turning blue and consulting the Google doctor and figuring out with my friend that there should be a problem with the heart if I am turning blue, I consulted a cardiologist to confirm. It is then that I was diagnosed with a hole in the heart. In 2015 September to be exact on the 21st.
Q:Tell us about your current treatment at the John Hopkins Hospital in the US?

I was diagnosed at this hospital with Eisenmenger's syndrome due to the hole in the heart not being identified in time. The lungs had got severely scarred. As a result of it, due to the clean blood flowing back to the lungs through the hole, there was the need to oxygenate a lot of blood. I was afflicted with heart failure with severe pulmonary hypertension when I got diagnosed. Eventually I will have to get a heart transplant. But they are treating me to prevent the progression of scarring of lungs and to improve the heart function to buy more years for the transplant.


Q: Could you explain about your invention to help patients suffering from breathing difficulty that could impair heart function?

As a patient with pulmonary hypertension, I am prone to silent hypoxia, which is blood oxygen levels falling below safe thresholds without physically feeling it. This has caused me multiple cardiac arrests and strokes due to the dangerously low oxygen supply to my brain and other organs. Therefore, I found OxiWear which is an ear wearable for medical grade continuous blood oxygen (SPo2) monitoring and silent hypoxia alerting and emergency assistance. This is so that we become aware before our oxygen levels falls to life threatening levels and enable us to receive the help we need before it is too late.
Q: Will your machine help the segment of COVID-19 patients across the world who are struggling with breathlessness?
Like pulmonary hypertension patients COVID-19 patients are also prone to silent hypoxia. With our device it will help asymptomatic cases to be identified. For those who have recovered from COVID, and are now with scarred lungs also need to monitor their oxygen levels. So, this device will help those individuals as well, to have an alert system for any silent hypoxic episodes post COVID treatments.

Q: Could you further explain what the doctors say about your health condition?

In 2015 when I just started treatment at John Hopkins I was advised that I will need a transplant within two years. But now with the treatments I am doing much better physically. Therefore doctors believe I can buy about five to 10 years for the transplant. They keep closely monitoring my blood flow in the heart. If it starts to shunt (reverse flow) again I will have to prepare for the transplant as the low oxygen supply to the organs can damage the other organs.

As I need both lungs and a heart transplant, the post-transplant context due to the immune suppression treatments I must follow will mean a high immune deficiency. Therefore, to date the life expectancy of those who had both lungs and heart transplant due to Eisenmenger's has been about five years. But well, you never know. After all I was initially supposed to die in two years.
Q: In a conversation with your brother back home I was told that you have strong views on the role of a purposeful life. Could you please explain further for other young people in Sri Lanka and elsewhere to be motivated to serve the world better?

Do good while you can. The biggest reward you can get is that smile on their face when you help someone. It is priceless. You cannot buy that with money. All we take with us are those good deeds we did and those blessings we received. Not all that wealth and property we cried over for.

If we wake up in the morning, have a roof to stay under and meals on the table we should consider ourselves lucky and be content rather than sulking over what we do not have. That is how you can be content and live your life to the fullest.
Q: I understand that you registered for a Masters in Communication Culture & Technology in the US for the sole reason of creating this machine that will save lives. Could you explain further?

I joined Georgetown University for a master's degree in communications Culture and Technology due to my visa status. When I came for treatments, I had a visitors' visa and with the new Trump administration coming in it was posing a threat to my stay with the B1 visa. As I was unable to go to high altitude, I was not allowed to fly. I had no way of leaving the country So, I had to secure my visa and the only option I had was to study again. I started working on the wearable device. Due to my invention I was able to get an O1 visa which is a special highly-skilled visa that you get without needing any sponsors.

Q: How was your idea to create the oxi-wear machine born?

When I had the cardiac arrest everyone was questioning if it was safe for me to live by myself and to study at Georgetown. Everyone was questioning my independence which I didn't want to lose due to my diagnosis. So, to convince my doctor to let me live by myself I proposed the idea, that "if oxygen levels is the problem for all this, let's monitor blood oxygen levels and trigger an alarm at low levels and call for help, similar to the fire alarm system. You detect the smoke and call for help." He said; "Prove it to me. Do it and in three months let us have this conversation again. If you do it, I will help you." I did it and since then he has been helping with all the clinical side of the work.

Now my doctor at John Hopkins is the CMO (Chief Medical Officer) at my company with the approval of John Hopkins University.
Q: You have lived in Sri Lanka until your 30s. You know that much of Sri Lanka's talent and ideas that young people hold, especially in rural areas of the country, do not get utilised. How do you think Sri Lanka can support young people for creative ideas that benefit the country and the people?

Sri Lanka has so much talent and potential, but they need a support structure for their ideas to be recognised. In the USA the support you get at the initial stage is immense. To date I still have all my legal assistance pro bono. We have other pro bono services and grants that are offered to us so that we can concentrate on the work at the initial stage without having to worry much about money. For legal firms it is compulsory to work pro bono hours. Therefore, the early-stage entrepreneurs can benefit from that. Sri Lanka also needs to provide such support and services both in funding and in kind.

I currently know there is a big startup eco system in Sri Lanka that's supporting the early-stage startups. However, for them to support effectively they need to identify the talent and the potential ideas. For that, school systems, both in the metropolitan and villages should have such programs to identify, motivate and support the innovative talent of those students.


Q: Do you have plans of returning to Sri Lanka in the near future?

I want to but I'm not allowed to. I am trying many ways to see if I can find a multi-stopover flight with oxygen using all six-hour flights. I tested my limits by trying a six-hour flight and I was fine. However it's a bit impossible to find such a flight route to Sri Lanka because to get out of the USA it takes more than six hours. But I'm still trying. One day hopefully.


Q: You describe yourself as someone who does not worry…?

I just enjoy my life and am content with what I have without worrying too much. I've always been a happy-go-lucky person and I believe your brain and your thoughts can control your body like you use your CPU in the computer to program and control its functions. That's the motto I live by.

I just love to talk to people. Not just my friends. I smile and talk with everyone I meet; the homeless, the bus drivers, the nurses and doctors I meet at the ICU and ER, cleaning staff in the apartment and university. Literally everyone I meet. So, I have so many friends at different levels. Whatever the level they are at they are all the same for me. So, when I call the ambulance the EMR people know me, the nurses and radiology people know me. They remember me because I talk with them.

You should smile with everyone and always be kind. You should treat people the way you like them to treat you. Smiling at someone or just saying 'hi' will not cost you anything. Therefore, even when I get myself locked out from the apartment in the middle of the night, I do not have to worry. There's always someone to help me.

I try to help people in the smallest way, and I love to give things to people the way I can just to see that smile on their face. I can't afford to help in big amounts but the smile on a homeless person's face when he sees me bringing a sandwich and a bottle of water is so much more precious than me spending those 10 dollars on something useless. Those are little things anyone can do. It just genuinely has to come from the heart. I wish I had more money to help. Well one day when OxiWear is out maybe I can do more.
Q: At a practical level how can one be as happy as you?
Oh, I just don't waste my blood over thinking unnecessary things that I have no control of. Why burn blood and get your hair grey thinking too much about things you have no control of? If worrying is going to fix my heart and lungs and reverse the things to how it should be; yes! Then I should worry.

Otherwise, why get wrinkles and grey hair? You might as well enjoy life and live your life to the fullest while you got it and look at the positive side of things, because you never know; tomorrow you might die by slipping on the ground or something completely unexpected.

I think of the fortunate side of my situation. I get extra two hours of parking due to my handicap status. I can cut the line due to my oxygen canula. The cops do not give me tickets as they feel bad to do so. I get special handicap discounts on transport. The bus drivers stop for me whenever they see me running for the bus. What more can I ask for!

If something was taken away from you that's because there is something better coming your way. If I did not get Eisenmenger's I would not have even thought of OxiWear. So I just try to look at things in a positive way rather than negatively.

We are like magnets. If we are positive, the universe will send all positive things to you. Likewise if you are negative all negative things will keep happening in your life. When you have a positive outlook in your life you will see how much happiness you can find in little things.


Q: What are your religious beliefs and how did this shape you to who you are?

I am a Buddhist. I try to live life as said by the Buddha. So, I very much believe in karma. I believe that heaven and hell that many religions have said are both on earth. You do good and be kind to people and the universe will do the same for you. But I do not believe in helping people expecting anything in return from them. It should come from the heart. Not with an agenda. If there is a hidden agenda behind your help, I do not think it's genuine. Because at the end of the day it is the thought that matters. No matter how small the help is it has more value than a much larger help that has a hidden agenda.