By Aysha Maryam Cassim
When I first caught a glimpse of the orange trees that lined the streets of Granada, a good old Sinhala rhyme resonated inside my head. A little boy who sees a sweet orange tree that is abundant with fruits sings it.
Me gasé boho

Pani doodang thibé

Pahila, Idhila, Bimata Namila

Barawela Athu…
I was seated by the window, gazing in dismay at the ripe oranges fallen on the piazzas, waiting to be swept away by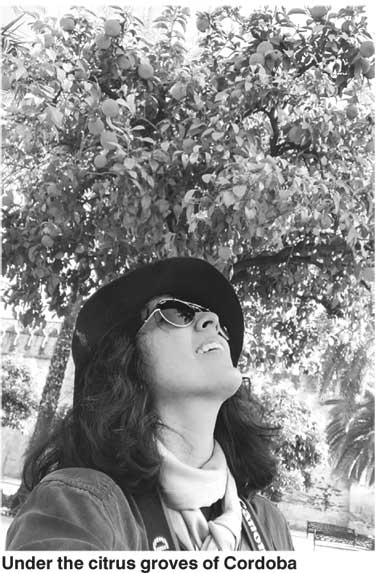 the street cleaners. The story that I am going to tell is sadly not about any pani dodang (sweet oranges).

Once upon a time, Sri Lanka was famous for its Bibile Sweet and Kotté oranges. It is believed that the British have attempted the cultivation of sweet orange during the colonial times. However, in 1950s a terrible disaster befell local orange trees and the entire orange cultivation collapsed. Since we have a limited variety of citrus fruits,

Jaffa oranges, mandarin and grapefruit are usually imported from neighbouring countries. The ones sold in markets and street-side fruit stalls are quite expensive and not so fresh. Orange is an exotic, expensive fruit for us in the tropics. Maybe that's why I couldn't resist at the sight of those bright fruits hanging like chandeliers all along the alleyways. I was sorely tempted to pluck a few and bite into the juicy goodness of oranges. But I am glad that I didn't.

I was curious as to why the Andalusian passers-by did not find these oranges as fascinating as foreigners did. To this question, my good friend from Granada, Carmen gave me a wonderful explanation.

"My English friends some years ago, asked me in total surprise why people from Andalusia never picked up the oranges for private consumption. I never realised that before and I start thinking of it since marmalade is very appreciated and expensive in England. Later, I got to know that the City Hall of Sevilla picks them up annually and sells them, which is a good idea, taking into account they collect 700 tons! The orange trees in the streets is something very Spanish and very Andalusian. The fragrance perfumes our spring days and summer nights and the orange tree flowers aka azahar used to be a symbol of purity and virginity in the recent past (till the '70s-early '80s) so, brides use to have them in their wedding bouquets."


Around Andalusia
The beauty of enchanting landscapes that Paul Cezanne canvassed in his post-impressionism paintings always captivated me. Most of his masterpieces were based in his native home, Provence, France. There is something magical about Mediterranean landscapes which are embroidered with details and features that conjure up images of ancient Moorish archways and enchanting gardens.

During early spring of this year, I set out on a journey towards Andalusia, the southern region of Spain. The seven-day tour covered Granada, Cordoba and the Andalusian capital Seville.

It's easy to fall in love with Andalusia. The southern part of the country certainly delivers plenty of enchantment. Old cities like Granada and Cordoba still maintains its authentic Spanish charm flaunting its picturesque patios, pebble mosaics, fountains and ornate flower pots.

The streets of Southern Spain are friendly to the wayfarer as well. As you wander along the narrow alleyways, you would sense the ambrosial aroma of the orange blossoms wafting through the atmosphere. Oh, How I wish I could teleport myself to Plaza Trinidad in Granada, sipping a sangria under an orange tree now!



"Seville Oranges"
Oranges have become an emblematic fruit in Andalusia. These famous bitter oranges are known throughout the world as "Seville Oranges" and were first introduced to Europe by the Arabs.

The first sour oranges were reported to be growing in Sicily in 1002 A.D and In A.D 1000 Moors brought sour oranges to Spain. Today Seville is home to more than 14,000 bitter orange trees. The lush green trees provide shade in all seasons.

During Spain's Islamic history, Moorish poets praised the bitter orange tree and its blossom and the pungent fragrance of Aazhar was used to make perfumes. (Its essence, neroli, used in perfumes such as Agua de Sevilla, has anti-depressant properties.) Usually, these white orange blossoms appear in winter and infuse the city with its charming scent as a welcoming agent of Spring.


Marmalade
"I came all the way in a lifeboat, and ate marmalade. Bears like marmalade," said Paddington Bear, when talking about his journey to England from darkest Peru.

Marmalade on toast with Earl Grey Tea. Sounds like the perfect Famous Five picnic spread that is so very English. Brits love their marmalade! Did you know that delectable marmalade jam is made out of Seville oranges? Seville oranges have a thick, rough skin that is slightly loose. It is not a fruit that is meant to be eaten fresh. The flavour is very pungent and tart.

As my friend Carmen said, once the sour oranges ripen, the City Hall of Sevilla harvests around 700 tons of oranges and ships them off to Britain. It is said that Sevillanos are astonished the British actually want to use their bitter oranges to make marmalade. There is an interesting history behind Seville oranges and marmalade jam.

The story goes that marmalade was invented in 1700, when a storm-damaged Spanish ship, carrying Seville oranges, sought refuge in Dundee Harbour. The cargo was sold off cheaply to James Keiller, a down-on-his-luck local merchant, whose wife turned it into a preserve – Telegraph.co.uk.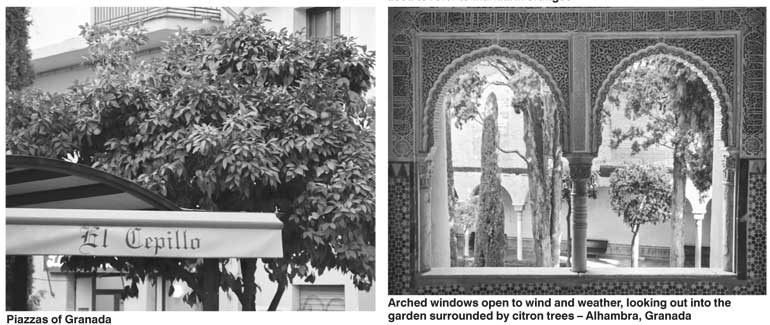 Orange orchards in Alhambra and Alcazar
It's historically documented that the presence of sour orange trees in Seville Orchards existed before the 15th century. Andalusian orange trees are as much an integral part of the landscape as the Gothic archways, Moorish minarets and roofs and steeples of its Royal palaces. The ornamental oranges trees have been gracing the courtyards of Jardines of Alhambra and Alcazar for many centuries.

At the time of the Seville conquest (in 1248) the presence of sour orange was very common and it had been already used as an ornamental tree in the square of Cordoba mosque. It's a traditional belief that D. Pedro King planted the oldest sour orange tree presented at the gardens of Real Alcazar, Sevilla. This tree is believed to be more than six centuries old.