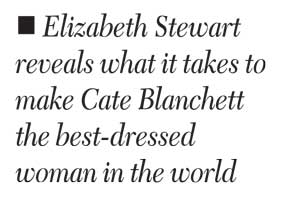 Harper's Bazaar: I've been styling Cate Blanchett for more than eight years. Because of her crazy schedule, she doesn't have a lot of time for fittings. She has a very, very busy life—she has four kids—so she tends to come in for a fitting right before the event. I really have to know what she's going to like.

On a typical day with Cate, I wake up at home in Santa Monica with an internal alarm, because my body tells me I have to get up, and I check my e-mails. No day ever starts without getting out my computer immediately, because I deal with Europe so much—particularly Paris—and often Australia. I wake up to about 1,000 e-mails in the morning because I'm cc'ed on everything. I would say that there are 20,000 unread e-mails in my inbox.

What I love about e-mail and why I try to do everything that way is because I can deal with it anytime. If I wake up feeling anxious—which happens sometimes, say, at 4 a.m.—I can get up and deal with things and make things happen. Cate and I e-mail three to four times about dresses before we meet, so there have been some back-and-forth and images exchanged.

Normally we try to prep all the clothes the night before a fitting because we often start very early. We do whatever we need to do—I've had fittings at 2 a.m. I myself am the laziest dresser. I don't like to spend any time thinking about what I'm wearing, which is why I wear dresses. I wear sandals in the summer and boots in the winter, and I own a million of the same thing—I'm very loyal to my favourite brands. It's very repetitive, but I think a lot of stylists operate that way.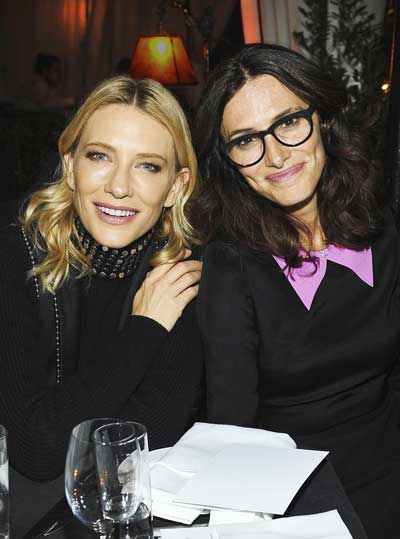 The preparation for an awards show is always ongoing because there are a lot of custom things involved. Early on, I start working with many designers and build a skeleton plan for the awards season. It's really important to get a plan in place for awards season and lock it in—and then we can change it. And we do change it, like crazy. But I can only feel relaxed if I have a plan in place.

When Cate and I are together, we're looking for pieces for several events. We'll do our fitting in Cate's hotel, my studio—wherever works. I always have Katie, who is my first assistant and right-hand person, with me. I have a permanent team of three, but during awards season I usually have extra people come on, and I also get an intern. That's how Katie started working with me—she was my intern one awards season when I did Jennifer Lawrence, Michelle Williams, and Cate.

Today was a usual day working with Cate: She landed from Sydney, and we went right to work on what she would wear for some upcoming television appearances and the New York premiere of Carol. I had around 10 dresses to show her, but they were a solid 10 dresses. We have to be very quick when we're together—we never have the luxury of a three-hour meeting. We fit about 20 events in less than an hour. Pictures are very critical during the process; we photograph everything. If I'm sending her off on a press tour, everything's packed together, and there's a PDF that describes exactly what the dress is, what it's for, what accessories go with it. It's very well documented.

One of my most memorable moments with Cate was one year at the Oscars when she was about eight months pregnant and wore the Dries Van Noten dress. She arrived that morning and tried on her dress for the first time, and then wore it. She's really decisive. Six months before, literally all she said was, "I think I'd like to wear Dries to the Oscars," and that was that. It just went from there. She will just drop something, and I'll go with it.

She also loves new designers, so we really stay on top of that as well. For example, she wore this tattoo dress by Yacine Aouadi in New York, then an Esteban Cortazar piece to the London premiere of Carol. She is intensely curious; she'll send me an e-mail about a designer and say, "What about this person?" And it's always someone I've never even heard of, which is amazing.

After the fitting, we're in the car, going to different events. We all eat in the car, or wherever we are. Everyone gets very mad at me because I always want to get In-N-Out Burger. Once I was in Tokyo with Cate and the whole team, and they all love sushi, so that's what we ate every day for lunch. By the 10th day, I was so sick of it that they got me a burger from room service. The burger actually wasn't that good.

Keep in mind, we're also driving around with the big gowns in the car—they have to get from place to place. Cate's team travels in the same car, so we'll plan and chat about all of her upcoming events. Recently there was a dress designed for Marc Jacobs's spring show, which for one reason or another did not make it onto the runway. When we were searching for a dress for the 27th Annual Palm Springs International Film Festival Awards Gala in January, they sent it to us as an option, and we loved it. Procuring something previously unseen for the red carpet is always a thrilling moment. It's a stylist's dream.

I also currently work with Jessica Chastain, Amanda Seyfried, Julia Roberts, Viola Davis, Rebel Wilson, Sandra Bullock, and January Jones. I do what I have to do to balance all of my clients. I have a great team, so we often divide and conquer. If I finish the day early enough, I love to go home and have a fancy cocktail. I have a really expensive bar with different brands of gin and fancy bitters. I make gin-based straight-up martinis, all sorts. I love a Cheeky Negroni: one part gin, one part Lillet Blanc, one part Aperol.

Don't laugh, but I play mah-jongg with a lot of fashion people, including Brian Wolk and Claude Morais of Wolk Morais, Hal Rubenstein, photographer Robert Trachtenberg, and makeup artist Jeanine Lobell. Julia Roberts plays, and Riccardo Tisci actually made her a special mah-jongg board. Mah-jongg sets are beautiful, which is why fashion people love them. I have six vintage sets. We play at least once a week.

Beyond that, sadly, the only routine I have before bed is that I'm on my e-mail. That's the reality of my life. It's hard to see my kids during awards season. I see them every morning unless I have an early call time, though. In fact, my first styling business of every day is helping my 17-year-old daughter, Ivy, with her school outfit. Almost religiously she will come in and ask me what I think of her shoe choice or her sweater choice. No matter what I say, though, she doesn't like the answer. So usually I say something back like, "I'm a big stylist."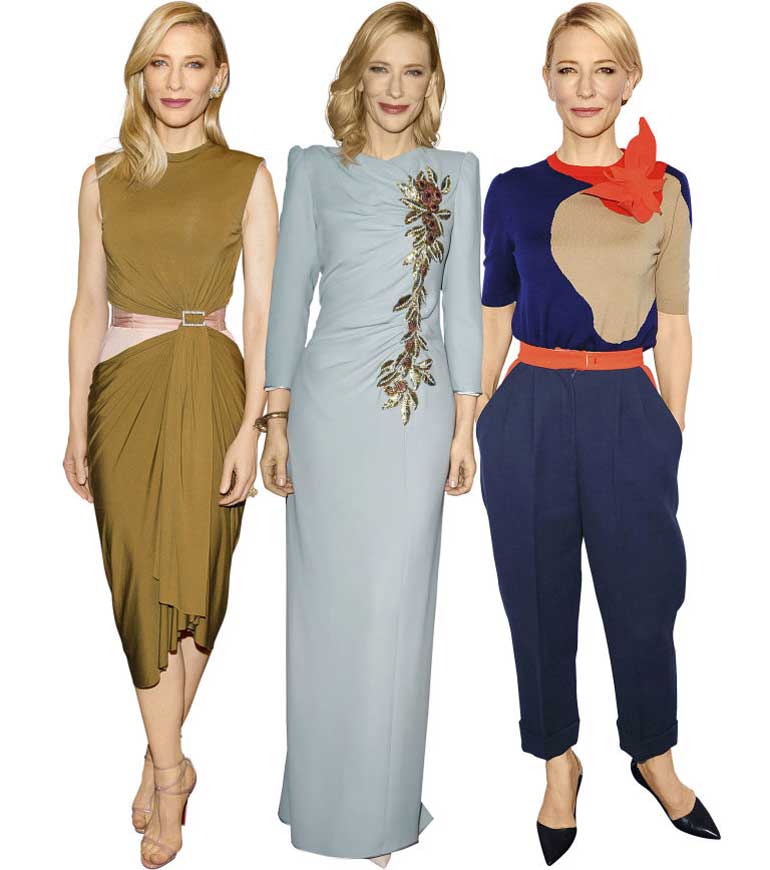 From left - Cate Blanchett in Lanvin, Marc Jacobs, and Delpozo