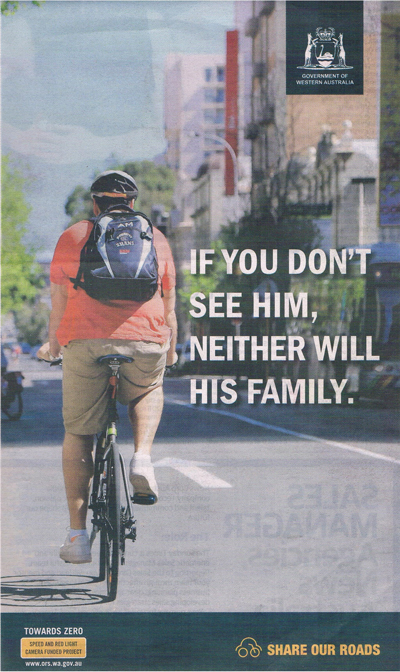 'If you don't see him, neither will his family'. This was the text I noticed in an advertisement in a West Australian newspaper featuring a cyclist. It was aimed at motorists advising them to be careful when they drive.

Cycling is very popular in Australia. People ride to work. Students cycle to school. So do undergrads to university. They go on cycling trips. And for many cycling is a good exercise. So they cycle to keep fit.

In most States, there are cycle tracks on roads and parks. Cyclists are expected to use these tracks and generally all of them do.

Cyclists and drivers are constantly kept reminded on the need to be safe when riding and driving.

Here are some typical safety tips for cyclists:
Obey the road rules.
Keep to the left and ride at least one metre clear of the kerb and parked cars.
Look for people opening car doors in front of you.
Be seen: during the day wear bright coloured clothing; at night wear light-coloured clothing and use a white front light and red rear light.
Look for other vehicles at intersections – never assume a driver has seen you.
Ride predictably in a straight line and signal your intention to turn or change lanes.
Riding two abreast is legal.
Here are safety tips for drivers:
Scan the road for cyclists.
Look for cyclists when turning or entering an intersection and give way as you would for any other vehicle.
Before opening your car door look behind and check blind spots for cyclists.
Do not drive, stop or park in a bicycle lane; you can cross a bicycle lane to turn left, enter private property or park in a parking lane.
Cyclists can legally ride two abreast – be patient as you approach and overtake only when safe.
Give cyclists plenty of room – a minimum of one metre clearance when overtaking.
These sound pretty ordinary but being reminded obviously help to lower the rate of accidents.

The state governments promote employers to create cycling-friendly workplaces. In South Australia, for instance, employers are advised to gain a reputation for being a healthy and environmentally responsible place to work. Cycling reduces sick leave, they are told.



At the same time the employees are told that cycling to work will incorporate valuable exercise into their daily routine. They will save time and money while gaining health and wellbeing benefits such as being healthier, happier, and more productive at work.

'Contribute to reducing greenhouse emissions, road congestion, noise and parking problems' is another piece of advice given to them.

In giving tips to employers on how to encourage and support employees to cycle, it is pointed out that a lack of facilities is one of the greatest obstacles preventing people from cycling to work. They are advised to provide good quality facilities that include secure bicycle parking and changing rooms, lockers and showers. It is suggested that a survey be conducted among employees to know about their current and potential needs, and an audit conducted on current facilities.

Good facilities encourage riding to work, it is stressed.