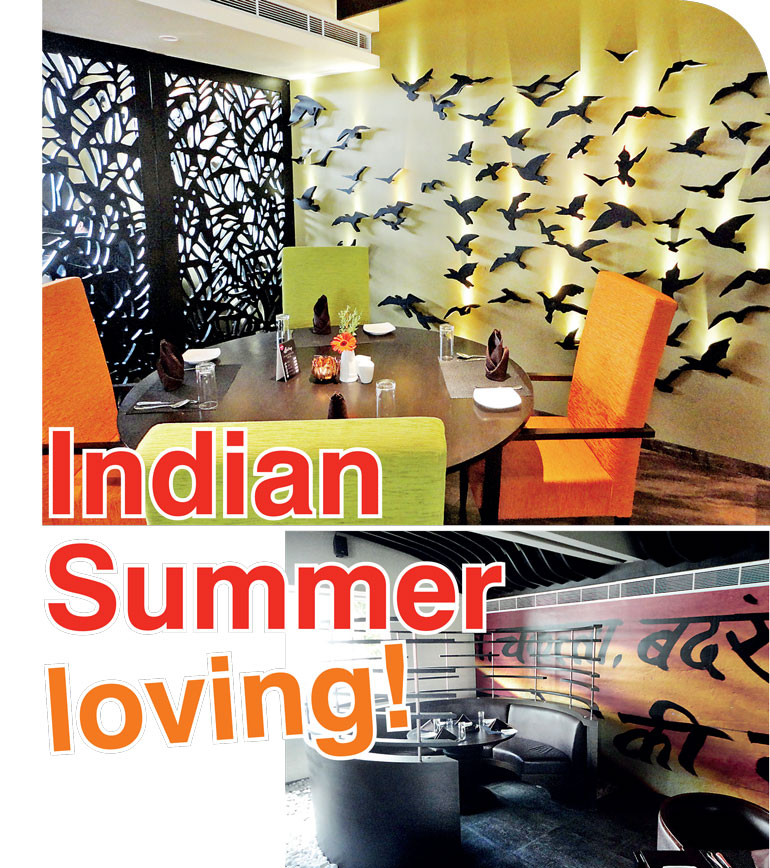 By Madushka Balasuriya

Located on premium Horton Place property is the newest proprietor of Indian food on the block: Indian Summer. The restaurant is a fully-fledged franchise in the Middle East with establishments in Saudi Arabia and Dubai, and plans afoot to open in Bahrain.

In this Colombo branch, 'summer' is what comes to the fore on first impression. Walking in off the street, you're greeted immediately with the restaurant's spacious alfresco seating area; comfortable chairs placed on a floor of white rocks, positioned under a light Plexiglas roof, flanked by plants and streams of cascading water on glass panels. Indian Summer does a commendable job of prying your mind from the whirlwind of noise that is Horton Place.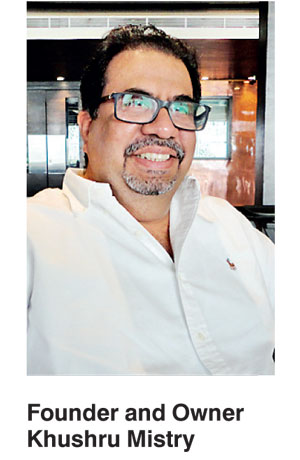 But if the outdoor seating is a suitable distraction, stepping inside the establishment is a veritable gateway to another world. The devil is in the detail, or so the old saying goes; double doors in between the dining area and the kitchen to keep out the pungent aroma of Indian and Chinese cuisine leaves no doubt as to which side of the idiom Indian Summer lies. Indeed, they pride themselves on preserving the atmosphere they have worked so hard to create.

"If we wanted short-term returns we wouldn't invest a million dollars on decor and things like that," enthuses Founder and Owner Khushru Mistry proudly, joining me and my dining companion for our meal.

And that investment is no more evident than with the interior decor, which impresses from the moment you make your way through the hulking wooden front doors. Several traditional Indian ornaments are placed tastefully throughout the restaurant, while an upstairs dining area has, according to Mistry, "a different look and feel" – especially at night – when the ceiling lights mix with the traditional Indian music to transform the scene into a sultry Indian summer under the night sky. Private booths are also available for those who prefer a quiet meal away from prying eyes.

"We don't target any particular segment, but the segment of people who come in here is the crème de la crème," says Mistry, alluding to several high-profile patrons, albeit never by name. But while customer retention is not a problem, he realises more needs to be done to get new faces through the door.

"To me we haven't really shouted out loud enough. Because even when we did a grand opening, I always preferred to not shout, to do a very soft, smooth opening. You know, gradually let the people come in and increase by word of mouth and things like that," he explains.



"We've seen growth month on month, but we're still coming across people who say 'wow, lovely place but we didn't know you existed!'"

However, despite the lack of significant footfall, the property is well-equipped to handle the boom if and when it arrives. A valet parking service is available with a plot of land rented across the street to accommodate up to 60 vehicles, while an active social media team and imminent plans to expand to Nuwara Eliya and Kandy show that the relatively slow uptake hasn't deterred any long-term goals.

Meanwhile, on the service front, Mistry's attention to detail extends to his staff who take a keen interest in learning and adapting to the local palate; food tasting trials are commonplace, which fittingly brings us to the meat of this review.


Menu

Let's begin with the menu: 64 Indian items and 36 Chinese was the official count, but a quick glance through left us with the impression that the count may have erred on the conservative side. We ended up taking their word for it, but suffice to say, the menu is vast.

The menu itself has some nice touches: lots of pictures to accompany popular dishes plus a neat list of key herbs and spices under the headline 'Soul of Indian cuisine', all of which we're told are imported from India to ensure the utmost authenticity with regard to flavour.

The Chinese food meanwhile is not your usual Sri Lankan-Chinese fare, nor is it authentic Chinese cuisine. Mistry was at a pains to emphasise that what we were getting is authentic Indochinese cuisine, which I took to mean Chinese dishes cooked using Indian herbs and spices. So with that titbit in tow, on we went to rifling through the menu.


Starters

Unfortunately due to the size of the menu and our relatively limited knowledge of Indian cuisine (naan and butter chicken aside, of course!), we decided to let our hosts pick out a few select dishes. To start was the Manchow Soup, an Indochinese staple. "A spicy soup topped with fried noodles" was how it was described in the menu; an undersell if there ever was one.

The level of spice was finely poised, never straying into eye-watering territory but at the same time not so mild as to compromise on flavour. The fried noodles can best be described as the Indochinese variant of croutons, adding just the right amount of crispiness and texture. Safe to say, never have I enjoyed a mixed vegetable soup as much.

Next we were treated to a specially curated assortment of appetisers: Paneer Tikka and Stuffed Mushrooms were the vegetarian options, while on the non-veg front we had the Reshmi Kebab and the Mutton Sheek Kebab.

The Paneer Tikka is essentially cubes of cottage cheese mildly spiced and barbecued; cheese goes well with most anything and this was an easy winner. The mushrooms stuffed with cheese and herbs, cooked in a slow tandoor, were equally cheesy but offered more flavour and a sumptuous texture. Both vegetarian dishes dovetailed perfectly with the meat, as the cheesy and slightly sour flavours complemented the chicken and mutton perfectly.

Which brings us to the meat: the Reshmi Kebab consisted of tender pieces of chicken marinated in cream and yogurt along with other Indian spices, and barbecued for good measure. My dining companion, who has an open distaste for chicken, found it palatable and on the whole enjoyable. A compliment of the highest order! The Mutton Sheek Kebab meanwhile, which comprised of minced mutton blended with Indian spices and barbecued over live coal, was easily my favourite with each mouthful bursting with flavour and the perfect degree of moistness present throughout.


Mains

For the mains we wasted little time in asking for Naan and Butter Chicken, arguably the most commonly ordered item combination by Indian food loving Sri Lankans. The rest we let the staff decide, with us eventually settling on the Malai Kofta, a new dish on the menu; the Mutton Biriyani; Szechuan Chicken Rice; and the Szechuan Prawns.

Starting with the butter chicken, it was refreshing to see that they had refrained from going overboard on the colouring; it was still orange but not so much so as to stain your fingers for days. Flavour though was where the dish really shone; the chicken was tender and the creaminess and flavour of the curry was just screaming to be mopped up by the soft naan bread.

Definitely one of the better butter chicken dishes I've had in recent memory, even though portion-wise, it seemed a little light with regard to chicken pieces. However this may have very well been down to the fact that these dishes were especially made-to-order so that we could try as many items as possible.

Now if they had skimped on the colouring for the butter chicken, they piled it on for the Szechuan Chicken Rice. At first it seemed as if the whole dish was just orange rice, with the chicken barely visible beneath the burst of colour. However once you get past its questionable appearance, the dish's true beauty shines through.

Enough flavour to eat on its own, but works just as well with the prawns (more on that shortly), butter chicken or any of the other meats we had left over from our starters. It even went well with the one vegetarian dish we ordered, the Malai Kofta: a potato-based dish sweeter and less spicy than the butter chicken but delicious nonetheless.

The Mutton Biriyani meanwhile was one of the better biriyanis around, and went well with most of dishes especially the prawns. Which brings us to our favourite dish, the Szechuan Prawns. Sri Lankans are no mugs when it comes to judging seafood, and a good prawn dish goes a long way towards securing return clientele. No surprise then that Indian Summer proudly boasts a loyal customer base. Its sizzling presentation expertly built up anticipation while the texture and flavour hit it out of the park. The prawns were juicy, not too chewy and brimming with delicious Szechuan sauce. We couldn't get enough.


Dessert

Indian desserts are known for their heavy nature, therefore we approached this section with caution. All the expected Indian staples were available including Hot Gulab Jamun, Rasmalai and Kulfi. We went with the Kulfi – a homemade Indian ice-cream – and Darsons – honey-tossed fried noodles with ice-cream.

The Kulfi was creamy yet light, with hints of cardamom always present but never overwhelming. The serving portion was just as advertised on the menu. The Darsons meanwhile was served on a flat, rectangular plate where a mountain of honey-tossed noodles were accompanied by a generous scoop of ice-cream. The flavours combined well, though the presentation meant it was a bit cumbersome to eat.


Conclusion

Following heavy investment in both the property and staff recruitment, Indian Summer might not have caught on as owner Khushru Mistry may have liked since its December 2014 launch, however this does not seem to have fazed him at all.

In fact, Mistry exudes the quiet confidence of a man who has been there and done it all before. "Our strength is food, our strength is service," he points out in no uncertain terms as he goes on to highlight Indian Summer's offerings of both delivery and outdoor catering (tandoori oven included) services.

Add to this their well-trained, proactive staff, ambitious expansion plans, regular food trials and their commitment to sourcing authentic ingredients from India so as to offer as quintessential a North Indian cuisine experience as possible, and Indian Summer look increasingly capable of thriving in the long-run.