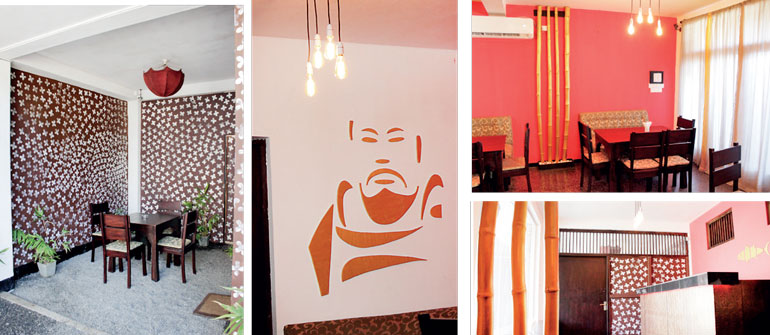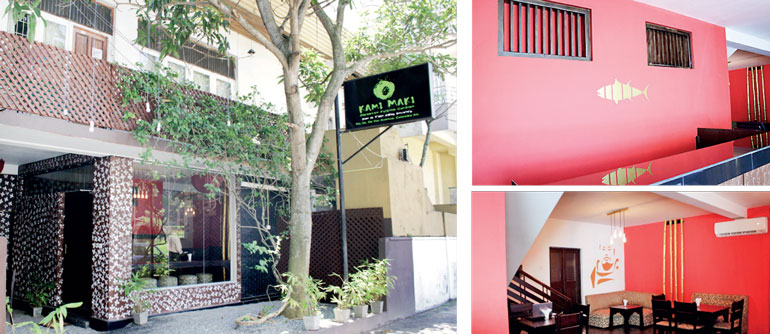 By Shiran Illanperuma

You can likely count the number of Japanese restaurants in Colombo on a hand or two. But try finding some with affordable prices and a variety to sate both Japanese cuisine connoisseurs and naysayers alike? Well then the gamut narrows even further. But Kami Maki stands out.

The deceptively humble outlet once located on Jawatte Road has moved on, setting up shop in De Vos Avenue in Bambalapitiya with spruced-up decor and gastronomical inventions on the menu. Unable to keep up with demand in their previous digs, the new location boats a 20 space parking lot across the road, seating room for 47, a private dining area and an upstairs area to be opened in three to four months.

"What we wanted was a more comfortable setting where you can come and relax. The other place had a very corner shop vibe but this one is more lounge-like for groups to have a good time," says restaurant Director Thosshan Ediriwira.

However, Kami Maki's shift came with a sneaky drawback that Ediriwira didn't see coming. "Once we opened here on 12 September, a copycat place popped up in the same location four days later. We had one cook, two kitchen hands and a waiter of ours who left and joined that place, so this was obviously planned for some time," says Ediriwira.

However Ediriwira remains confident that while the new joint may attempt to copy the aesthetics of its predecessor, it will not equal Kami Maki's spread. "They can't compete with our taste and recipes because we've got it all here," he says.


A culinary kamikaze

The Kami Maki menu features all the same favourites but with a few added items and tweaks to presentation. Much to the management's credit, prices of old dishes have remained unchanged despite the move to a larger locale.

According to Ediriwira, the crunchy salmon sushi is the fastest moving roll on the menu. When it arrives, one sees why. Dripping with a spicy tomato based mayo, the dish is visually stunning. On first bite the supple rice gives way to the fishy umami of salmon and then the playful burst of crunch foretold by the menu. Crunch is a sensation not often found in sushi but somehow this dish made it work. Ediriwira's lips remained sealed when pressed for more information on what exactly contributes the mystery crunch.

This next dish announces its arrival with a pungent, spicy aroma of shichimi (a Japanese chilli powder mix) and garlic cutting through the heavy musk of the cinnamon air freshener. In Ediriwira's own words the shichimi-garlic fry (in this case the tofu variation) is, "something like a hot garlic thing you would get at a Chinese restaurant". Indeed the stir-fry evokes your typical Lankan 'bite' or 'devilled' dish. Slathered in shichimi the spice in this fiery red dish tends to sneak up on you.

The only thing missing was a tall glass of beer to wash it down. Something that Ediriwira says is unlikely to happen as the restaurant – being flanked by a school, temple, church and mosque – wouldn't get a liquor license.

What follows is a dish that Ediriwira says is "traditional Japanese street food" and indeed one that is very hard to find in Sri Lanka compared to you sushis, sashimis, teriyakis and tepanyakis. It's called okonomiyaki – roughly translating to "as you like it", a savoury Japanese pancake chock full of eggs, meats and vegetables.

I've ordered the seafood variation, rioting with mystery meats, doused in mayo and with pungent bonito flakes crowning it, the dish is an achievement in seafood excess. Yet despite this generous serving the dish lacked balance – something that should be at the core of any Japanese or Japanese-fusion endeavour. The overwhelming flavours of the okonomiyaki saturate the palette requiring frequent cleansing with a spoonful of rice or a glass of water. In fact getting a clear feel for the taste and texture of the pancake batter itself was nigh impossible.

Another new dish to the menu is a Japanese staple that Ediriwira claims to have introduced to the island. "The rice burger is our signature dish and fastest moving item," he says.

A novelty in the Sri Lankan market, the rice burger features two rice patties serving as the buns for a generous helping of meat, once again slathered in mayo and sauce. The presentation is once again impressive, with an emphasis on colours and generosity.

The rice buns have a wonderful texture, being crispy on the outside and sticky-soft on the inside. The meat however – in this case mutton – was tiringly tough. While Kami Maki imports a lot of its higher end fish (like salmon), its mutton is locally sourced and despite being well-seasoned, disappointed the rest of the dish with its chewiness.

Rounding off our journey through starters and mains was a prawn donburi – by far the sleeper hit of the meal. There was nothing particularly flashy or outlandish about it but the gentle crisp of sliced vegetables, the wet pop of juicy prawns and the creamy texture of a medium-done omelette all sitting on a bed of sticky rice was hearty and intoxicating. This donburi is as balanced as they come, the medley of aromas, flavours, and textures feeling like a warm hug in a bowl.

The meal ends on a sweet note with panko crusted banana fritters and a dense chocolate ice cream. The selection of desserts on offer does not compare to the broad array of mains, starters and salads but these more than satisfy a post-meal sugar craving.

The banana dish is generously loaded with bananas, with the outer layer perfectly crispy and crunchy, giving a way to juicy centre cooked just the right amount. A drizzling of honey and a scoop of vanilla ice cream balance the dish. The chocolate ice cream comes drizzled in chocolate powder and slathered in chocolate sauce. This nuclear level explosion of chocolate will no doubt earn the praise of chocolate lovers everywhere.


Turning Lankans to Japanese

With a new location and a new focus on customer comfort and pleasing presentation, the next phase in Kami Maki's evolution seems promising. The menu, which Ediriwira says feature items mostly concocted by him and his team, is extravagantly diverse and surely able to satisfy even the pickiest of eaters.

The array of dishes on offer – while guided by a Japanese aesthetic – draw inspiration from Western forms and the heavily-spiced palette of local cuisine.

Ediriwira's thoughts on Japanese cuisine are respectful but realistic. "Japanese food is something that you either love or hate. If a group of friends try to go out for a meal, there will always be a few who say they don't like Japanese and don't end up coming. Our idea with fusion is to have something for everybody."