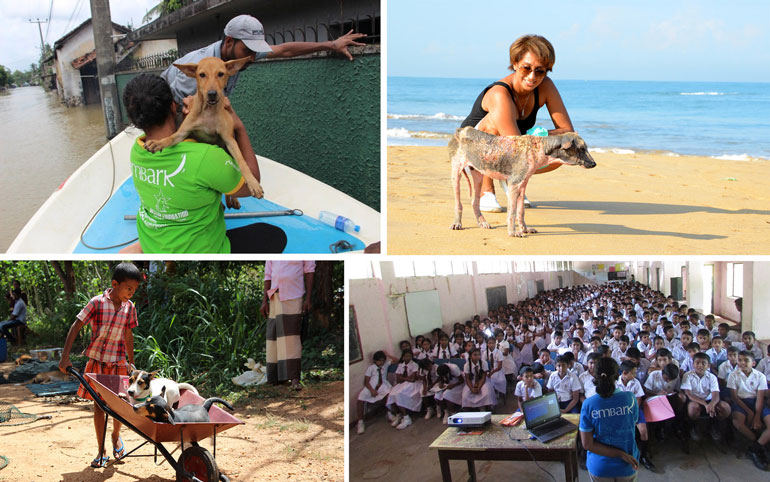 Clockwise: An Embark rescue in progress; Embark founder Otara Gunewardene with a sick dog; an educational programme at a school and community dogs on their way to an Embark clinic
Embark, Sri Lanka's fashion brand and community animal welfare programme, has reported another busy year, ending 2015-16 – its ninth year – with medical care provided to 14,459 of the country's homeless street dogs.

Working with likeminded partner organisations and volunteers, Embark performed 3,464 sterilisation surgeries, 5,788 anti-rabies vaccinations, 644 treatments for injured animals and found new homes for 473 puppies between April 2015 and March 2016.

"We are happy with the momentum that has been achieved and the expanded geographic reach of our activities in the concluded year. We are thankful to the many caring individuals who are keen to make a difference for the Sri Lankan street dog," Embark founder Otara Gunewardene said.

"It's good to see the change in mind-sets of many individuals, families and communities that we work with throughout Sri Lanka who have opened their hearts, and homes and believe there is a way we can live in harmony with street dogs and all animals. One of our most favourite examples of this transformation was seen with Molly, a rescued street dog that uses her hind legs to walk as she has lost her front legs. She finally found the perfect home after being with us for three years."

Projects launched or concluded in the year reviewed took the Embark team to locations across the country. Embark conducted mass humane CNVR (Catch-Neuter-Vaccinate-Release) projects in Dambulla, Sigiriya, Arugam Bay, Galle and Maharagama to create happier communities in which people and dogs could live harmoniously alongside each other.

Dambulla was the location for Embark's fourth mass-CNVR project in Sri Lanka, which was launched in September 2015 and concluded in February 2016. A total of 2,783 sterilisations and 3,071 vaccinations were performed in Dambulla during this period. Project Sigiriya, an 11-month initiative came to an end in August 2015, having carried out 1,697 vaccinations, 1,304 sterilisations and 627 treatments. Embark collaborated with the Fondation Brigitte Bardot to make these projects a success.

A two-day programme in picturesque Arugam Bay on Sri Lanka's East Coast, completed a total of 97 vaccinations and 106 sterilisations, while the first Embark Adoption Day in Galle was held on Valentine's Day 2016. December 2015 brought to an end Embark's very first CNVR programme that ran for four years and covered the Maharagama DS Division. A total of 18,260 dogs were vaccinated and 2,005 sterilised.

In carrying out these community projects, Embark worked side by side with the Best Care Animal Hospital, TAPA Sri Lanka, Four Paws Animals Hospital, and the relevant Municipal Councils and local authorities and individuals that supported some of the work.

Embark's focus on educating communities, mainly school age children, on responsible pet ownership, rabies awareness, safe interaction with street dogs and compassion for community animals reached 1,581 students. The Maharagama Buddhist Primary School, Overseas School of Colombo, Vidura College, Thalawathugoda and Dharmapala Vidyalaya were among the schools that benefitted from this programme.

Meanwhile, Embark's brand presence grew in 2015, with the opening of its first stand-alone store in Galle. The opening of three other stand-alone stores at the Kandy City Centre mall, the airport and at Dickman's Road, Colombo 5, followed just months later.

Embark was founded in 2007, when entrepreneur Otara Gunewardene together with her team designed and produced six t-shirts with fun, bold, doggy-themed slogans – a characteristic that is still very much a trademark of the brand. The young brand has found its way into hearts and homes in just nine years and future plans to grow the Embark brand go hand in hand with hopes of making a difference in the lives of more street dogs and the communities to which they belong.

Since its inception, Embark has changed the lives of more than 80,000 street dogs, positively altered perceptions of street dogs and helped build communities that can co-exist with animals. Embark is deeply appreciative of the rescue workers, foster families, veterinarians, volunteers and caring citizens who come forward and work tirelessly to give these animals a fighting chance.