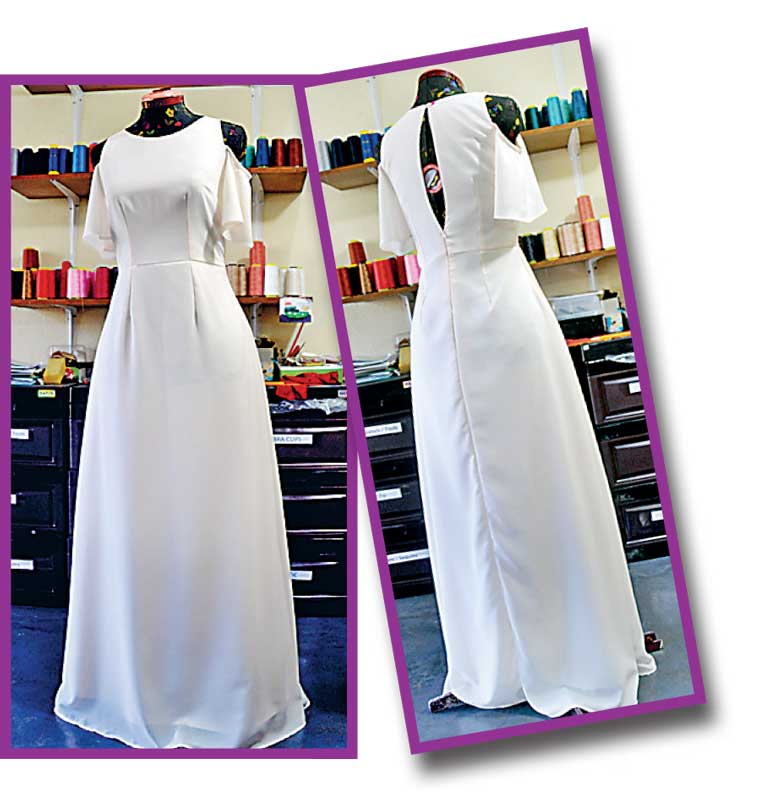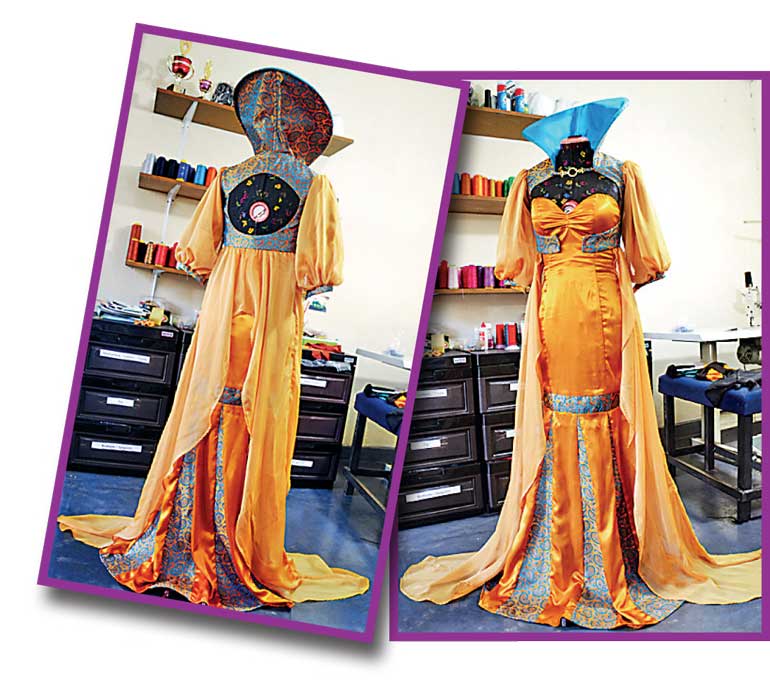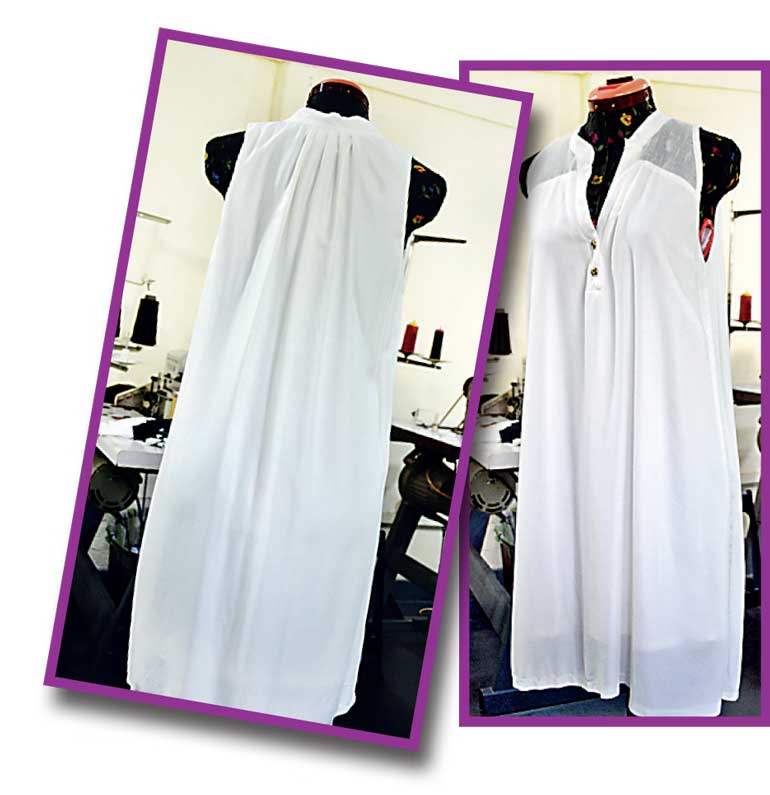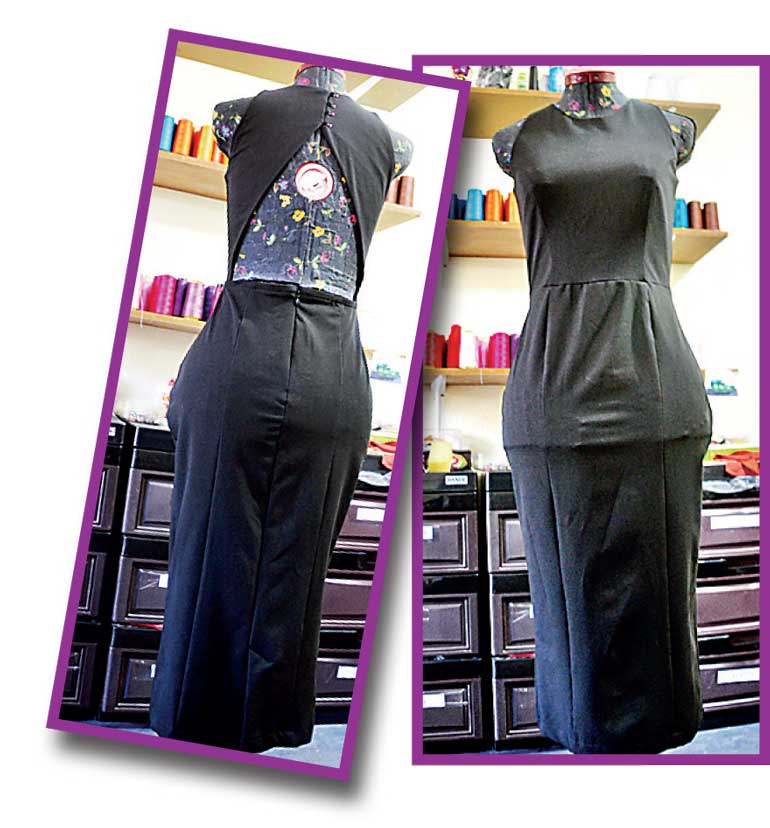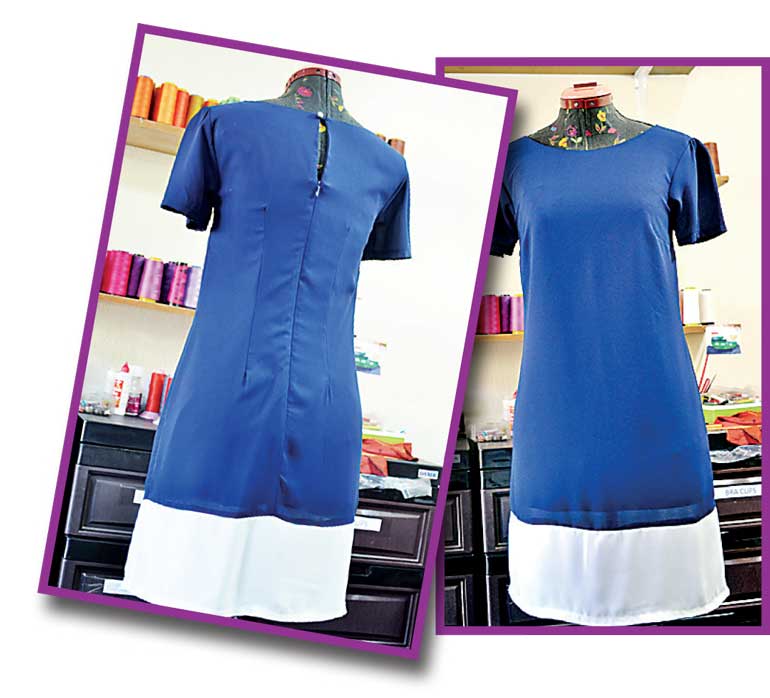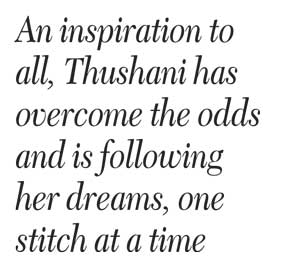 By Fathima Riznaz Hafi
Thushani Dinusha Rodrigo was born without the ability to hear. After having struggled during the first part of her childhood, finding it difficult to communicate and keep up with school work, she eventually found her niche when she discovered the world of sewing.

Since her discovery, she sought to learn more and worked tirelessly to upgrade her skills until she became a full-time seamstress. There's no stopping her now – she runs her own sewing business, won Best Designer for Evening Wear at the Cats Awards 2013 and has plans to open her own store!

It was inspiring to watch Thushani move about her sewing workspace with the utmost confidence and enthusiasm as she carried about her work. While Thushani was busy with her duties, her mother Ruwanthi spoke to the Weekend FT about the 22-year-old's passion for sewing and how she doesn't let her impairment be an obstacle to happiness and success.

"She was born without her hearing and was very late in picking up at the beginning as a baby – she started talking only when she was eight years old. She studied in a few schools including the Chitra Lane School for special education and later at Alethea where she made a few friends and had a better overall exposure. She was very good in handicraft and drew beautifully, and did some sports and a few subjects in school, but overall she was a slow learner because she couldn't hear," said Ruwanthi.

"When she was about 10 years old I figured out that she was very good at sewing and hand embroidery so I enrolled her in the Singer Dressmaking School. After some time the teachers there said that she was quite passionate about her sewing and suggested that she do her diploma. So at a very early age – she must have been around 15 at the time – she commenced her diploma there and did extremely well. She didn't pursue academic studies thereafter because she couldn't go at her pace. She started sewing for the family, my sister and friends. That's how she began her sewing."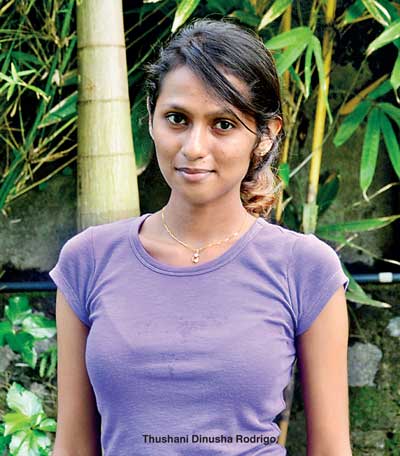 Supportive family

"She's so lucky because my brother-in-law who is in the apparel industry helped her out a lot and my sisters spend time with her. At an early stage my husband gave up his job to stay at home with her. I continued to be a working mother because I have this very supportive family. My mother helped her a lot – when she was a child she was completely with her and that's how we managed to bring Thushani to where she is today.

"I was told that the best way for her was to go through a cochlear implant but it was very costly – we got it done for her quite late – in 2010. From there we could see she really started picking up; she started conversing over the telephone, her grammar started improving and she could carry out a clear dialogue with another person. That helped her to take her sewing to another level.

"She started taking step by step forward and now she runs her own business, with two girls working for her. She manages on her own with her clients though sometimes I do have to help her out a bit. She is able to hear now after the implant but there are times when the battery runs low and she doesn't hear; she then has to recharge."


Social life

"In terms of a social life, that's where her weaknesses are. She has very few friends and though she calls them friends it's not the type of friendship that we have in our lives because she has a problem in communicating. Her society is very limited. Her world is about her sewing. Sometimes it can be better for her work but then her work-life balance is not there. For her, the friends are family and our friends and our friends' children. Even at Alethea she didn't really have close friendships but the teachers loved her.

"When she's very busy she doesn't like to be disturbed. She's a little different from others her age when it comes to her focus; nothing can take her out of what she has decided to do; not even me – I have tried – when I ask her to come out somewhere with me she declines. In fact when I told her that there are people coming to interview her today, she scolded me saying 'Why did you ask people to come today? It's a busy day – I have to finish sewing'."


Her own little world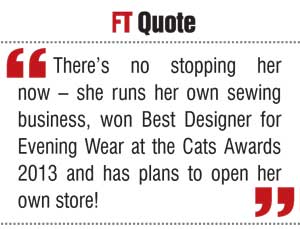 Thushani started her sewing inside a room of their house and later on she couldn't manage there so they had a small place built for her in front of the house. She also runs a stall every Saturday at the Good Market featuring some of her newest designs and in turn she gets exposed to more people, via which she has shaped her own little world.

Thushani doesn't restrict herself to any particular style and works on anything from casual wear to bridals to saree jackets, paying close attention to quality, but her best comes out in evening wear and complicated styles – that's where she loves to put her whole energy. She works on a garment the whole day and then late at night she starts doing the handwork on that piece – on embellishment, etc. She is quite inspired by designers like Darshi Keerthisena and Michael Wijesuriya who were her inspirations as a small child.

"She can sketch, make the pattern, cut the garment, do the stitching – basically end to end entirely on her own – and works very passionately. When I leave home, when my car takes out, she's working and when I come in (I get very late to come home), she's still working.

"Apart from lunch-time, etc., she doesn't get distracted, perhaps because of her hearing; she's so focused on what she's doing. So far she has managed to give her orders on time. She doesn't know that with the rest of the world, there is this 'delay process' where sometimes things can be delayed and people accept that! She will make sure that when she undertakes something she delivers it on time."


Clientele

While Ruwanthi was talking to me, there were quite a few calls coming in and she said that they were all Thushani's clients. "Most of her customers talk directly to her but some customers who are new feel more comfortable to talk to me first – I think they need to get used to her – after some time they all get used to her. She has a good clientele.

"There are quite a few designers who get stitching done by her; there have been a couple of people getting her to do stuff for some time – for over six years and those things have really helped build her. She manages her own staff and maintains her records, book keeping, money management, costing and consumption; which I didn't even believe she could do with her basic education but she has a good IQ and my sisters and brother-in-law helped her a lot.

"She has a very positive attitude; a very self-motivated girl. Usually a person who has a little issue like this tends to feel a little backward but I would say never a day have I seen her like that."

Thushani is a shining example of someone who has overcome the odds and struck out on her own path, one that is certain to lead her to success and we wish her the very best as she continues her inspiring journey a stitch at a time.
Pix by Bhanuka Kirinde
​