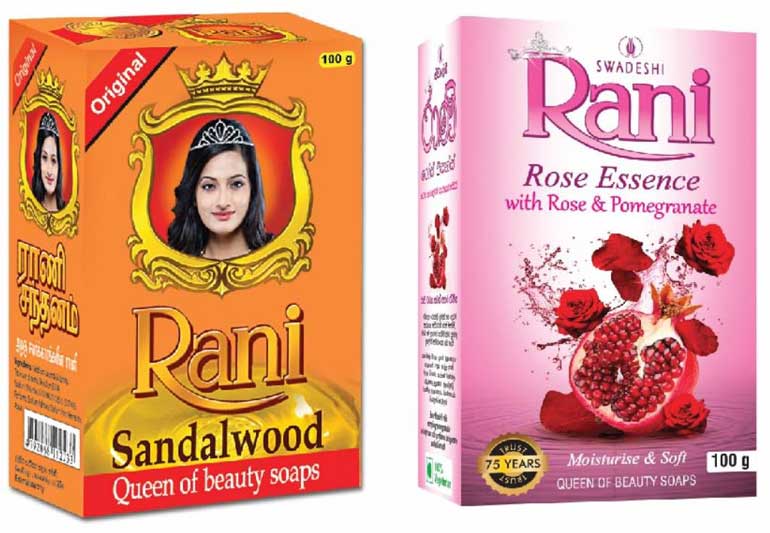 Rani Sandalwood, Sri Lanka's hallmark in beauty soaps for over seven decades, has now been re-launched with a brand new outlook, commemorating the 75 years of unparalleled quality served by the product.

In 1941, when the soap was first developed at the Swadeshi manufacturing facility in Kandana, it became the first Sri Lankan beauty soap to emerge in the market. Today, it is with great pride that the company recognises the confidence held by its customers in making Rani Sandalwood, the most popular and number 1 sandalwood beauty soap brand in the country.

With the commitment to continuous improvement and constant elevation of benchmark standards, Rani Sandalwood soap has remained at the pinnacle of beauty care offerings in Sri Lanka. The brand's presence goes beyond Sri Lanka's shores, with it being widely acclaimed in the international market.

The Swadeshi Industrial Works PLC utilises its state-of-the-art facilities and modern research and development and manufacturing methodologies to innovate and bring new beauty and personal care products to the market that delight the refined tastes of its customers. This emphasis is evident by the company's investment in R&D. The company boasts of cutting edge technology laboratories and its processes have been certified to ISO 9001 – 2008 standard by the Sri Lanka Standards Institution (SLSI).

The endorsement of Sri Lankan beauty by Rani Soap extends to its unwavering support to sponsor the Sri Lankan beauty pageants 'Miss Ceylon' and 'Miss Sri Lanka' through the 1960s to 1980s.

The Swadeshi Industrial Works PLC recently introduced a novelty in Rani brand with the 'Rani Rose Essence Soap', which couples the fragrance of rose with the goodness of pomegranate extract. The properties of rose and pomegranate livens the skin and provide an aura of sensational beauty to your skin.

The Swadeshi Industrial Works PLC have been the pioneer in natural beauty and personal care products from 1941 introducing leading brands such as 'Khomba', 'Khomba Baby', 'Rani Sandalwood', 'Apsara', 'Perlwite', 'Safeplus', 'Lak Bar', 'Lady', 'Black Eagle' (perfumes and aftershave), Shower Gel product line and the custom designed children's product line by a local company 'Little Princess'.

Khomba and Rani Soaps of The Swadeshi Industrial Works PLC remain the market leaders in the respective product segments in herbal and sandalwood beauty care products.