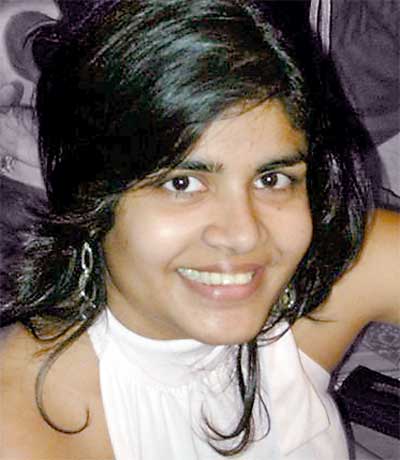 Out of the Box Founder and Artist Lasanthi de Alwis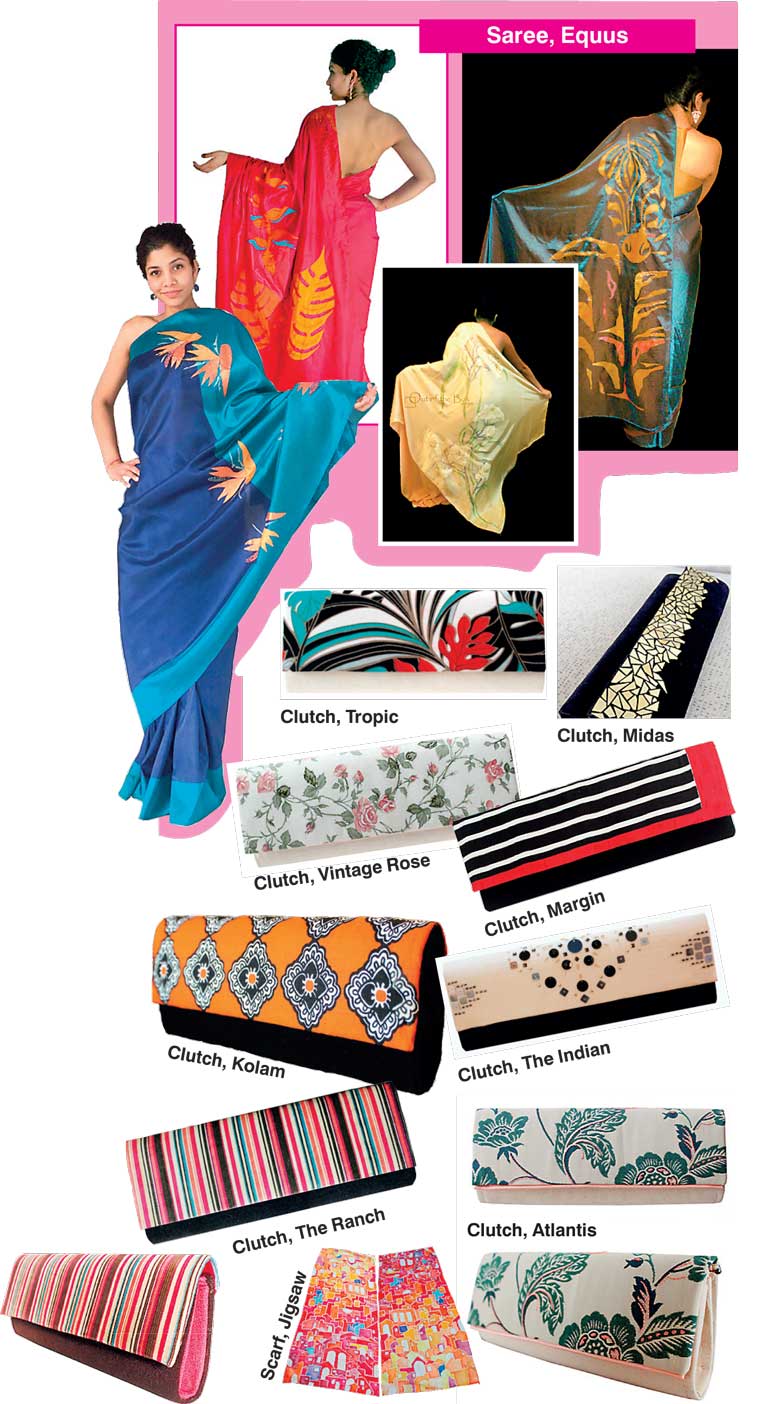 By Fathima Riznaz Hafi

'Out of the Box' is an online store offering a range of creative, hand-made products, from bags to stained glass, sarees and

accessories. The artist behind this range, Lasanthi de Alwis adds her personal touch in every item as she intricately designs and makes them herself, by hand.

Her present range stretches out from painted sarees and scarves, hand-made clutches and tote bags, with plans to expand further. Prior to this she has experimented with light and shade, creating a hanging-garden installation using up-cycled painted glass bottles and a variety of air-plants and has also decorated pocket watches and painted shirts. She assures the products available are ever-changing.

Handmade and exclusive

"The idea behind the business is to have a moving carousel with various products incorporating creative design; anything I pull out of the box, with a similar design ethic. 'Out of the Box' is my creative outlet. It's where I make available artistic endeavours; anything that I create. As such, everything is handmade and exclusive," she said.

"I approach my sarees and scarves much like I would a canvas. The idea is to create art with an added utility value: Wearable art. They are meticulously hand-crafted with a combination of paint, thread, appliqué, and bead work. Unless a design is custom ordered specifically requesting replication, for instance sarees for a bridal party, I never duplicate designs. So a saree from Out of the Box is unique. The hand-painted scarves are my newest addition and you have the option of displaying them as framed art, or taking your art along with you as a scarf, shawl or head dress."

She currently has two styles of clutches available. The 'Foldable Clutch' is a soft clutch that can be folded to suit your personal style. The 'Magazine Clutch' is a structured clutch that is painstakingly assembled by hand and specifically designed to be a statement item, much like a statement necklace, to turn heads and be the focal point of an outfit. The latter clutch comes in a variety of chic designs meant for both formal and casual occasions. As with all her items, designs are limited in number so you are unlikely to find someone sporting the same accessory.

"The 'Beach Totes' are a bit of fun. I like combining the vibrant colours so that opening up your tote is like unwrapping bubblegum or taking your shades off to a surprising burst of colour. The inside of the Beach Bags are lined with brightly coloured quick-drying fabric, and the outside features fun tropical-holiday prints. In the future, I will be introducing screen-printed Art Totes to this range."

How it all started

"It all started with an old bridesmaid saree that I had. It was a lovely, unusual colour but not something I felt that I could re-wear without appearing to be a self-appointed addition to a bridal party! It was a plain saree so it was easy enough to transform with a hand-painted floral design embellishing the simple fabric. I've worn it on several occasions since and it never fails to garner attention and plenty of compliments. It was after the first time that I wore it that people suggested that I make more as part of a business and that was when the idea was planted."

Initially she only undertook custom orders for sarees as time permitted; as part of an enjoyable past time. That branched off slowly to handmade clutches and a few one-off items. It was last year that she began to actively make a production line and market the brand.

"At present, with the exception of the Beach Totes, all items are made by me. I've been experimenting with art since I was a toddler scribbling on a wall! That interest I've always had, and the continued experimenting is where I learn my craft from. It's always a learning process with any skill you want to keep updated."

The Totes are outsourced to a handful of women she has trained to make that specific design. This product will be more widely available in outlets as she expands. However, in keeping with her approach, individual designs will remain limited in production.

If you want the products to be delivered, you need to place the order at least two weeks in advance for most custom order items. Anything that has been pre-made and is in stock is ready for pick-up or delivery as soon as the order is placed. All of her items are limited in number though; some are one-offs and once sold she doesn't duplicate them. Instead she introduces a new design or an entirely new product.

Different, yet strangely similar disciplines

After seeing what she does with Out of the Box and how passionate she is about what she does, it came as quite a surprise to find out what her full-time profession is. "I'm actually a qualified Marine Biologist and Ecologist. I always get a funny look at this point! It might seem bizarre but the two disciplines have more in common than one would realise. They both rely on keen observation skills, attention to detail and creative problem solving. I would say the main difference is one requires objectivity whilst the other pushes you to get lost in your imagination. I've always found the two grounding. They keep me balanced and in good humour."

Perhaps being immersed in a blend of two entirely different, yet strangely similar disciplines, contributes, to a certain extent, to Lasanthi's diverse abilities. Here's hoping she continues to fascinate her customers with her hand-made creations and more ideas out of the box.