A group photo taken at the launch event, with Aanjali Salgado, Farah Fazly among participants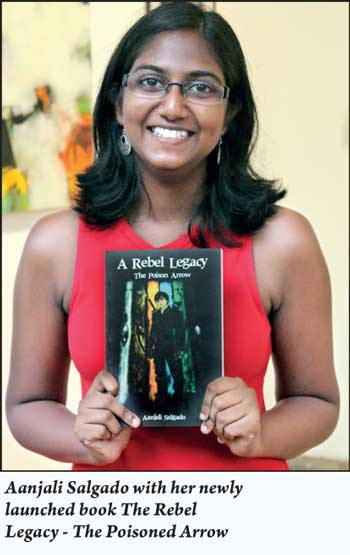 Delivering a refreshed and exhilarating impression to Sri Lanka's literature scene, young and aspiring author Aanjali Salgado has written a fantasy fiction novel, titled "A Rebel Legacy – The Poison Arrow".

Aanjali started conceptualising her novel as a 15 year old, during the height of the COVID-19 pandemic in 2020, when island-wide lockdowns isolated many who were forced to stay home.

Over the course of a year, she was able to complete the novel and continued to fine-tune it, while simultaneously studying for her Ordinary Level (O/L) Examinations.

The 415 page novel was edited by Jeremy Mueller and published by Jam Fruit Tree Publications in January 2023 and is available at their book shop as well as the Barefoot book shop and selected Sarasavi outlets.

The novel also brings together the creative talents of two young, empowered Sri Lankan women; Aanjali Salgado as the author and Farah Fazly as the illustrator. Farah, being an English teacher currently teaching in Gampola. The official launch of the novel took place at the Barefoot garden café on 4 March 2023 ahead of International Women's Day on 8 March and is a testament to the amazing, creative and literary capabilities of women in Sri Lanka. The story revolves around a band of rebels and their struggle for freedom from an oppressive regime. As the summary of the book reads;

"Thirteen Criminals, One Enemy, A Revolution has begun. In a world where mistakes are fatal, Drake Lieger made the greatest one of his life and now he must face the consequences; a chance to make or break the world. Will he take it?"

Reiterating her creative flair, Aanjali has also completed the second instalment of her first novel, which she plans to develop into a series.

Aanjali is a student at Ladies' College, Colombo, and has had a successful academic career to date, being the recipient of several prizes and achieving straight A's for her O/L exams. She is the Secretary of the Science Society and is also a member of the school's Netball and Chess teams being recently awarded School Colours for her performance in Chess. She is currently studying for her London A Level Examinations in the Science stream.