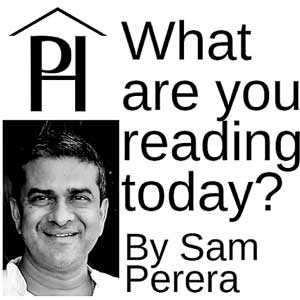 When this book of short stories written by Alagu Subramaniam was first published in 1964, Ceylon had been independent of the British for about 16 years. Then as now, the effect of colonialism was a topic of open discussion.

English writers of the past have often written from the perspective of coloniser rather than colonised. However, Ceylonese born Subramaniam writes from a Sri Lankan viewpoint. In his stories the English coloniser appears fleetingly, if at all, which allows Subramaniam to focus on colonialism's effects purely in their operation (although we remain in no doubt as to cause). In the stories we are shown, not told. Whereas an English writer might have foregrounded causes, Alagu Subramaniam reverses this perspective, making each story a small jewel of drama and compassion, revealing in large ways and small.

One example. "Solomon's Justice" shows how an imported religious tradition (evangelical Christianity) – here a too literal understanding of a Christian story – can desensitise people to what native traditions themselves preserve.

In this story, the collision of traditions is emphasised by the coroner - who wears both white, 'the appropriate colour for an Asian funeral' and black, a 'necktie, the symbol of European mourning'. The magistrate, presiding over a dispute about who is wife and who ex-wife to their deceased husband and thus entitled to make funeral arrangements, insists that the disputants keep 'the Queen's peace'.

But the appropriateness of keeping to standards of European decorum in a Sri Lankan context is immediately questioned – '"The Queen's peace in Buckingham Palace?'" The dispute's 'resolution' is eventually provided by a Mother Superior. Her brutal suggestion: severing the corpse in half, thus solving the problem over the funeral, a ceremony intended as a mark of reverence, love and respect for the deceased.

Other stories show how the displacement of traditional culture can affect so deeply the most vulnerable. "The Thorn" shows the emotional effects on a very young girl (learning English reduces her to tears), and demonstrates the casual emotional blackmail involved (your Mother won't go to heaven). These effects embed themselves into even the simplest daily act – eating a meal – causing frustration and distress through the inability to eat 'properly' with a 'thorn' (fork), rather than her fingers.

Several stories examine the conflict between a modernising younger generation and an older tradition. In "The Scholar" Thambirajah is introduced as successful in the new, modern way (having received a scholarship to study in England for three years). Such success ironically makes him an attractive prospect for a traditional arranged marriage, which his parents duly organise for him.

The story turns on this conflict between tradition and modernity, older and younger generations (Tharimbirajah has met another student, Radha, and both want to marry). However in the end the force of tradition wins out (and here force means exactly that, physical force – Radha is beaten into submission). The power of tradition is more destructive still than simply separating two young people – but read the story to discover its ending.

Often critical, these stories nevertheless display a light tone throughout and often a wry humour. In "The Professional Mourners", the tables are abruptly turned at a village funeral when its self-important organiser boasts of his dragging along the low caste professional mourners despite their own mother's death that morning. Instead of the expected approval, he finds himself met with howls of condemnation.

Released from their obligation, the lower caste women, now suddenly objects of sympathy (perhaps for the first time in their lives), instead elect to stay and begin wailing ever louder. Stung into redoubling his efforts, the deflated Master of Ceremonies only manages to collapse ignominiously beside the corpse as the mourners wail louder still.

The style of these stories is deceptively simple (although the stories never are). By using simple language and few obvious stylistic devices, every word becomes important. There is a sense that everything has been considered, each word carries weight. In "Cousin Thampoo" for example, changing the position of a single comma in the story's final sentence would have entirely changed the story's significance. The story's ending as written is the more complex and resonating one, an example of the care, craft and wisdom of writer and stories.

In summary, The Big Girl contains 17 finely-written episodes of humour, surprise, pathos and rare insight into the daily lives of Sri Lankans, with all the historical, religious, cultural and psychological diversity and complexity this implies, during a tumultuous and formative period. A period now past but thanks to these reprinted stories present and vivid once more. The stories may seem quiet, but they are likely to echo in readers' minds long after their last page has been turned.


(Sam Perera is a partner of the Perera-Hussein Publishing House which publishes culturally relevant stories by emerging and established Lankan and regional authors – for a primarily Lankan audience. Ph books are available everywhere books are sold and through www.pererahussein.com.)
---
The Big Girl by Alagu Subramaniam Reviewer: Rodney Hall Bay Owl Press (reissued) Rs 750 in all bookstores and www.pererahussein.com