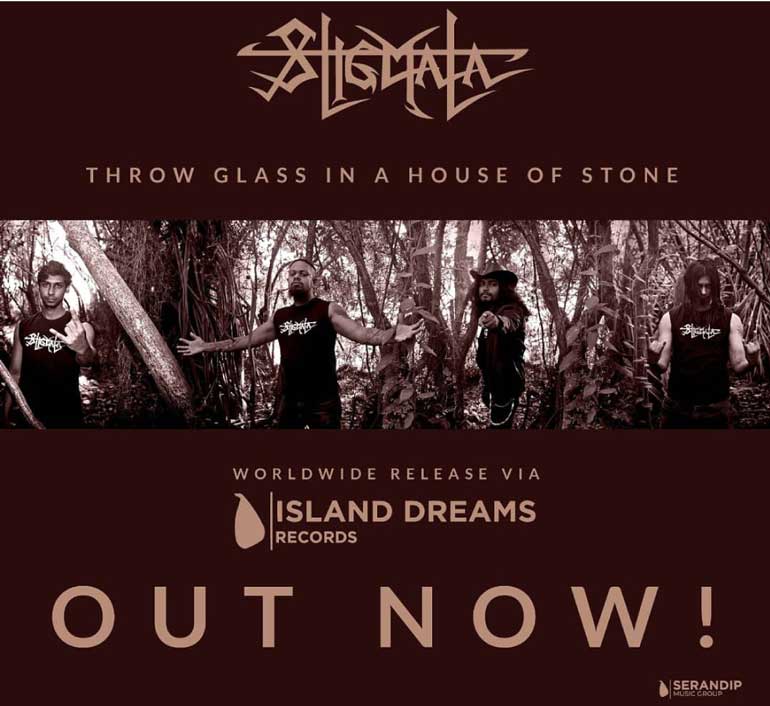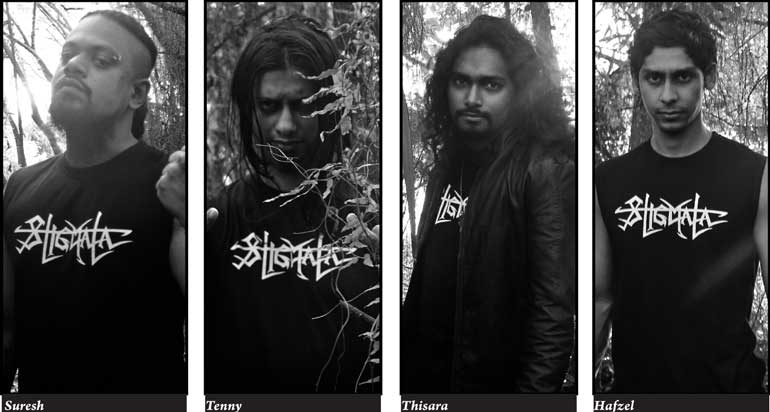 On The Watch List today is Suresh de Silva, frontman, vocalist and lyricist of Stigmata, a home-grown band that is making waves internationally. Stigmata recently signed up with US-based label Island Dreams Records, marking the first for a Sri Lankan-based band and a huge milestone for Stigmata. Here, Suresh speaks about this latest achievement, the new single, how the band's been faring over the last year amid the pandemic and shares highlights of Stigmata's journey over the last 21 years:
---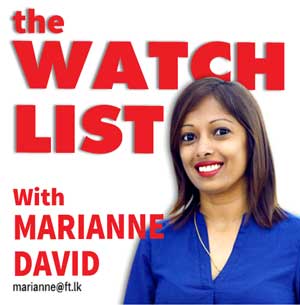 Q: Stigmata recently signed up with a US record label and released a brand new single worldwide. Could you tell us about the new sign up?

We recently signed up with US-based label Island Dreams Records, which is a part of Serandip Records and Serandip Music Group. This is a first for a Lankan-based band, for any rock or metal band from our isle, and a definite milestone in our 21-year journey.

I got chatting with the Group CEO of Serandip, Sandun Nissanka, thanks to a close pal and brilliant data analyst I've collaborated on work projects with, Dylan Jayasekara, who connected us. Truth be told we started a dialogue regarding a project of a corporate disposition, when we had a video conference call and touched base and started talking about music.

Sandun knew I was from Stigmata and somehow, after a few conversations, we finally discussed working together, especially since it's our 21-year anniversary, and we are working on plenty of new music and our fifth album. The discussions went on for a while and thereafter, as the rather clichéd idiom goes, the rest is history. 'Throw Glass in a House of Stone' and a selection of other singles off our discography are available now on Spotify, Apple Music, Deezer and over 200 platforms and stores worldwide. How cool is that?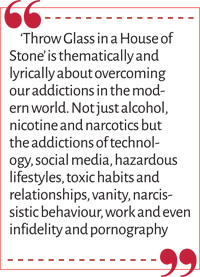 Q: Very cool, indeed! How has the new single 'Throw Glass in a House of Stone' been received and what's it all about?

It is the absolute best or easily at the zenith of the finest responses and reactions we've had thus far from around Sri Lanka and the globe for a new release! We have a much larger reach now thanks to Island Dreams Records. It's been pretty overwhelming, to be honest. Most artists would choose to release a formulaic, safe, predictable and easy-to-market single as an obvious debut with a record label right? As usual we went sideways, flipped a few cartwheels, did a backflip, a U turn and released an 8 min and 48 second beast of an anthem.

There never is any way to accurately forecast how art of any sort will be received by an audience, across different demographics and geographies, in this time and age – especially when the very advents of technology in a pandemic world have changed music consumption more so than before. It somehow is resonating with audiences as young as 11 and 12 who are on TikTok as it is with older teens, those in their 20s and 30s and even their 40s and 50s. It's truly remarkable.

'Throw Glass in a House of Stone' is thematically and lyrically about overcoming our addictions in the modern world. Not just alcohol, nicotine and narcotics but the addictions of technology, social media, hazardous lifestyles, toxic habits and relationships, vanity, narcissistic behaviour, work and even infidelity and pornography.

Musically it is an amalgamation of styles; yes it is one of the heaviest songs we have ever conceived, but is balanced perfectly with lush melodies and harmonies, strong hooks, earth-tilting groove and percussive rhythm and epic storytelling.


Q: How has the last year been for Stigmata, especially in the face of the ongoing pandemic, where bands are limited to creating music instead of performing?

We have adapted. The true endurance of an artist's test and trial is learning to focus on great content and the overall art form while always being cognisant of the musical climate, its changes, advancements and growth in new areas. In that sense as a seasoned live and studio musical collective we have always made it our prerogative to stay ahead of the game, but we've also been conscious and worked hard to evolve with the times.

There is nothing more pathetic than an outdated brand struggling to find purchase in nostalgia when the world has moved on. The key is to evolve by learning the importance of balance, without sacrificing your ideals, your integrity, vision and what makes you authentic and unique. It's okay to have fun and try out new things, but one must never take for granted your fans, each other and your art. This holy trinity should never be compromised.

We are naturally hit badly without live performances, gigs and tours (we had to cancel three overseas tours – France, Bahrain and India in 2020). This impacted our flow of revenue, sure. But it has also given us perspective to focus more on our song writing and storytelling. On engaging and interacting with those who support and advocate our music. On connecting with audiences more intimately via digital and social media.

We've looked at new methods of streamlining revenue. We have had to adapt and align our business strategies and communication tools so they are tailored to the current musical climate, the terrible state of a world crippled by COVID and accept the new norm like most brand leaders of various industries have had to do, to progress.

In a way this pandemic has shown us how much we love what we do and how honoured we are to be a unique heavy metal band hailing from SL, and how blessed we are to celebrate 21 years – still steadfast, vibrant and strong.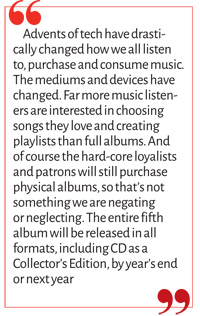 Q: It's been 21 years since Stigmata was formed. What were the highlights of the journey and what are the band's future plans?

Oh wow. This answer can go on for days. Let me see how to summarise this.

So many highlights: working on releasing all our albums thus far, 'Hollow Dreams' (2003, the country's first heavy metal album and the region's first concept album), 'Silent Chaos Serpentine' (2006), 'Psalms of Conscious Martyrdom' (2010), 'The Ascetic Paradox' (2015).

Touring worldwide, whether it's our own tour or headlining or performing at festivals from 40,000 people at the Dhaka Cricket Stadium to 25,000 in New Delhi at the SAARC Band Festival. We've also played amazing shows in Australia, Malaysia, Dubai, New Zealand, Maldives, etc.

Been featured on The Discovery Channel twice and having our music played on the channel, been featured on the BBC Arts Show, interviewed by John Safran for Triple J Radio, been fortunate to tour islandwide in Sri Lanka, featured and having jammed live on MTV Super Select are a few highlights that come to mind.

Winning the Asia Video Music Awards in 2018 for 'An Idle Mind is the Devil's Workshop' with the revolutionary animated music video done by Randy Chris of Meraki United is another triumph.

The music video for 'Heavy is the Head that Wears the Crown' featuring our Lankan Cosplayer community was premiered at the red carpet opening for 'Avengers: Infinity War' over here.

Having people get married to our music and hearing how our music has changed people's lives is also amazing.

Right now being able to work with a legend like the Grammy-nominated production maestro Romesh Dodangoda in the UK (who has worked with Motörhead, Bring Me The Horizon, Architects, Sylosis, Bullet For My Valentine, etc.) is right up there with our highlights, who is mixing and mastering our new music. In fact all three releases thus far; 'Alyssa' and 'Sacred Spaces: Solve et Coagula' released in 2020 and 'Throw Glass in a House of Stone' launched just this May were mixed and mastered by him.

Future plans… Well we just got on TikTok recently and are rocking that platform with some hilarious content. Our social media was spruced up in 2019, have some of the coolest content around. So make sure to check our official Instagram and Facebook pages and subscribe to our YouTube channel. We will continue to release new music: songs plus videos on all leading streaming platforms and stores with higher frequency. Hopefully we can plan some quality shows for next year and we will drop some new merchandise as well in the months to come!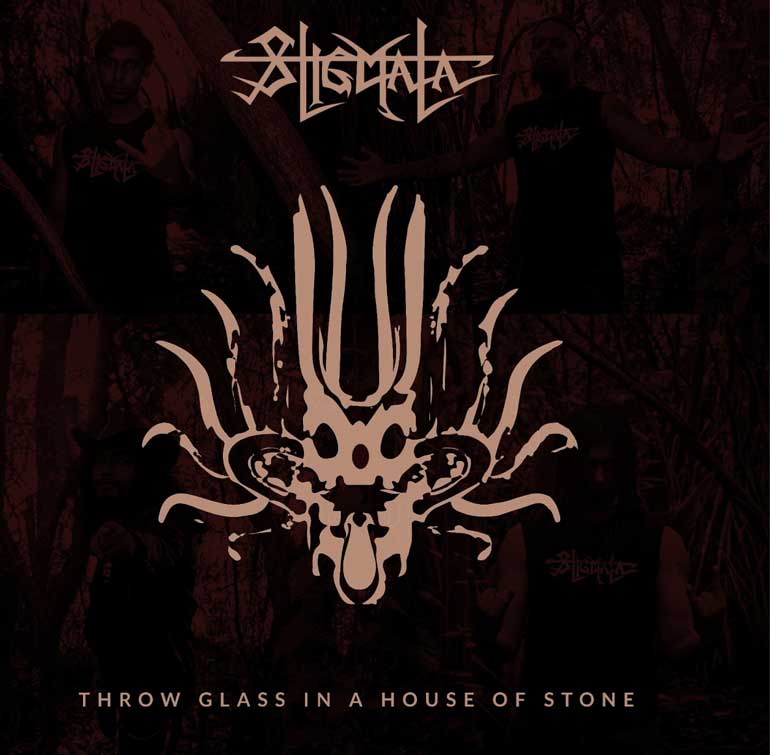 Q: Who are the team members right now and what does each bring to the stage?

Tenny – Co-founder, the band's Art Director and Principal Songwriter, and all-round Guitarist. He plays Lead and Rhythm. Thisara – Our Bassist and the band's Chief Designer, Animator and videographer. Hafzel – Skinsmith and Drummer extraordinaire and the band's heartthrob. Me – Frontman, Vocalist and Lyricist; I am also the Creative Curator and Communication Strategist.
Q: When will the fifth album be released and what can we expect?

There really seems to be no point in dropping an entire album at once with the pandemic situation, which is why we are breaking down the album and releasing it song by song, spaced out every few months. This enables us to raise the funds systematically for each song, and focus our energies on pushing each track and video. Since we have an expansive discography and body of work we can do this. It's much easier to curate our content with individual releases. We are fortunate to have partnered with the Suriya Brothers, The Good PR, Empire Clothing and J & S Studios, who are helping us forge forward and onwards in 2021 with their expertise and integrated support.

We also need to consider that the advents of tech have drastically changed how we all listen to, purchase and consume music. The mediums have changed from radio and TV to streaming platforms and the devices are now primarily mobiles; Android and iPhones, laptops, tabs, iPods, etc. Far more music listeners are interested in choosing songs they love and creating playlists than full albums. And of course the hard-core loyalists and patrons will still purchase physical albums, so that's not something we are negating or neglecting. The entire fifth album will be released in all formats, including CD as a Collector's Edition, by year's end or next year.

What you can expect from the new album is the unexpected. The new music is all from a more personal place, more emotionally charged as the topics and themes are closer to home, and very relatable. If you look at the sonic and lyrical diversity of the anthems released thus far, that'll maybe give a hint that the music to come will be as epic, riveting, evocative, resonating and off the charts (pun notwithstanding of course). It's the best work of our career and we are jacked to share it with the world.