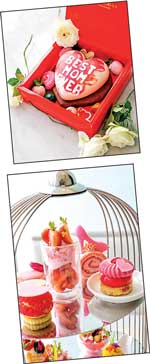 This Mother's Day, Shangri-La Colombo has curated a host of enchanting experiences to pamper mums, mums-to-be and all the mother figures in our lives. From 4 to 14 May, guests can select from a variety of thoughtful, elegant experiences to celebrate their mums.

For a limited time, Executive Chef Patrick Buttgereit invites you and your mum to Sapphyr Lounge for an enchanting afternoon filled with delectable savouries and sweet treats. The three-tier tower of tempting delights include favourites like fresh, fluffy scones and chocolates as well as some unusual delicacies like a pink hopper with whipped cream, strawberries and a burst of pickled gherkin for a quirky, yet flavourful surprise. Serenaded by live music, complete this traditional ritual with specially paired tea or add a glass of wine or champagne for extra indulgence.

Put a smile on mum's face with any one of the handcrafted goodies at Little Gems, made with love by its pastry team. Choose from an array of sweet temptations from chocolate clusters and melt-in-your-mouth meringue to delicious cakes and cookies.

Create new memories with your mum over a scrumptious international brunch buffet at Central featuring delicious roasts, a dedicated Sri Lankan selection, and a variety of flavourful cuisines tailor made to perfection at its 16 live action stations.

Treat your mum to a delightful meal full of her favourite Chinese delicacies with Yum Cha at Shang Palace, Shangri-La's signature restaurant. Dine in good company and

enjoy authentic Chinese cuisine with signature dishes curated by Master Chef Jason and his team.

As part of its Culinary Collaborations series, Shangri-La Colombo warmly welcomes Chef Albertus Tanudjaja, Executive Chef of Sule Shangri-La, Yangon to share a taste of Indonesia. Journey to Eastern Asia as he serves up sweet, sour, savoury and utterly addictive Indonesian cuisine including Rendang Kambing (lamb rendang), Ayam Garang Asam (braised chicken) and Sate Ayam Kambing (chicken or lamb skewers).

From 12 to 20 May, Chef Albertus will take over a culinary station each night (and weekend brunch) at Central, Shangri-La Colombo's all day dining restaurant to create some of his signature dishes.

Shangri-La Hotels and Resorts has also relaunched Rooted in Nature, a culinary and sustainability initiative celebrating the journey from farm to plate. Shangri-La Colombo always strives to choose locally and ethically sourced ingredients and provide environmentally friendly menu choices where possible for our guests, while supporting local producers.

The chefs are hard at work thoughtfully sourcing and creating new dishes that that will be introduced throughout the year, all made with the freshest produce available locally. In keeping with the program, Capital Bar & Grill has a vibrant new menu featuring local seafood found in our bountiful oceans, fresh herbs grown in its own garden and healthy greens sourced from local small businesses. Diners can identify Rooted in Nature menu items by spotting the pea shoot logo beside the dish description. Through these sustainability efforts, it hopes to deepen its relationships with the local communities, support markets for sustainable farming, fishing, and livestock practices, and bring higher quality cuisine to its guests.

"At Shangri-La Colombo, we pride ourselves on delivering hospitality from the heart; we've crafted some special experiences that you can share with your mum and create colourful moments of joy to treasure for a lifetime. We've also relaunched 'Rooted In Nature', a Shangri-La Hotels & Resorts' initiative to promote a sustainable culinary ecosystem with ethical sourcing, eco-friendly practices and fresh, high quality local ingredients. We've incorporated this initiative into all our menus and we invite you to visit us and try them for yourself," said Shangri-La Colombo Executive Chef Patrick Buttgereit.