Prof. Rohana Lakshman sheds light on the historical significance of the Republic Day of Sri Lanka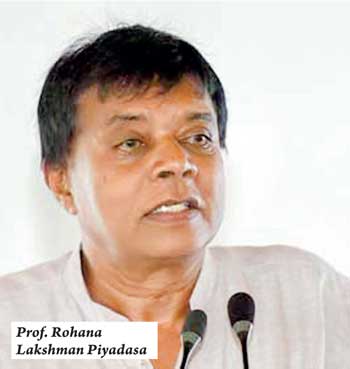 By Harsha Udayakantha Peiris

22 May 2023 marks the 49th Republic Day of Sri Lanka, an important occasion the nation pays tribute to its rich history, celebrating the achievements made possible by the collective efforts of its citizens. According to Emeritus Prof. Rohana Lakshman Piyadasa, it is the day Sri Lanka got its true independence.

Emeritus Professor Rohana Lakshman Piyadasa has long been recognised as a trailblazing scholar in the field of Print Media studies. Commencing his career as a journalist at a young age, he rose to prominence as an acclaimed investigative journalist within the industry. Notably, his contributions have extended beyond journalism, with his researches in the areas of Development Communication and Political Communication in Sri Lanka.

"Sri Lanka faced significant challenges during the colonial era. Concluding a history spanning over 1,300 years as an independent state, the Western powers first set foot on the island with the Portuguese invasion in 1505, followed by subsequent invasions by the Dutch and English. In 1815, Sri Lanka was fully colonised as a result of the 'Upcountry Treaty'. This pivotal moment not only marked the end of the country's independence but also ignited a fierce national liberation movement. The Uva Wellassa struggle of 1818 emerged as a prominent catalyst in this movement, symbolising the unwavering spirit and determination of the Sri Lankan people. "The historical records highlight the enduring struggles that commenced in 1948, led by Puranappu and Gongale Goda Banda in Polonnaruwa and Matale, in an earnest endeavour to restore independence. Notably, these movements encompassed not only a grassroots resistance but also an intellectual and academic dimension, spearheaded by notable lay and clerical scholars. Rev. Migettuwatte Gunananda, Rev. Hikkaduwe Sumangala, Anagarika Dharmapala, Piyadasa Sirisena, the esteemed Tamil scholar Arumugam Navalar, Siddi Lebbe representing the Muslim community, and numerous others actively contributed to these endeavours. Their collective involvement further elevated the significance of these struggles in history," Prof. Piyadasa says.

Subsequently, following a constitutional struggle in the late 19th century, skilfully mediated by educated intellectuals, Sri Lanka succeeded in acquiring Dominion status in 1948. Nevertheless, this achievement fell short of ushering in a republican system and liberating the island nation from the clutches of British colonialism entirely.

Sri Lanka became a full Republic in 1972, thanks to the leadership of Sirimavo R.D. Bandaranaike, who became the world's first female Prime Minister and according to Prof. Piyadasa, throughout the course of these events, various cultural expressions such as 'seepada' poems, folk songs, 'nurthi,' 'nadagam' songs, and other traditions emerged in the country. Consequently, the significant aspects that underlie this rich history, the lessons learned, and the accomplishments of attaining independence have now become academically and demonstrably essential facets in the present day.

Signifying the importance of the 49th Republic Day of Sri Lanka, a concert, entitled 'Revisiting Independence on Republic Day,' is scheduled to take place on 22 May at 6:30 p.m. at the 'Sahas Uyana' premises in Kandy. This event also marks the inauguration of a cultural platform aimed at engaging in a comprehensive exploration of an array of diverse topics through various forms such as folklore, poetry, songs, and traditional music. "Today, we stride in perfect harmony alongside the simulations of a bygone era. Elements such as 'kapirinja', 'baila', and rock music, introduced by colonialism, have seamlessly woven themselves into the fabric of our literary existence. However, for Sri Lankan society to genuinely emancipate itself, it is imperative that we foster an environment conducive to intellectual enlightenment. We must empower our society with the knowledge derived from historical lessons, enabling it to adeptly navigate the complexities of the modern world," Prof. Piyadasa says.

Prof. Rohana Lakshman Piyadasa invites individuals from all segments of the community, including social activists, students, scholars, and people from various political ideologies, to join him for an engaging and progressive discussion at the upcoming event.