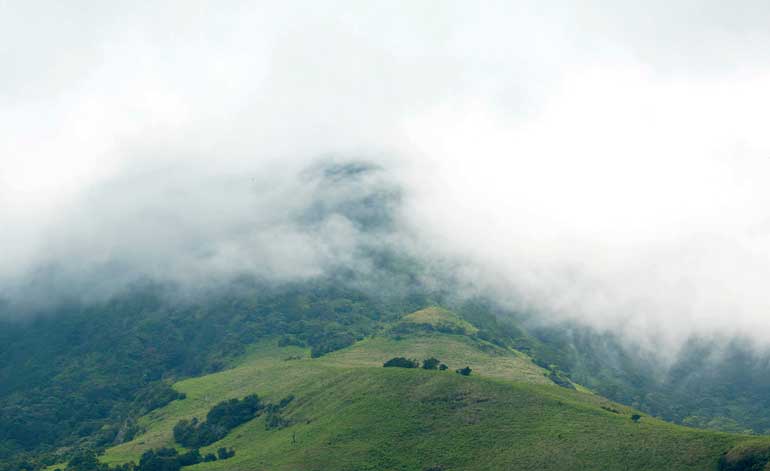 By Aysha Maryam Cassim

The beautiful valley around Knuckles massif is called "Dumbara" because it's always misty. The region is blessed with rich fauna and flora, nourished by intermittent rains and water cascading from surrounding streams.

Dumbara Valley bears the pride of 35 peaks 1,000-2,000m above sea level. The area above Knuckles range was declared as a climatic reserve, a conservation forest and a National Biosphere Reserve for its unparalleled bio diversity.

The climate in Dumbara range varies from extreme wet to almost-arid. We visited Pitawala Pathana and Riverstone towards the end of February and the highland forests in Knuckles were extremely wet with drizzles and occasional evening showers.

The route

Around Knuckles Nature Reserve, there are a few major nature trails to be covered. Travellers have to take the off beaten roads to reach their destination via Loolwatte, Corbet's Gap, Bambarella and Laggala. One way of heading to Riverstone is taking the motoring route from Kandy via Rattota towards Illukkumbura. From Matale, it's a one-hour drive to Riverstone and two hours to Illukkumbura.

Accommodation

During our two-day tour in Knuckles region, we lodged in Dumbara Wana Nivahana, a Knuckles Forest Department Bungalow in Illukkumbura. The forest dormitory can be reached through a steep driveway which will take you to different spectacular areas of the mountain range.

The misty, moist weather in the valley gives one the perfect opportunity to explore and feel the enthralling landscapes across the Dumbara hills with the sound of nature's music in the morning. There's no coverage in certain areas and phone signal bars disappear as you enter the depths of the dense forests. Leeches will cling on to you during your hike or evening walk, but that's a part of the whole wilderness experience.



Thel Gamu Oya

The Knuckles forest region is renowned for its hydrological importance which serves as an important watershed with several streams feeding the River Mahaweli. There are three main rivers called Hulu Ganga, Heen Ganga and Kalu Ganga, which begin from the Knuckles Mountain Range.

Thel Gamu Oya is a stream that originates from Knuckles massif. This natural freshwater pool is frequented by many travellers. If you are around Illukkumbura, Riverstone, make sure to take a dip and absorb the serenity of luxuriant riverine forests found along the banks of rivers and streams.

There are also a number of breathtaking waterfalls such as famous Bambara Kiri Ella which can be found in this area.

Pitawala Pathana

There's a lot of ground to cover in Knuckles range, but if you can only afford only a day or two, you still can get the most of its scenic sights. Before heading to Riverstone, we visited Pitawala Pathana as a day trip from Illukkumbura.

From Matale town, it takes about an hour by car to ascend the hill on narrow roads. En route, one can see pine forests, tea estates, paddy fields and breathtaking views of Gombaniya, Yakungala and Kirigalpotta peaks.

Pitawala Pathana is a montane grassland and a pygmy forest spanned across the Knuckles range. As the name suggests, it is literally a grassy plateau area. It's an easy walk from the main entrance and it takes about 30 minutes to one hour to cover the area of 250 hectares along a trail of 750 metres.

The ecology and dynamics of the grassland vegetation at Pitawala Pathana is worth examining. The open meadows hold the deepest secrets compared to any habitat in Sri Lanka. With an ecology expert, you can discover its biota including amphibians, small mammals, lizards, new species of tree frogs and a few endemic plants. Due to extreme winds, only small plants survive the rocky flat terrain.

The open stretch of countryside drops away at the mini World's End viewpoint where a couple of sheer cliff edges give you spine-chilling views of the surroundings. The area is vulnerable to strong winds, so think twice before you attempt anything adventurous.