Peter D'Almeida shares his journey on and off screen at Dialog #ngage 10.0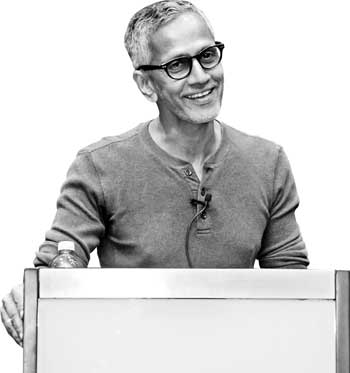 By Aysha Maryam Cassim

Peter D'Almeida, Managing Director and CEO of N*able Ltd., is a wise and witty raconteur. A local celebrity, his name has been in the spotlight more so than usual in the last few weeks, owing to his captivating portrayal of the character Maldeniya in 'Koombiyo,' the much-viewed and reviewed cult-TV-drama that has made Sri Lankan television history.

Smitten by his charismatic screen presence and acting prowess, his fans wanted to know more about him. Little did they know of the man's many characters and that his charm goes deeper than the roles he has played onscreen – until he addressed them at Dialog #ngage 10.0 on Tuesday 27 March as one of the key speakers, talking about the parts he has played in life. He took the audience through his life's well-lived and remembered chapters – from a curious child to an actor.

What is Dialog #ngage?

#ngage is a bi-monthly gathering where likeminded individuals come to witness and discuss ideas about the ever-changing tech and social media landscape. The Dialog Online Social Media Team which has always been leading from the front in the Sri Lankan social media space is the main organiser of #ngage, which gives a stage to entrepreneurs, bloggers, YouTubers, journalists and emerging personalities from different spheres of social media. It's a great opportunity to meet people, expand networks and be inspired in one's field of interest.

With a gleam in his eye and a cheerful smile, Peter revisited the glory days of childhood and rebellious youth. The 11th child in the family, he was brought up unburdened by any restrictions and used to be a curious child and an actor at heart.

Today, at 60 years of age, Peter finds three distinct parts of his life coming together to make him the man he is. From Lal in 'Giraya' to Maldeniya in 'Koombiyo,' over the course of 30 years in his ever-morphing career, Peter has constantly challenged himself to play different parts on screen and life. He thinks that three attributes in three characters he played shaped him into the individual he is now.

Saman in 'Ira Mediyama'

Peter says curiosity is what got him thinking and meandering into new places. He brought up Nimmi Harasgama's character in 'Ira Madiyama,' an award-winning feature film set against the backdrop of the civil war to convey how powerful curiosity can be.

In the movie, she sets out on a journey with a journalist who happens to be a stranger (played by Peter) to desperately find her husband who was allegedly shot down in flight.

Curiosity not only takes you places, he says, but it also makes you ask the right questions and fight for the issues that really matter.



Lal in 'Giraya'

While reminiscing about his rebellious days in unions, Peter evoked the question: 'What does it mean to be radical?' For him, it's about looking at the fundamental nature of something and understanding what lies beyond the surface.

Peter went back to the early '90s to talk about his character Lal in 'Giraya'. As an actor, Peter would always bring himself to movie sets with restless enthusiasm and passion. He would immerse himself in the role he played, diving deeper into the core. He believes that staying engaged in what you do helps one to explore new possibilities.

Since Lal's original character in the books 'Giraya' was considered culturally sensitive to the Sri Lankan audience at the time it was written, Peter had to disengage himself from the book and stick to the script of the drama. But he managed to subconsciously portray the nuances of Lal's true character with his exceptional acting skills.

Peter further relates the importance of staying engaged in the modern age of digital dominance and vehemently argues that the greatest threat to innovation and progress today is digital distraction. Increasing numbers of people are becoming disengaged from the moment and falling into a deluge of content filled with a cacophonous crowd of words and images. For Peter, this is why the tech and business world is being interrupted today. People are missing out on the details because they are always disengaged from the reality.

Maldeniya in 'Koombiyo'

Peter made a comeback on screen after 15 years with 'Koombiyo'. His brief appearances attracted a phenomenal reaction from fans. Peter's demeanour and the relaxed manner in which he delivered his lines absolutely and completely captured the attention of the audience, leading to rave reviews.

In this backdrop, it is clear why 'Koombiyo' Director Lakmal Dharmarathne held the role for Peter for three long years until he finally said yes.

"Maldeniya had only 30 minutes on screen, but I spent almost a month getting into his character. Maldeniya is a manipulative, Machiavellian politician. To portray someone unlike me, I had to study hard. Charisma alone can't do justice to a character," says Peter. Curiosity, self-consciousness and hard work are at the heart of Peter's philosophy. What's fascinating here is that he can connect each of his characters he has played to what he believes in.

Peter D'Almeida kept the audience thoroughly engaged during his speech, interspersed with complementary snippets from his cinematic career, reminding us that it's important to stay engaged with the larger matters of the world.

– Pix courtesy Dialog