'Parahuman,' an exhibition by Hashan Cooray, opened to the public on 5 April and will remain open daily until 2 May at the Saskia Fernando Gallery, 41 Horton Place, Colombo 7, from 10 a.m. to 6 p.m.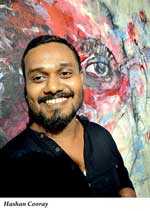 Cooray has actively pursued his work as a visual artist over the past four years alongside his role as Senior Art Director at Leo Burnett. Working on both acrylic on canvas and charcoal on paper advancing him to his first large scale solo show presented this April by his representative gallery Saskia Fernando Gallery.

As a younger artist his works where strongly influenced by modernism and postmodernism, an exploratory process that took the artist through his own journey of discovery in his style and techniques in painting. Moving further away from these influences the artist began to focus on portraiture in his solo exhibition titled 'LabRats' presented by Art Space in 2018. The exhibition featuring small scale pastels on paper featured visuals that marked a preliminary view into the beginning of his 'Parahuman' works.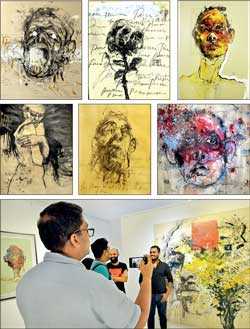 The artist's portraits are often referred to him as his 'anti-art' practice. With little interest in focusing on the decorative, aesthetic elements of artistic representation he delves deep into the psyche of his subjects. What results is often something darker, something hidden that he exposes. Like scribbles of an interrogator or a psychologist Hashan makes notes on his canvas, they belong to the process of creating a composition that is perfect in its representation of imperfections.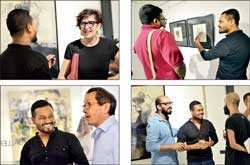 The artist writes, 'For decades, we have been classified under the generic profile 'Homo Sapiens Sapiens'. The rules of nature apply to all-things-physical. Are we the same as we were yesterday? While the clock ticks, we too have evolved intellectually. Thus, we witness the dawn of a whole new species. Imprisoned in a digitalised world, the room for rational decision, observation, goodwill and understanding is slowly fading away. We are not driven by conscience, compassion nor love. Where each bond is a transaction, every conversation is a concession, we hide behind the cascade of capitalism. We have built our future upon the foundations of power, lust and authority. As our morals fade, we shall rise as a new breed of humans. A whole new chapter in the book of evolution.'

Pix by Shehan Gunasekara