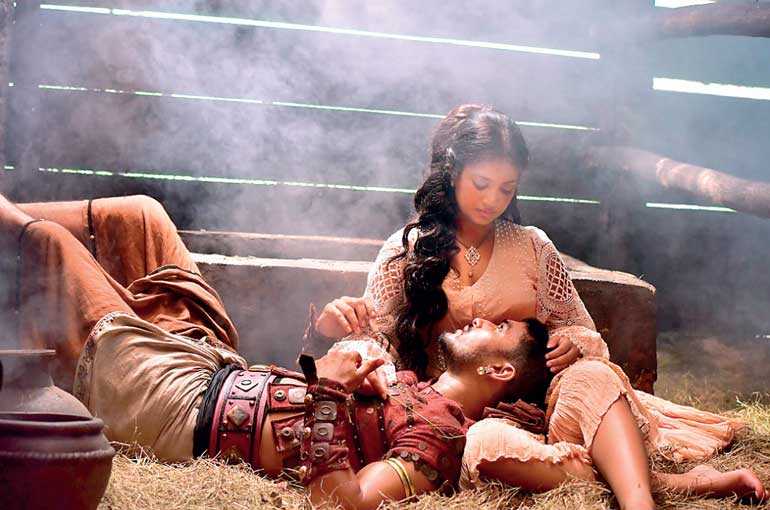 Nayanananda (Hemal Ranasinghe) and Senali Fonseka (Neelamani) in 'Vijayaba Kollaya'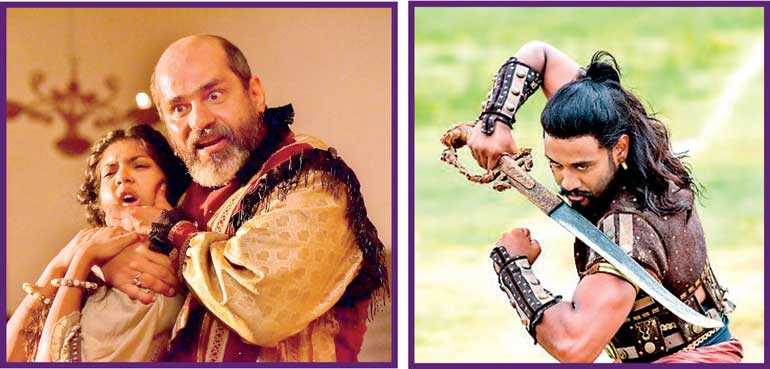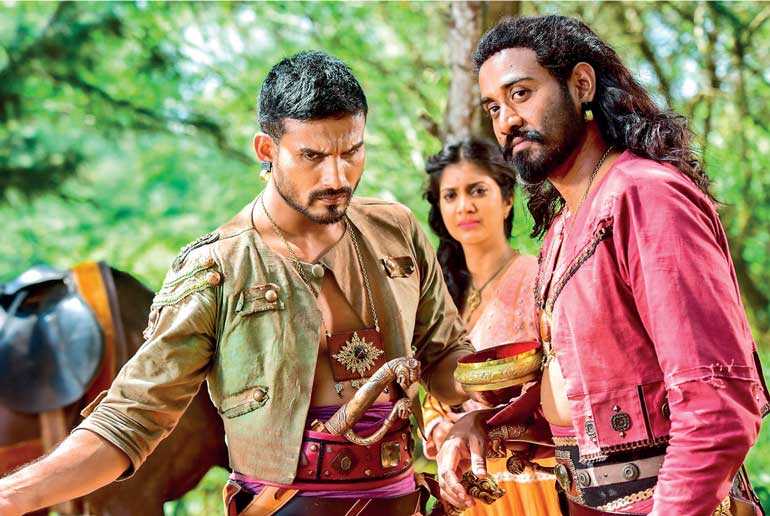 Film Director Sunil Ariyaratne's latest creation on yet another historical story has been released. The film 'Vijayaba Kollaya', based on historical novelist W.A. Silva's popular novel, relates the story of King Vijayabahu I who ruled from 1055-1110 AC. The book was released in 1938.

With 'Vijayaba Kollaya', Dr. Ariyaratne adds one more to his list of films on historical subjects. Among the others are 'Kusa Paba' (2007), 'Pattini' (2016), 'Uppalavanna' (2017) and 'Yashodara' (2018). With 'Vijayaba Kollaya' he has directed a film based on Sri Lankan history every year for the past four years.

Initial reports indicate that the film has been well received. For one thing, 'Vijayaba Kollaya' novel was very popular among the young and old alike for many years, particularly because it was a text for the then Senior School Certificate (SSC) examination – vital qualifying exam to look for a job. Readers grabbed historical novels with a romantic touch, since ancient royalty created excitement. The story of Saliya/Asokamala is a classic example.

It's 10 years after the death of Tissa Abeysekera, master-screenplay writer, that his last creation has reached the filmgoers.



The film introduces a new romantic duo – Hemal Ranasinghe (Nayanananda) and Senali Fonseka (Neelamani). A key role is also played by Ashan Dias as Asanga.

The silent-doer H.D. Premasiri has lent his hand to the 11th production. His effort deserves support of the public so that he can continue to give them better quality stuff.

Being away from Sri Lanka, I have had no access to the film. Hopefully it will reach Australia fairly early as it happened with 'Yashodara'.

Vijayabahu's ascendance to the throne is dealt with in 'History of Ceylon – Nicholas & Paravitana' thus: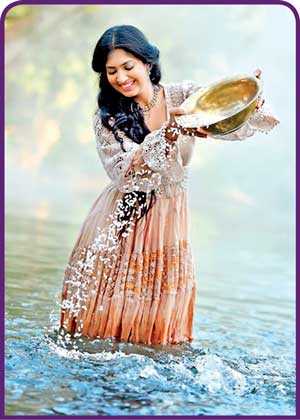 "…In 1055/56 Kitti, then in his eighteenth year, assumed the rulership of Ruhuna under the royal name of Vijayabahu. Vijayabah's seat of government on his accession continued to be Kataragama. He was now on the threshold of manhood and, though of royal lineage, he had known neither Palace nor Court. His life had been one of tribulation and trial; as a child he was a refuge with his parents in the mountain region, moving from one hiding place to another, and often subsisting upon jungle herbs and roots: in early youth he had begun to gain experience of warfare and to share the rigours of campaigning with his men, and by his personal qualities of courage and leadership he had earned the devotion of the chiefs and followers who supported him. This was fitting background for the formidable task which now lay ahead of him of liberating his country by a long and determined struggle against an enemy far more powerful than himself in arms and resources."

How did the Colas react? "The Cola viceroy's reaction to the celebrations and the acclamation with which Vijayabahu's accession was received by the people of Ruhuna was to despatch a strong punitive force to enter and subjugate that principality. Vijayabahu realised that his troops were no match for the superior Cola forces and he abandoned Kataragama, which the Cholas plundered, and withdrew into the security of his familiar mountain jungles. He moved back into the plains to Sippatthalaka, probably near Hambantota, after the Colas returned to Polonnaruwa, and settled down to restore order and good government in his principality, to organise and develop it and to build up material resources for war."