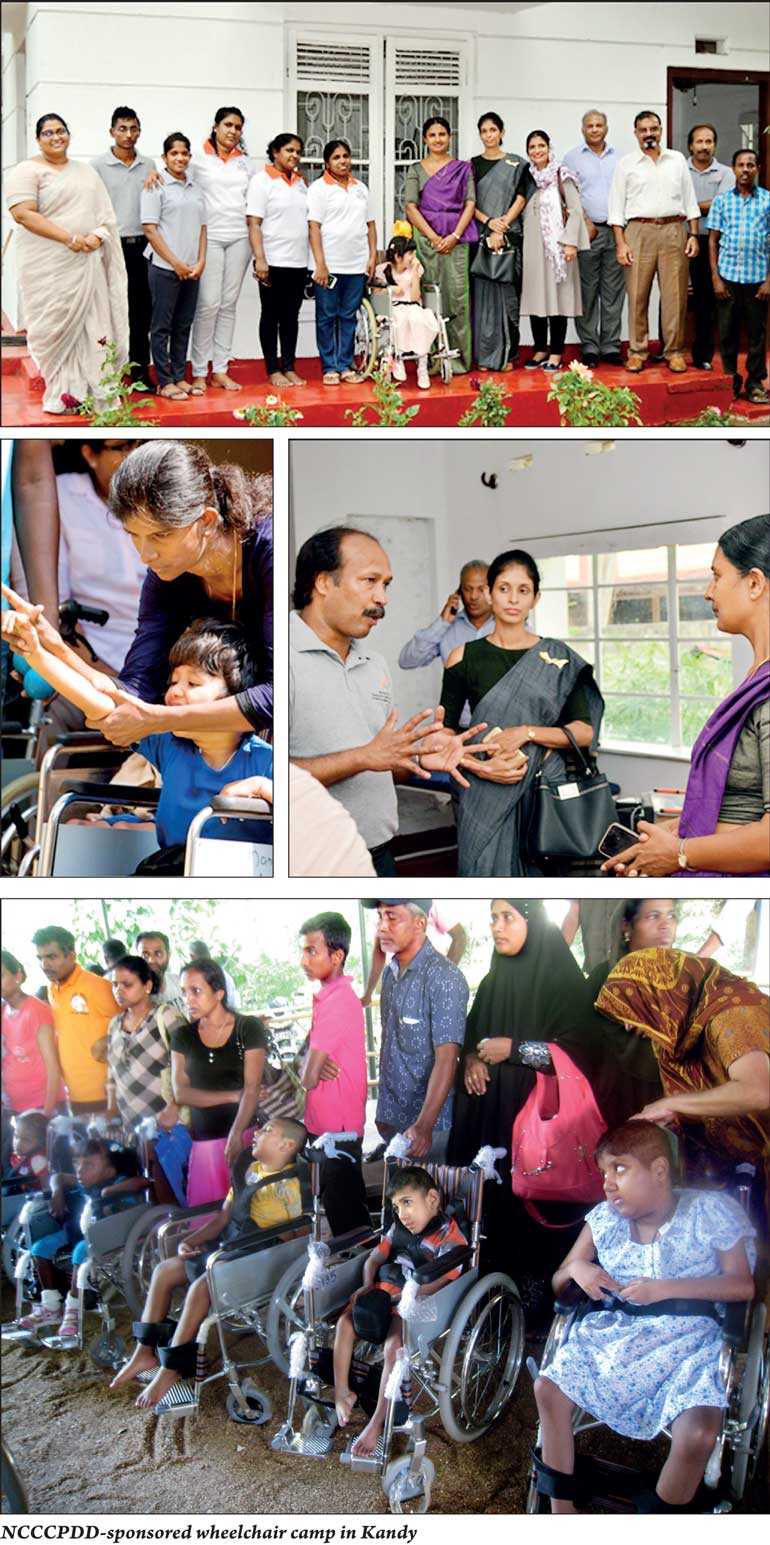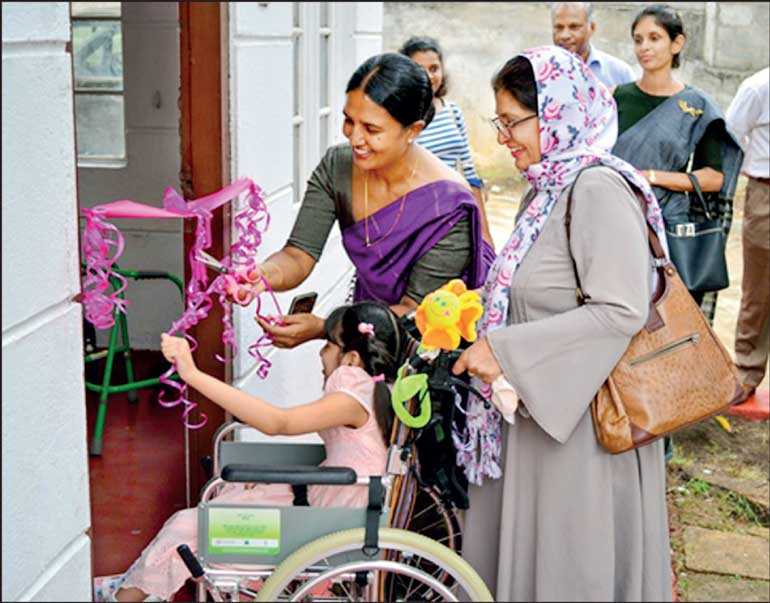 By Aysha Maryam Cassim

The National Centre for Children with Cerebral Palsy and Other Developmental Disorders (NCCCPDD) opened its first extension in the hill capital on 23 May as part of Dilmah's MJF Charitable Foundation's efforts to strengthen the response to the needs of people with disabilities in the Central Province of Sri Lanka.

Children with disabilities in Sri Lanka face substantial barriers in life. Discrimination, social stigma and lack of resources to support their needs in many domains of their lives leave children with disabilities confined to their homes, restricting their ability to grow into independent individuals, who are capable of leading dignified, meaningful lives. Their vulnerability is often amplified due to problems that arise from poverty, poor mobility and rurality. They may sometimes feel excluded when adequate attention or opportunities are not given to help them achieve their fullest potential.

As one of the few centres in the Central Province dedicated to services for children with Cerebral Palsy and other developmental disorders, NCCCPDD in Kandy hopes to work with children, parents, caregivers, medical personnel and other government stakeholders to provide a range of classroom and therapeutic services as well as workshops and training for families and professionals.

Addressing the common challenges, including lack of services available for children with disabilities in Kandy, S.A.B.J Senevirathne, Chief Physiotherapist at Sirimavo Bandaranayake Specialised Childrens' Hospital in Peradeniya said that NCCCPDD is a much-needed facility that will give a sense of belonging and purpose in the lives of families of children with disabilities in the region who need intensive and structured education and therapeutic intervention.

Children who suffer from lifelong disabilities require ongoing assistance with activities of daily living. Since managing them at home can be overwhelming for their parents, a continuous caregiver who provide hands-on support and an inclusive environment that promotes the physical, emotional and social growth of children with disabilities is necessary to support the lives of the disabled and their families.

Ruwaida Ismail from Kandy has an eight-year-old daughter who is diagnosed with Cerebral Palsy. For the past eight years, she has been trying to find a facility that offers the best care for her child and one that she will be happy attending.

"I am grateful to MJF Charitable Foundation for having decided to extend their services to Kandy. NCCCPDD provides the right setting for your child to learn and thrive. The Centre will be a reflection of the hospitable environment, services and modern facilities that are already present in Colombo. I am confident that this Centre will bring about a positive impact to children like my daughter to lead a more fulfilling life in the future."

NCCCPDD has been hosting wheelchair campaigns around Sri Lanka for the past three years. The Centre has distributed more than 300 wheelchairs in 2018 and gets regular referrals from Lady Ridgeway Hospital and Ragama Rehabilitation Hospital. Over 2,300 wheelchairs have been donated so far, covering more than 30 destinations across the island.

"In 2015, at the wheelchair camp conducted in the Kandy district, a team of specialists from NCCCPDD assessed 133 children age range 2-18 years with severe deformities and noted the lack of availability of centre-based services in the district for these children. We also realised the importance and necessity of these services for the other children with mild and moderate conditions who will benefit from both educational and therapeutic services. The regional centre of NCCCPDD made its entry into Kandy as a response to various requests that came from the families of these children in the Central Province," said Gopi Kitnasamy, Head of Rehabilitation Services, MJF Charitable Foundation.

NCCCPDD in Kalapaluwawa, Rajagiriya actively partners with national and renowned international resource persons to ensure access for special education, awareness and outreach programmes among children with disabilities as well as caregivers, educators and professionals.

Since its inception, NCCCPDD has developed guidelines to screen, identify and assess different disabilities, and produced resources for parents on how to effectively manage their children.

In November 2017, in celebration of the World Cerebral Palsy (CP) day, NCCCPDD launched the first 'Augmentative and Alternative Communication' (AAC) App for Sri Lanka in Sinhalese and Tamil, Hip Surveillance Programme in partnership with Durdans Hospital, and Boccia game in Sri Lanka in partnership with the National Paralympic Committee, Appropriate Paper-Based Technology (APT) in Sri Lanka and a Gait Analysis Programme for children with CP.

The therapies offered at NCCCPDD seek to integrate children with disabilities into normal life by providing them with individual rehabilitation and social skills. The Centre maintains an inclusive educational programme that has been developed for children with disabilities following an individualised assessment of the child's condition and needs.

Every year, NCCCPDD holds a concert, Sports Meet and Arts & Crafts Fair to enable children with disabilities to participate and contribute to society through the provision of appropriate sport and recreational activities.

NCCCPDD, which is part of Dilmah's MJF Charitable Foundation, continues to work with communities, advocating for an inclusive, equitable and sustainable society, reinforcing the Foundation's commitment to leave no one behind.

As the first facility in the Kandy that has been designed to enable increased access to resources and services for children, adults, people with disabilities, one of the priorities of the newly-opened Centre for coming years will be to step up its efforts to bring disability into light among people from Central Province and advance and ensure accessibility for children with disabilities, unaffected by where they live.

The National Centre for Children with Cerebral Palsy and Other Developmental Disorders is located at 68, William Gopallawa Mawatha, Kandy.

For further information, please call Gopi Kitnasamy on +94 (77) 755 4328/+94(71) 434 2247.