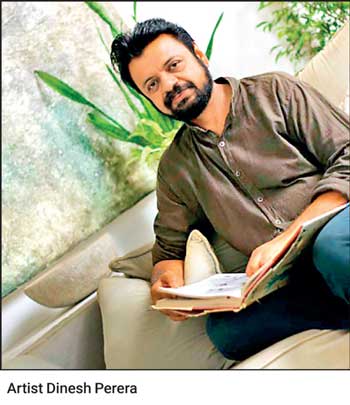 Sky Gallery of The Fareed Uduman Art Forum takes pleasure in hosting an exhibition of vivid and spectacular paintings by Dinesh Perera from Sunday 29 January to Sunday 7 February (10.00 a.m. – 6.00 p.m.).

The Art Forum is dedicated to promoting emerging painters. The Exhibition will be declared open by Sapumal Foundation Chairman Rohan De Soysa on 28 January at 6.30 p.m.).

Dinesh schooled initially at Peradeniya Sarasavi Uyana Vidyalaya and later at D.S. Senanayake College. His talents were greatly admired and appreciated by his teachers at school. He was fortunate to study Art under Dharmasiri Kariyawasam at the Ceylon Society of Art (Jathika Kala Bhavana) of the National Art Gallery. He exhibited here as a part of a group of young painters.

He was also a member of "The Young Contemporary Artists" of the George Keyt Foundation where he won awards. Here too he exhibited as a part of a group of young and emerging painters.

In 1994 he joined Zeppelin Advertising Services as a visualiser where he says he was greatly motivated to experiment and learn another dimension of art through the exposure he had in their unique Art Dept. While he was there, he had his first solo exhibition at The National Art Gallery. While at Zeppelin he says he was greatly inspired by the Paintings of Fareed Uduman (father of the CEO). It seems his paintings took a completely different turn thereafter (360 degrees).



He virtually lived with these paintings for 27 years and was closely involved in three exhibitions of Fareed Uduman and also the set up and printing of a coffee table book about the artist. He says he was greatly motivated to begin painting again and these 45 paintings on display are a direct result of this revival in his interest, influence and inspiration.

Dinesh's oeuvre is very exciting for art lovers to observe and inspect. His colours and shapes are very vibrant and multi-faceted, stimulating within us an unusual awareness that creates a hunger to look more closely at his diverse themes, and understand them better. Dinesh says his paintings depict love, intimacy, kindness and sexuality in human beings and also (in many) their interactions with animals and birds.

Many of his paintings have been bought and now hang in overseas homes, while he has been regularly commissioned by leading architects in Sri Lanka for decorating their spaces with his paintings inside of the homes they design.

Sky Gallery of The Fareed Uduman Art Forum is located at 65/9, Kirula Road, Colombo 05. Viewing times for this exhibition are from 10.00 p.m. to 6.00 p.m. each day.