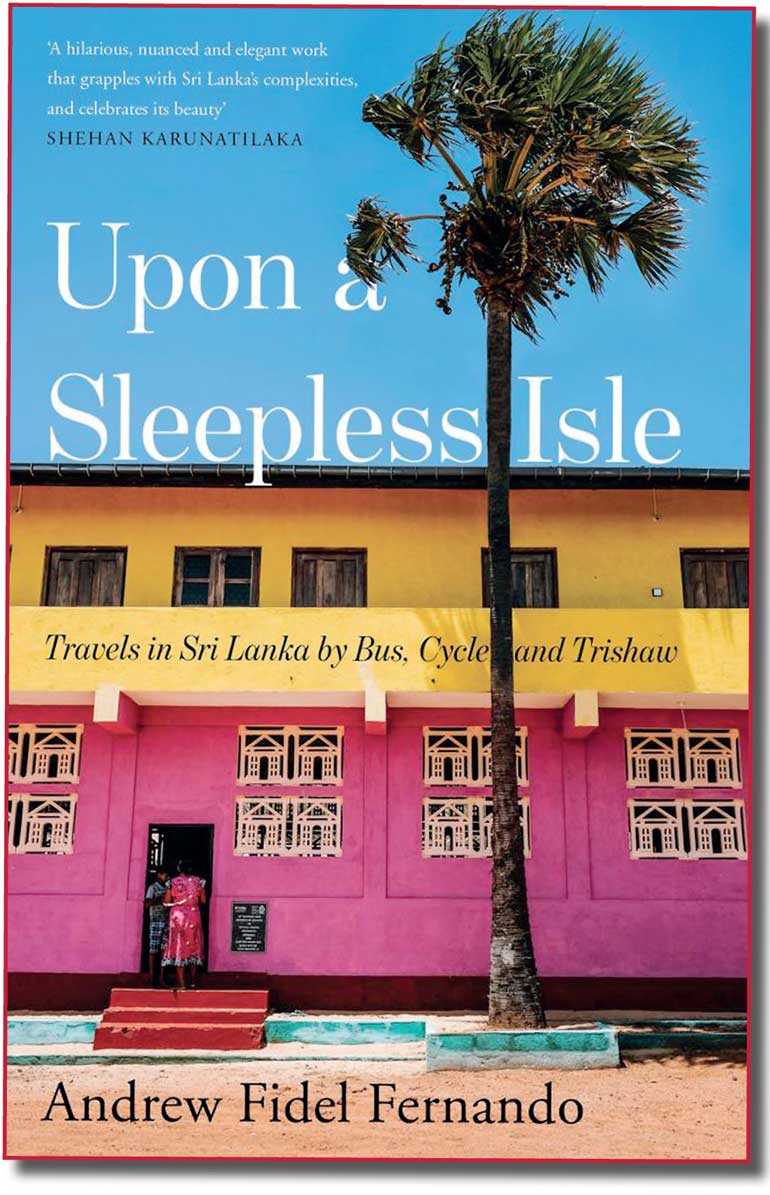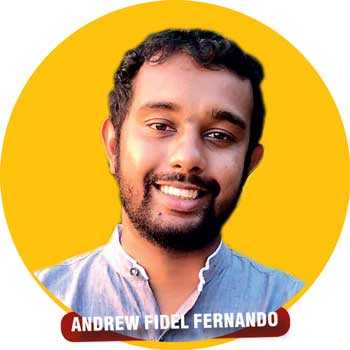 By Madushka Balasuriya

Andrew Fidel Fernando knows he's not the first to blend history with humour, adventure and storytelling, but he also knows a good thing when he sees one.

"That was the first time I realised how history can be used to tell a story about the present. And I was struck by that and I wanted to bring that to my work," he says of reading William Dalrymple's 1993 ode to Delhi, 'City of Djinns,' for the first time.

Andrew, or Fidel as he's more commonly known to his colleagues at ESPNcricinfo – owing to the sheer volume of other Andrews employed there – is of course many a cricket fan's foremost and favourite authority on Sri Lanka Cricket. With a biting wit that belies his laidback island demeanour, his writing has brought some much-needed levity to the agony that has followed the Sri Lankan national team over the last couple of years.

But in his first book, 'Upon a Sleepless Isle,' Andrew forgoes the content of his 'day job' for the arguably more passionate pursuit of what can liberally be termed his hobby. I say liberally because his undergraduate degree is indeed in History, while this year he has also begun co-hosting a Sri Lankan history podcast.

"As someone who has a natural interest in history, it was just a natural step for me to take. What I wanted to do when I started reading Sri Lankan history was to try and dig out history that I felt was particularly resonant with the present," he explains.

"Another one of my aims was to write a funny book, and Sri Lanka has got a very proud satirical tradition, everything from the comedies on TV to our theatre plays to our baila, everything has a comedic tone to it. So it was a natural fit for me for who I am as a writer." While the overall reception to his debut effort will only be known in the coming months following its global release, on the counts of humour and historical resonance, at least, Andrew can rest assured in having achieved his stated goals.

The book itself is a first-hand account of his low budget travel across the length and breadth of Sri Lanka, throughout which he meets all manner of Sri Lankans, all simultaneously reinforcing, dispelling, and on the whole offering context and clarity, to the many stereotypes so many of us are guilty of harbouring.

"I tried to go into this project without any assumptions. For example, the first place I visited in the north is Mannar, and you realise that a lot of what you hear growing up especially about the north is essentially propaganda. Now of course every nation engages in propaganda during the war, it's not a secret, it's not something that's restrictive to Sri Lanka, but as a writer what you should be focused on is having no assumptions, and going somewhere to try and get a gauge of what it's really like. 

"One of the really surprising things for me, especially in the north, is that I found out how incredibly diverse it is. I went to Jaffna, which is probably a little bit more ambitious, where people are a little bit more careful about their time. Mannar is completely laidback and probably the most laidback place I've been to, and Jaffna was possibly the least – and they're both northern towns. 

"Now most of us in the south would probably think that they would be very, very similar but in fact they couldn't be more different in certain ways. So it was enjoyable for me to discover Sri Lanka by making sure I shed everything I thought I knew about Sri Lanka."

Throughout his journey there are several similar moments of accepted 'truths' being turned on their proverbial heads. It also offers insights into the Sri Lanka of old, one held hostage by the shadow of a 30-year civil war.

So preoccupied have we been dealing with the aftermath, and before that the actual atrocities, of war, that as a nation we have forgotten where our journey began, believes Andrew.

"History's a big part of how we got to where we are now, and Sri Lankan history is really interesting because it's so rich and in many ways unexplored. Historians of course are out there, doing the work, and there is quite a lot of scholarship there, but that hasn't really made it into the mainstream conversation. 

"A normal Sri Lankan person, regardless of their education, generally doesn't know that much about, for example, how the colonial period unfolded. I guess we're so focused on what happened in the last 30, 40 years with the war and everything that's gone on, we haven't as a society put a microscope on how we got to the place where we were 30, 40 years ago."

Among some of these pre-war historical nuggets, are some truly astonishing bits of forgotten history. Whether it's about the inquisitiveness of the layman ice-cream vendor who made one of Sri Lanka's most astonishing archaeological discoveries, or the tales of Saradiel, Sri Lanka's very own Robin Hood, it's in these moments that Andrew's blend of humour, sarcasm, and perceptive writing, truly shines through.
.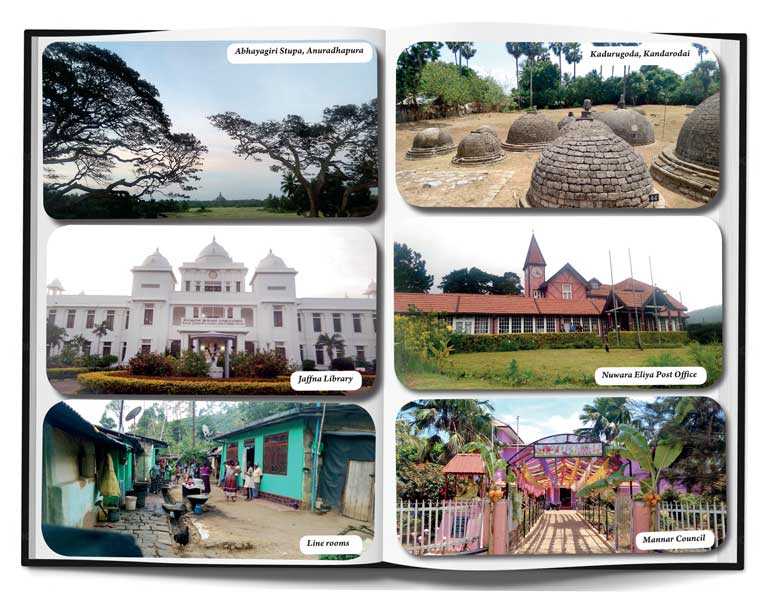 One of the books most memorable entries meanwhile relates to the Kandyan kingdom of old and its long forgotten, nay buried, history of sexual liberalness, where once "unrecognisable attitudes towards sex and marital affairs existed".

"Promiscuity had in fact been a feature of Kandyan society long before the 19th century. In his famous account of captivity in Kandy between 1660 and 1680, British sailor Robert Knox had also been struck by the local appetite for carnal adventure," reads a particular fascinating excerpt.

It continues: "How attitudes have flipped. Following British conquest, sexual norms became warped and the island recast its historically liberal Buddhist tradition in a brooding, conservative vein. Where women once went bare-breasted in public, for example, there are now high schools that frown on mothers wearing sleeveless tops when they drop off children. Where it once was natural for prospective spouses to cohabit before marriage, present-day parents who so much as suspect their offspring are engaged in sexual relationships will, at the very least, set such children on fire."

For Andrew, this particular bit of island trivia was not something he had set out in search of, but one that once discovered he found inconceivable not to include.

"Once I came across it, it was impossible for me not to put it in the book. It was so interesting to me because we've done a 180 degree turn as a culture on those values, we've completely gone back and in the opposite direction. I think when I first came across them, in my preliminary research, I was reading Robert Knox's very famous book on Sri Lanka – and I quote him in my book a couple of times as well – about how there was no prostitution in the Kandyan kingdom because there was no need for it. There was no market for it because everyone essentially sleeping with each other!

"We can't extrapolate and say all of Sri Lanka was like this, but at least the Kandyan kingdom was like this at this particular point in time."

As far as fact-checking and verifying such accounts, Andrew believes his academic background in history, and all the accompanying research skills that comes with it, have held him in good stead. His thoroughness also aided by virtue of frequent communication with local scholars.

This devotion to accuracy is of course important in almost any form of writing, but more so when dealing with the past. Several historical accounts referenced in 'Upon a Sleepless Isle' are put forth alongside caveats on the authors' political leanings and motivations. Many of these, unsurprisingly, relate to race relations, something which has permeated through nearly all of Sri Lanka's historic and present-day problems.

Andrew is particularly sensitive to these matters, himself a mix of Sinhala, Tamil and Bharatha heritage, but by offering contrasting views, with necessary context and social commentary, he manages to paint a faithful picture of race relations and religion in Sri Lanka. Though he is careful not to cross over into pontification and judgement; Indeed, as a writer his most ingenious trick is in providing his observations without ever positioning himself as an expert.

"Sri Lanka's an incredibly complex place and I felt like the more I found out about it, the more complexities that were unravelled. There are not only religious and ethnic boundaries there's also a very strong class boundary that's unexplored in our national discourse. I don't think you can read my book and say you understand Sri Lanka fully, but you get more of an appreciation for Sri Lanka.

"A lot of this book is trying to write my own mind around some of these issues. I think sometimes I give up and make a joke or whatever, or try to, because I haven't come to a conclusion about something."

'Upon a Sleepless Isle' is now available in bookstores islandwide.