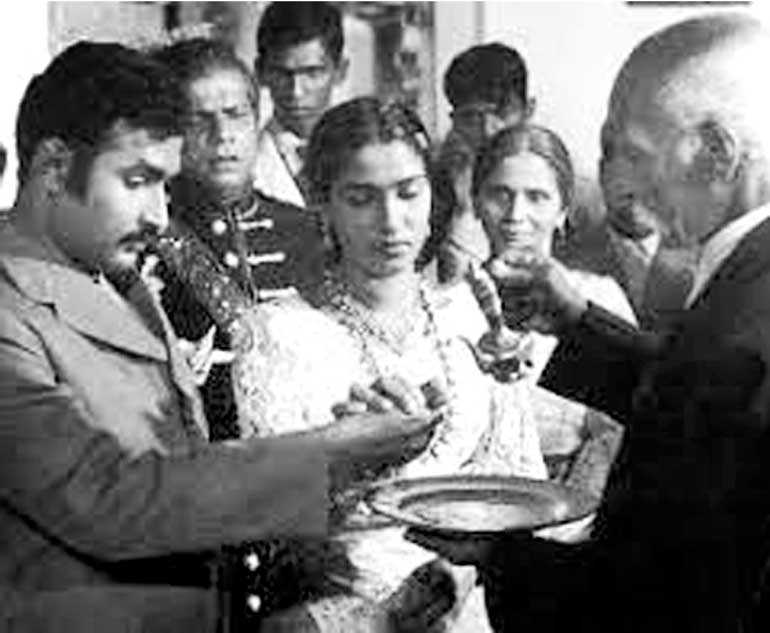 Punya Heendeniya with Gamini Fonseka
The Lester James Peries (LJP) creation 'Gamperaliya,' which completed 55 years since its release on 20 December 1963, is still being talked about as one of the best films produced in the 71-year history of Sinhala cinema. Thanks to the restoration of the film, it is still preserved unlike most other Sinhala films. For most of those who were born after 1963 but have heard about the film, it is a great asset.

Veteran journalist Nalaka Gunawardena wrote how one evening in November 2009 at the gala opening of the European Film Festival in Colombo, he sat two rows in front of a living treasure of the Asian cinema and watched his recently restored 1964 cinematic masterpiece, a cultural treasure in its own right. The "living treasure of Asian cinema" he referred to was LJP and the "cinematic treasure," 'Gamperaliya'.

LJP was the last among the males involved with the production to survive. Starting with author Martin Wickremasinghe, the list of those who departed earlier includes co-producer Anton Wickremaisnghe, script writer Reggie Siriwardena, dialogue writer Tissa Abeysekera, cameraman Willie Blake, music director W.D. Amaradeva, and actors Henry Jayasena, Gamini Fonseka, Tony Ranasinghe, Wickrema Bogoda and G W Surendra.

Of the females Sumitra Gunawardena who edited the film, and the leading actress Punya Heendeniya are still around to bring back memories of the days the film was made. Punya is domiciled in UK and during a visit to Sri Lanka a few years back appeared on TV and discussed her short and sweet film career. For her 'Gamperaliya' was an unforgettable film.

The girl from Mirigama grew up in a rural setting and was inspired by the music-loving father of the gramophone era. She studied music in school and when renowned dancer Panibharata came as dancing teacher just after his return from India, she was among the girls who studied dancing. "The Principal sent out letters seeking permission from the parents of girls before allowing them to join the dancing class. That didn't apply to the boys," she recalled.



Punya appeared in two dancing sequences in the film 'Asoka' when the film director sought Panibharata's assistance. But her first appearance in an acting role in a film was in 'Deiyanne Rate' (released in May 1958) based on the popular novel by the well-known author W.A. Silva. When producer S.D.S. Somaratne had asked a friend of his who happened to be a close relation of Punya's, he had suggested her name.

"My father and I met lawyer Somaratne at his Hulftsdorp office. He got me to read a paragraph from the novel. I may have possibly read with some feeling – he was quite happy and straightaway selected me for the role of Christine," she said.

While most of the filming was done inside a sound studio, she remembered how she had to go up and down several times on the Sri Pada route. She acted with some of the popular male stars of the day including Senadheera Kuruppu and Dommie Jayawardena.

Prior to 'Gamperaliya' Punya appeared in 'Kurulu Bedda' (March 1961) and 'Sikuru Tharuwa' (September 1963) which, along with 'Deiyanne Rate' were directed by L.S. Ramachandran though the producers were Sinhalese. The South Indian influence was very visible and Punya recalled how director Ramachandran who had hardly any knowledge of Sri Lankan ways and styles, directed the players to act the Indian way. "Even in the use of make-up we looked so unnatural. I used to quietly remove the make-up and make me look more real," she said. "Same with the acting – we tried to move away from unreal acting."

Punya was quite thrilled when she was selected to act in 'Gameraliya' for the lead role of Nanda.

"I had missed going for higher education. I always had a thirst for knowledge. Working with Dr. Peries was similar to going to the university," she said with much satisfaction.

She also remembered how author Martin Wickremasinghe use to turn up to watch the shooting. "He gave valuable advice. For example, he explained how the cloth was worn down south. It was different to how we were used to. So was the parting of the hair," she recalled.

Incidentally, the females who played significant roles in 'Gamperaliya' included Shanthi Lekha Nanda's mother and Trillicia Gunawardena (Nanda's sister).

Now domiciled in the UK, Punya is a happy and contented grandmother.

Punya Heendeniya with Henry Jayasena