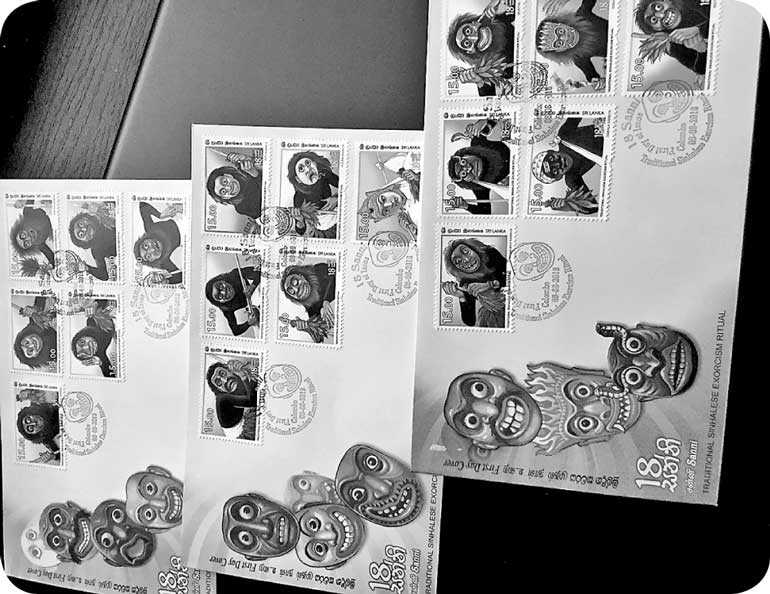 Folk rituals have been practised in different areas of Sri Lanka from ancient times. Over time they have taken different forms and numerous types of ceremonies and rituals continue to be held. These traditions take different forms in different parts of the country. Basically, they differ in the up country, low country and the Sabaragamuwa region.

Among these traditional exorcism rituals the 'sanni' dancing ritual is practised mainly in three areas - Bentara, Matara and Raigama. There is a similarity between Raigam school of dancing and the Bentara school. These two follow the 'gam madu' ritual in terms of the style of dance, decorated costumes and dialogues.

A recent issue of stamps feature a rather unusual theme – the 'Daha Ata Sanniya'. As the name suggests, it is 'sanni' dance of the Bentara tradition in 18 stages. 'Sanni' is a word used for diseases. Dances are performed by actors wearing masks with slight variations.

The different masks featured in the stamps relate to the following diseases:
Bootha sanniya – demon of spirits
Abootha sanniya – demon of madness
Amukku sanniya – demon causing fits of vomiting
Wedi sanniya – caused by the disturbance of bile and phlegm
Vaatha sanniya – caused by the disturbance of body wind
Beetha sanniya – demon of fear
Bihiri sanniya – demon of deafness
Kanaa sanniya – demon of blindness
Pith sanniya – demon of bile
Golu sanniya – demon of dumbness
Murthu sanniya – demon of unconsciousness
Demala sanniya – demon of Tamil
Gulma sanniya – demon of the disease of the spleen
Kora sanniya – demon of lameness
Ginjal sanniya – demon of flames
Seetahala sanniya – demon of shivering
Naaga sanniya – demon of cobra
Deva sanniya – demon of deity
Professor Lionel Bentarage of the University of Aesthetic Arts gives a detailed description of the 'sanniyas' in the Stamp Bulletin No. 915 which had been released with the Special Issue depicting the 'Daha-ata-sanniya'. Each stamp identifies each demon.

According to him, it appears that the symptoms of diseases caused by 'sanni' demons can be compared with those of the local Ayurveda system. Dances are performed using abstract physical movements in a manner that highlights the ill health situations of the relevant 'sanniya' accompanied with singing, drum beats, and dialogues portraying the nature of the character imitated.