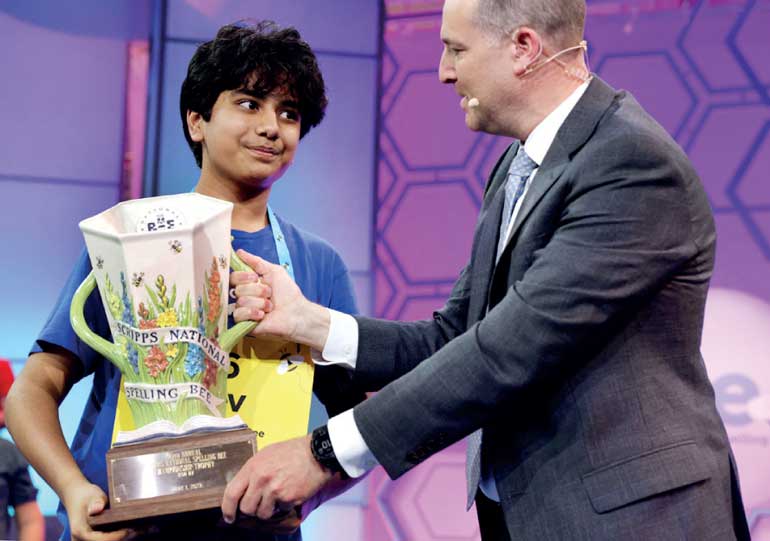 Speller Dev Shah of Largo, Florida, is presented with a trophy by E.W. Scripps Company CEO Adam Symson after he won the 2023 Scripps National Spelling Bee at Gaylord National Hotel and Convention Centre on 1 June in National Harbour, Maryland. Shah correctly spelled the word 'psammophile' and won the competition – AFP Getty Images
CNN: Dev Shah, a 14-year-old from Largo, Florida, won the 2023 Scripps National Spelling Bee on Thursday night, correctly spelling 'psammophile' to take the $ 50,000 first prize.

"It's surreal… My legs are still shaking," he said at the competition in National Harbour, Maryland.

Eleven students made the finals after 11 million people entered spelling competitions throughout the world.

The preliminary rounds were held Tuesday, while the quarterfinals and semifinals took place Wednesday.

In Thursday's finals, Dev correctly spelled 'schistorrhachis', 'aegagrus', 'rommack' and 'tolsester'. In the word meaning round, Dev picked the right definition of 'chiromancy', identifying it as someone who tells fortunes using lines on the palm of the hand Dev competed against 14-year-old Charlotte Walsh from Merrifield, Virginia, as the final two standing. She earned $25,000 for reaching second place after correctly spelling 'akuammine', 'collembolous' and 'Jhangar'.

The 231 elementary and middle school students in the national spelling bee this year were as young as 9 and as old as 14. There were contestants from every US state, and 11 students from the Bahamas, Canada, Germany, Ghana, the US Virgin Islands, Guam and Puerto Rico, according to the E.W. Scripps Company, the organization that operates the bee.

Over 180 were National Spelling Bee first-timers, and 49 were returning contestants.

Dev previously had tied for 51st place in 2019 and finished tied for 76th in 2021.