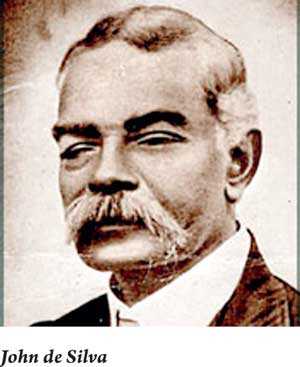 For songs sung over 100 years ago to be still popular should indeed be rare. Thanks to research done by Professor Emeritus Sunil Ariyaratna (Sunil A), the current year is the 117th of the ever-popular song 'Danno Budunge'.

Irrespective of one's age there is hardly anybody who doesn't sing at least the first one or two lines of the song which begins thus: Danno Budunge Sri Dharmaskanda – Pevi Rakhithi Inda Seela Nibanda.

Of the early – possibly 'earliest' – Sinhala songs (leaving aside folk songs) we talk about 'Danno Budunge' which was created by the pioneer dramatist, John de Silva (1857-1922), for his drama 'Siri Sangabo'.

The birth of the song was discussed a few days back at the popular ITNTV Sinhala program 'Doramadalawa' conducted by Hasantha Hettiarachchi. The discussion revolved round Sunil A's latest book, 'Gaandharva Aapadana' covering the progress of Sinhalese music. It's only the first in a series he is planning to release.

As to the origin of the 'Dhanno Budunge' song, it was pointed out that the tune was composed by Vishwanath Lauji, a veteran Indian musician with nearly 280 tunes to his credit. He had come to Sri Lanka and John de Silva had met him and established a relationship.

The program was a lively one with several participants chipping in singing the relevant songs in between the

discussion. Apart from the singers Nanda Malini, T.M. Jayaratne, Nirosha Virajini, Janaka Wickremasinghe and Rodney Warnakula was veteran musician Rohana Weerasinghe.

It was nice listening to old songs which are hardly heard now. Songs from several John de Silva productions were among them. 'Amba dang ha rasa kesel del' from 'Ramayanaya', 'Gumu naade' from 'Sakuntala', 'Lona muni raajage', 'Siri sangabodhi', 'Gimhana greeshmavu kaale' were among the popular 'oldies' that were sung. Many would have appreciated watching Rukmani Devi singing 'Aadarayai Karunavai' in the film 'Daivayogaya' (1959).

As for Sunil A's book it is bound to be of great use to students who reads Sinhala music as a subject.