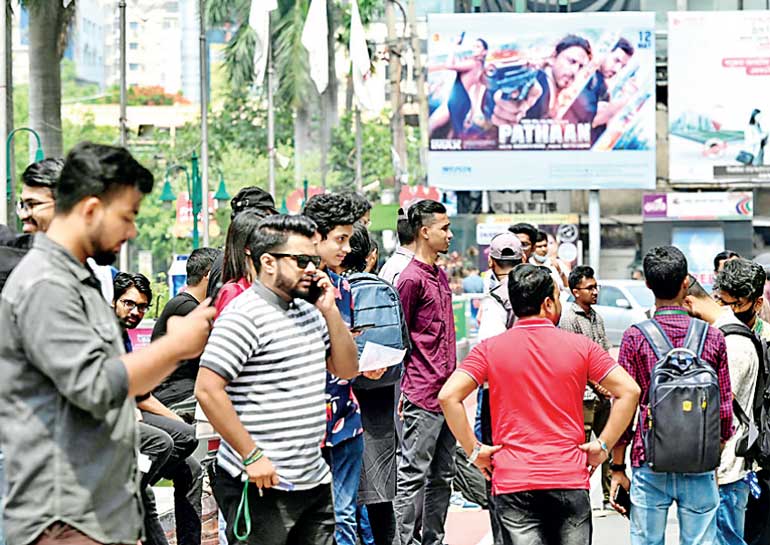 People arrive at a cinema hall to watch Bollywood movie Pathaan in Dhaka yesterday – AFP
DHAKA, AFP: Thousands flocked to cinemas in Dhaka on Friday as Shah Rukh Khan's blockbuster "Pathaan" hit the big screens, the first Bollywood movie to get a full release in Bangladesh in more than half a century.

The action-packed spy thriller smashed box office records when it opened in India in January and the star has a huge fan following around the world.

But Dhaka banned films from its neighbour soon after its independence in 1971, in the face of lobbying from local movie-makers, despite India backing it in its independence war with Pakistan.

Bangladeshi cinemas have gone into steep decline, with poor-quality local films unable to match Bollywood's glitz and glamour or draw audiences, and the ageing Shakib Khan its only bankable star.

Some movie houses even switched to illegally showing pornography to try to remain viable, but more than 1,000 have shut their doors in the last 20 years, many of them to be converted to shopping centres or apartments.

At the Modhumita Cinema Hall, once Dhaka's most luxurious movie theatre, heroin addicts sat outside this week in front of posters for Jinn, a newly released Bangladeshi movie.

Authorities attempted to lift the ban on Indian movies in 2015 when two Bollywood hits – "Wanted" and "The Three Idiots" – were screened, but protests by local movie stars forced theatres to stop the shows.

The Government finally issued a decree last month allowing the import of 10 movies a year from India or South Asian nations.