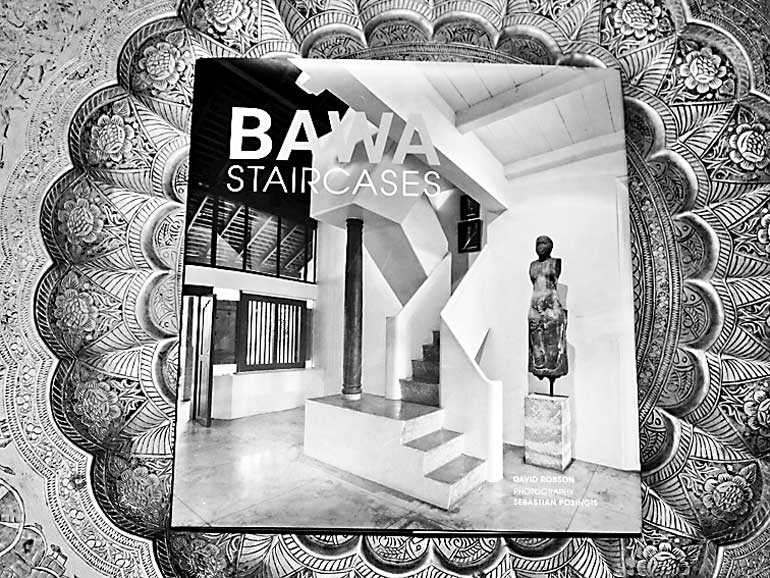 Just when you thought you knew everything there was to know about Geoffrey Bawa, the writer/photographer duo David Robson and Sebastian Posingis introduce us to a hitherto unexplored or un-described aspect of Bawa's architecture.

Before flipping through its pages, you may wonder whether you really need a book that rhapsodises such a necessary but seemingly mundane detail; and yet, the aptly titled BAWA staircases will draw you in with its elegant photographs and lucid descriptions.
BAWA Staircases
David Robson, Photography by Sebastian Posingis
Talisman, 2019; Rs. 5,100
Barefoot, Vijitha Yapa and other fine bookshops


With several definitive volumes on Bawa under his belt, David Robson has become the iconic architect's de facto biographer and has arguably done more than any other writer to keep the legend and memory of Geoffrey Bawa alive. Claiming a personal friendship with Bawa, the writer David Robson is himself an architect who enjoys close friendships with several other architects who knew and worked with Bawa – undoubtedly giving him privileged insights into Bawa's various inspirations and lifestyle.

BAWA staircases is as much about David Robson's interpretation of Bawa's work as an eulogy to the architect and Robson's talent shines through more as a teacher to neophytes like you and me than as a friend to a posthumous architect.

The book entices us by describing Europe's magnificent public staircases like the Spanish steps in Rome and other sweeping or curvilinear staircases like those of the villa Farnese, contrasting them with the more angular staircases of Wurzburg and Bruchsal which served as documented inspirations to Bawa. Robson then does equal justice to Lanka's breath-taking stone slab staircases of Mihintale and Yapuhuwa; the impressive stone tiers in the ancient bathing ponds of Abhayagiriya; as well as the awe inspiring stone hewn steps in Mulkirigala which are replicated in lesser or greater extent on any rock crested by a temple.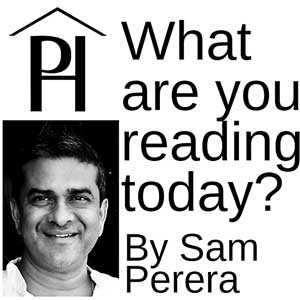 The informal lesson is so effective that by the time we get to Bawa's architecture, we immediately see the link between the historical inspiration which lead to Bawa's adaptation of ideas or execution. Without being prompted, we're willing to see the correlation of the Villa d'Este's spiral staircase to that of the Raffel House; the traditional moonstone of our cultural heritage to Bawa's simplified but equally stylish composition in his Townhouse; the framed geometric rigidity of Germanic palace staircases to Bawa designed hotels and public buildings.

The architect's undisputed talent was to bring a culturally relevant aesthetic to advance an already good design. Lunuganga seems to have been a place of happy experimentation for Bawa though the imagery of shallow steps and steep stairs is reminiscent more of Luis Barragan than classical Europe or even ancient Lanka.

Leading naturally from steps built into the landscape, and breaking away from boring rectangles stuck in the ground, Bawa often designed smallish, asymmetric, manageable pools which maximised the view. As a further charming design feature, these pools often retained existing rock formations as part of their floor. Although Robson promised to desist from writing any more about Geoffrey Bawa, perhaps he could be persuaded to pen a final volume dedicated to these little jewels and thus complete our collection with: BAWA swimming pools.

Architecture is often a hidden art where unless one knows the architect or owner, one will never see a bespoke house design other than in a fragmented way through a magazine or book such as this. However, in Bawa staircases, Robson chronicles many public and semi-public spaces such as the Parliament, Bentota Railway Station, the Bawa Townhouse, the Mahaweli Building, Ruhuna University, St Thomas' Prep, St Bridget's Convent, Blue Waters hotel, Lighthouse hotel and Kandalama – all of which feature excellent examples of Geoffrey Bawa staircases and architecture and all of which are relatively easy to get to and well worth a visit.

(Sam Perera is a partner of the Perera-Hussein Publishing House which publishes culturally relevant stories by emerging and established Lankan and regional authors – for a primarily Lankan audience. Ph books are available everywhere books are sold and through

www.pererahussein.com.)