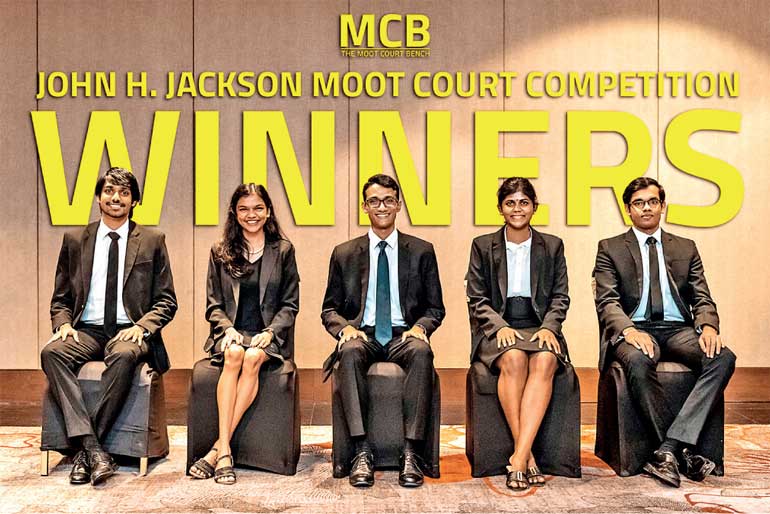 From left: Avishka Jayaweera, Saheli Wikramanayake, Harish Balakrishnan (coach), Adithya Ramanitharan and Sandun Batagoda – Pic courtesy Moot Court Bench (MCB)
---
By Shailendree Wickrama Adittiya
---
Saheli Wikramanayake, Avishka Jayaweera, Adithya Ramanitharan and Sandun Batagoda recently emerged champions of the global rounds of the 19th John H. Jackson Moot Court Competition 2021. They were trained by Moot Court Bench (MCB) Senior Partner Harish Balakrishnan and represented the Colombo University's Faculty of Law.

The John H. Jackson Moot Court Competition is organised annually by the European Law Students' Association (ELSA). The competition is usually held in Geneva but migrated to a virtual platform given the COVID-19 situation across the globe.

This is the first time a Sri Lankan team has won the competition. The team was also awarded Overall Best Written Submission on Behalf of the Respondent and Avishka Jayaweera was awarded Best Orator in the Quarter Finals and Saheli Wikramanayake adjudged the Best Orator in the Grand Final.

The contestants are third-year students of the Colombo University's Faulty of Law. Saheli Wikramanayake is a past pupil of Ladies' College and was a debater in school. She started mooting during her first year of university with the Philip C. Jessup Moot Court Competition.

Adithya Ramanitharan studied at Jaffna Vembadi Girls' High School and was the Head Girl in 2016. She represented the Law Faculty at the SAARC Moot Competition, MCB National Mediation Competition and Warsaw Negotiation Rounds.

Sandun Batagoda was a debater at Ananda College and the school team won the Sri Lanka Schools Debating Championship in 2016. Avishka Jayaweera studied at Royal College and rowed in school as well as university. "I have had an interest in becoming a lawyer for a while and when I got the opportunity to get into the Law Faculty, I decided to take it," he said.

The participants are also part of the MCB Trade Law Program. Despite not knowing a lot about trade law, Wikramanayake said she applied for the program because it was an opportunity to work with some of the best coaches that the MCB offered.

Batagoda has always been interested in trade and economics and said, "I feel one of the deeply rooted problems in Sri Lanka is that we are protectionist and view international trade as a bane for development. This was the major factor that made me apply."

The opportunity to take part in the John H. Jackson Moot Court Competition came through the MCB and the training pushed them to work hard.

"The teams you face are of the highest calibre and we constantly had to push ourselves in each stage of the competition to adapt and improve ourselves. It was interesting to observe how different panellists from different backgrounds had varying interests in terms of our arguments and focused on different areas," the team said.

The loss at the regional semi-finals is one that stands out for Batagoda. He called it a rude wakeup call that pushed the team to strategize and approach the global rounds in a more prepared manner.

"After we lost at the regional semi-finals, even though we qualified for the Final Global Rounds, our coach, Harrison Mbori, said, "I don't see that urge in you to win." That's what pushed us to work much harder than ever and give everything it takes into this," Ramanitharan said. "There was never any sense of giving up. It was always planning the strategy for the next week, usually masterminded by our team captain, Sandun, and making sure that we didn't stagnate," Wikramanayake explained.

Participating in a global competition like John H. Jackson Moot Court Competition can have a significant impact on a participant's studies as well as career. For both Jayaweera and Batagoda, the competition improved their analytical, writing and oral skills and acted as an eye-opener to various career opportunities.

"As a law student, I feel like the moot has really taught me how to explore all possible sides of an argument. Having to argue both sides of the case meant that I needed to know the counterarguments to all the arguments I was making, as well as the counterarguments to those counterarguments," Wikramanayake said.

"I hope our win shows other Sri Lankan students that it is possible and that it is worth the hard work and effort," Wikramanayake said, explaining it as an incredible experience. She added that the win also means a lot on a personal level, saying, "I felt a sense of imposter syndrome at a lot of points, knowing that we were competing with a lot of big-name universities, and that affected my confidence a bit."

Batagoda found the win surreal and feels proud about bringing Sri Lanka's name to the international moot court arena.

"It really is an amazing feeling, knowing how much we as a team have grown and come since last year. It gives a sense of satisfaction, that the months of hard work and sacrifices paid off in the end," Jayaweera said.