Stigmata's brand new song, 'Sacred Spaces: Solve et Coagula,' is being released today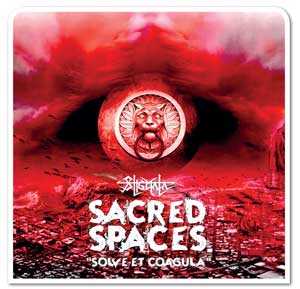 An ancient maxim of alchemists, in its simplest form Solve et Coagula means to dissolve and coagulate. It could be analogous to the destruction of one's ego before the realisation of the true self.

'Sacred Spaces: Solve et Coagula' is the brand new song by Stigmata, to be released today. It is the second single of the ensemble's fifth full length album currently in the works.

Stigmata's debut single 'Alyssa' of the new album was received and adored globally when released across all streaming platforms worldwide earlier this March, an anthem dedicated to lost and departed pets in people's lives.

A powerful, emotional tribute to pets which was supported by a heart-warming music video (up on the band's official Youtube channel: https://youtu.be/tD98w44BSLg) comprising photos and video clips sent by the owners and adoptees of pets from around the world.

Enter 'Sacred Spaces: Solve et Coagula,' the band's second single which in the true spirit of Stigmata, deals with a theme which is a polar opposite to that of 'Alyssa,' and is musically diverse and different as well.

Don't be mistaken here. It possesses all the trademarks and attributes of a Stigmata anthem; meticulous craftsmanship, in-depth storytelling, lush harmonies fused with odd time signatures... And yet it is unlike anything the band has crafted before.
'Sacred Spaces: Solve et Coagula,' the band's second single which in the true spirit of Stigmata, deals with a theme which is a polar opposite to that of 'Alyssa,' and is musically diverse and different as well


It is a monstrous composition of many a musical style fusing the classic Stigmata sound along with elements of the new. Combined with the slick and world class production of Grammy nominated UK producer/engineer icon Romesh Dodangoda (Motörhead, Bring Me the Horizon, Architects, Sylosis, Funeral For a Friend), 'Sacred Spaces: Solve et Coagula' is a progressive musical journey that will whip you into submission with its gorgeous melodies, robust instrumentation, fluid arrangements and nuances subtle and intricate (not to mention the epic orchestral flourishes), giving you an alchemical musical experience that is truly one of a kind.

"We all create and build spaces in our lives, whether it's personal, social or professional. Sometimes it is physical, emotional, or psychological and each of these created spaces are things we value and hold sacred," said Tennyson Napoleon, guitarist and Co-Founder of Stigmata.

However, that which we embrace and hold sacred must be broken down to its basic elements, its rudimentary core before it's renewed and reformed into something new. That is what the essence of song is about according to the frontman and lyricist Suresh de Silva. A doing away with the old, prior to conceiving something new. Perhaps more fitting than one realises in a pandemic world.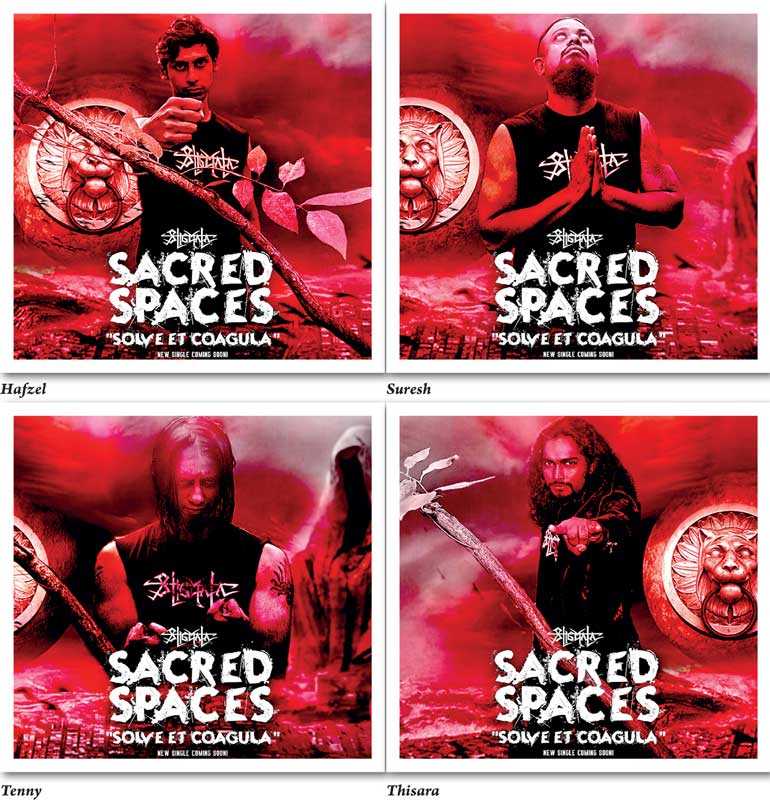 "We are really fortunate to have the amazing Suriya Brothers as our Official Album Partner, and that combined with having won the Asia Video Music Awards in 2018 has helped us fund the recordings thus far and ensure we are creating something of a world class level," remarked Thisara Dhananjaya, bassist and professional videographer.

Thanks to the band's merchandise partner Empire Clothing, some interesting merchandise will be unleashed in the months to come as well.

Stigmata has been busy despite the global crisis. In a time where most musicians and performing artists and industries have been coerced to a standstill, Sri Lanka's favourite (and notorious) sons of sonic anarchy have been busy during this time of pandemic, ensuring the band's creative trajectory and productivity is unmarred.

"We never slowed down. Sure, we had to cancel a few overseas tours – which was upsetting, and we miss performing live to our fans right now," Hafzel said, adding, "But we kept focusing on releasing new music and have some other plans in store this year as well, which will be quite remarkable."

Year 2020 marks Stigmata's 20th anniversary – a milestone for a band that first started off at S. Thomas' College, Mount Lavinia for fun and evolved today to become one of the most important creative forces in the region.

"These are trying times, sure," Suresh muses. "We need to accept that perhaps there is no going back to whatever the old methodologies and formats and processes were. It's a brave new world for better or worse and we need to revise and adapt new strategies and methods to survive in these times. We are a very self-sufficient band, we are cognisant and have always been, and know that the music we create has a universal appeal but it will resonate with very specific audiences, much like a Hitchcock or a Kubrick film. And that's fine. Which is why we all work professionally so that it gives us complete freedom to create art not bound by trends or industry boundaries. With the advent of technology and digital media, independent and original artists have many unopened doors and newer opportunities. I personally don't think it's a bad thing at all. There are setbacks. There are also a lot of different and new ways to reach out and engage with fans."

'Sacred Spaces: Solve et Coagula' will be released as a single on all leading streaming platforms worldwide (Apple Music, i-Tunes, Spotify, Bandcamp, Amazon Music, Pandora, Deezer, etc.) and on Sri Lankan Music, the first local platform.

The official music video will be released this August and judging by the stunning Teaser Trailer that was released last week, we are all in for a treat.

Check out, subscribe and follow Stigmata on its official social media platforms on Facebook, Instagram and YouTube.