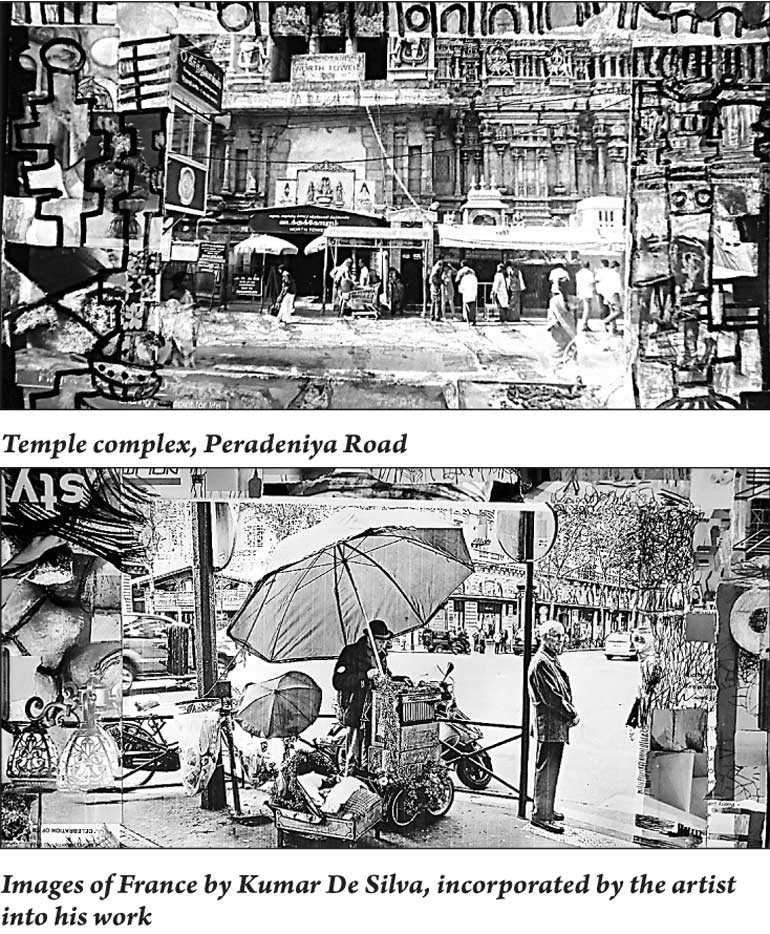 A collection of paintings consisting of collage and mixed media by artist Prasad Abu Bakr
Open to the public from 20 July to 11 August, daily from 10 a.m. to 5 p.m.

Alliance Francaise de Kandy is presenting 'Harmony in Contrast,' a collection of paintings consisting of collage and mixed media by artist Prasad Abu Bakr, from 20 July to 11 August, daily from 10 a.m. to 5 p.m.

"The highlight of this exhibition is the 'French Collection' a series of images from photographs by media personality Kumar De Silva taken during his many visits to France, which I have blended into my collage creations – as a tribute to 'Bastille Day' – the French National Day due to be celebrated on 14 July. My exhibition will open on 19 July – just four days after the celebrations," says the artist.

This latest collection of work by artist Prasad Abu Bakr is composed of pictures depicting buildings and places of both France and Sri Lanka done in the artist's most inimitable style, which he developed a couple of years ago – breaking away from his normal skills to draw and paint, which he had a penchant for since his childhood.

Prasad started to base his creative exercise on producing pictures composing heavily on mixed media and collage, into which he blended his own photographs of landscape, cityscapes, urban settings and scenery – creating quiet stunning imagery for spectators to enjoy.

Prasad held his first exhibition of his novel collection of work for the first time in 2016 in collaboration with Alliance Francaise de Kotte (Colombo) which was well received by visitors – it was 'a first time' for them to view work that had two art forms so impeccably blended together – to fit in perfectly within one frame.

Since then the artist has shown his work at around five solo exhibitions and at group exhibitions such as Nawa Kalakaruwo and the famous art fare, Kala Pola – both events held annually by the George Keyt Foundation.

As mentioned earlier, 'Harmony in Contrast' exhibition will also have a set of pictures, which the artist prefers to call 'The French Collection,' consisting of a set of photographs of France by media personality Kumar De Silva, making it a special event for the artist too, making it the first time that he will be including photographs by somebody else in his creative exercise.

Prasad Abu Bakr has exhibited widely since 1995 showing collections depicting his passions towards both painting and photography at individually separate exhibitions on both subjects, it was only in the latter stages – after many years of his retirement from his career as a journalist – that he discovered his new art form, of combining both his passion to paint and the talent to look through the camera lens and capture – bringing both art forms together to fit into one frame creating novel images that won hearts of viewers and lovers of art, since he brought out his first collection of this new art form in 2016.

'Harmony in Contrast' is presented by the Alliance Francaise de Kandy, held in collaboration with Buddhi Batiks, in partnership with Kumar De Silva and hosted by the Royal Kandyan Hotel.