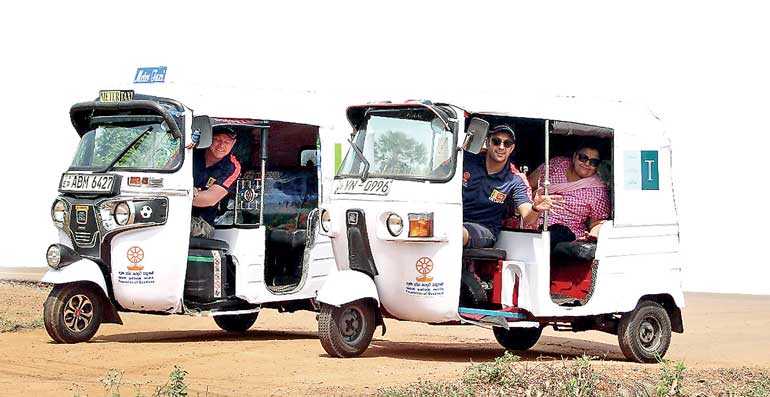 By D.C. Ranatunga

To see a row of white tuk tuks (as three-wheelers are known by all) on the road was an unusual sight. For one thing we hardly see white colour tuk tuks. They are mostly green or red. And the drivers didn't look like the usual experienced hands. The riders were tourists – there was no doubt about it. They – with a 'tourist look' – were the drivers too.

The group was making their way from the north to the south via the east coast through Uva in what was essentially an adventurous trip. It was – but with a difference. It was coupled with 'community aid tourism'. The group from Australia had a mission – to help Foundation of Goodness (FoG) community development project at Moneragala.

In what was called the 'OYOB (Own Your Own Block) Tuk Tuk Ride' over eight days, the journey was from Jaffna to Seenigama at the headquarters of the FoG. Ten tuk tuks were driven by first-time tuk tuk riders from Down Under including four female drivers. They were accompanied by their friends and family making up a group of 23. They were all experiencing Sri Lanka in a whole new way.

There was plenty see and admire along the route which ran from Jaffna through Anuradhapura, Trincomalee, Batticaloa, Arugam Bay, Moneragala and Tangalle to Galle. They watched the operations at two FOG's Village Heartbeat Empowerment (VHE) Centres at Kilinochchi and Moneragala. They spent more time at the Moneragala Centre which is sponsored by the OYOB Property Group. Funds towards three years of sustainability costs have been raised for the Moneragala Centre. It helps 550 beneficiaries to shine, every month.

Like all of FoG's VHE Centres, Moneragala too offers a selection of key programmes free of charge, including IT, English Classes and Women's Empowerment Programmes along with targeted programmes and workshops specific to the interest of the attending students that, in Moneragala (which is the poorest district in Sri Lanka), includes a group of inspired youngsters who are keen robotics enthusiasts.

"The party also visited a number of iconic landmarks along the way including hiking up the Sigiriya rock fortress, enjoyed the beautiful seascapes along the Eastern and Southern coastlines of Sri Lanka and even coming to a standstill mid-ride to take in the majesty of wild elephants grazing along the route, paving the way towards a new trend in community aid tourism," a FoG spokesman said.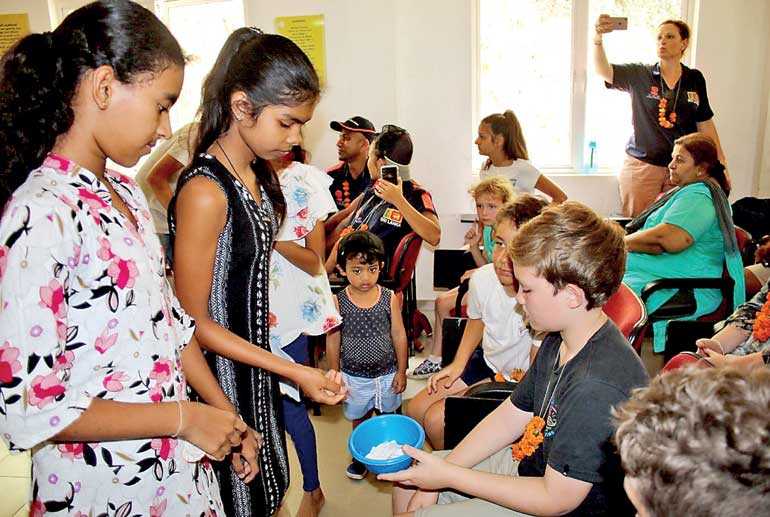 Break at Moneragala Centre


FoG service partner, David Pieris Motor Company, accompanied the riders in their service vehicle, making sure it was a smooth ride from start to finish.

The visitor group comprised Aynkaran Sivaratnam, Dhilharan and Putri Sivaratnam, Bonnie Power, Michael Mamasis, Peter and Jennifer Sizeland, Mary Ignatidis, David Ruthenburg, Jesse Loong and Dan Patel.

"The ride concluded at the FoG Flagship model – the MCC Centre of Excellence and Sports Academy in Seenigama where the team were joined by philanthropist Peter Baines of 'Hands Across Water' in Thailand. The riders spent their time in Seenigama volunteering at the MCC Centre of Excellence conducting English classes and workshops on personal growth and LinkedIn training while others opted to enjoy a game or two with the FoG cricketers at the Sports Academy," the spokesman added.

"This event would not have been possible if not for OYOB Property Group and the passion and hard work of Aynkaran Sivaratnam who organised the ride in partnership with the Foundation of Goodness along with the support of his brother Dhilharan who is a great friend of FoG, always seeking out new and innovative fundraising opportunities," he further said.

FoG offers a big 'thank you' to all the sponsors whose contribution will help sustain the Moneragala VHE Centre for three years. They are: Platinum Sponsors – NJ Lawyers, Fern Financials, SNAP, Paradigm Financials & Strata PNA; Gold Sponsors – Buckets of Money, Venture Advisory, Perfect Boom, MA Legal, TASC Consulting, Australian Groceries Direct & Oceania Private Wealth; Silver Sponsors – Parks Property, U Homes, Beanstalk Investment Management, Galanis Financial Group, Plan to Prosper & Adept Accounting and Taxation.

The Foundation of Goodness Village Heartbeat Empowerment Centres are designed to empower rural disadvantaged villagers, especially through English and IT which are essential to reduce the levels of poverty.

Other programmes also include life skills and values, educational subjects, vocational training and sports to help them make better progress in overcoming the disparity between the urban and rural communities. To date, there are 10 Centres established in Galle, Matara, Moneragala, Ampara, Batticaloa, Jaffna, Kilinochchi, Mullaitivu and Bandarawela, supporting 7,500+ beneficiaries to be stronger and better.

The Foundation of Goodness was established in 1999 and has worked extensively to develop a one of a kind holistic rural community development model which today delivers a wide range of programmes to over 15,000 beneficiaries every month from 300+ villagers in the south, north and east of Sri Lanka, free of charge, via 30 empowerment activity sectors which include Arts & Multimedia, Children, Enterprise & Empowerment, Environment, Housing, Dental, Medical & Psycho-social support, Scholarships, Sports Development & Management, Sustainable Income Generation, Village Heartbeat Empowerment Project, Village Welfare & Development and Volunteer Management.

What a day!
New experience