---
New addition at Colombo City Centre's Food Studio serves up unique offerings
---
By Madushka Balasuriya
---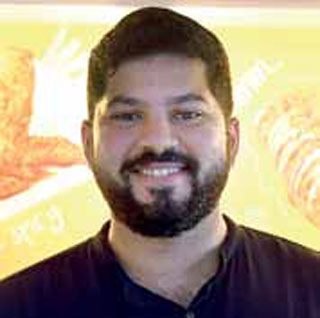 Hot Chook Co-Owner Umal Yashitha Perera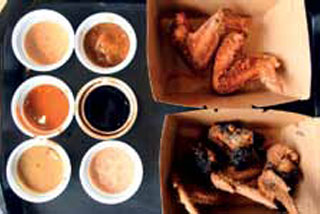 There are low-risk ventures and there are high-risk ventures; now, since I'm talking about food, such a statement might seem slightly hyperbolic, yet that was nevertheless the general feeling gnawing away at me as we prepared to review the Hot Chook, the Colombo City Centre Food Studio's latest addition, which promises chicken wings, burgers and hot dogs – a menu that is simple and to the point, yes, but one that also leaves little room for error.

See, Sri Lanka has come a long way in the past few years in terms of its food space, and nowhere has this been as obvious than in the fast-food category. No longer is it enough to simply serve up a just-above-average meat patty with some lettuce, tomato, mayo and cheddar strewn on top.

It is into this space that the Hot Chook enters – chook is incidentally 'Aussie' slang for chicken – and boy, they look like they mean business.


Appetisers

Listen, this is fast food, and as such the term 'appetiser' was doing a lot of heavy lifting for what the Hot Chook had in store for us – the Angry Seoul (Korean BBQ winglets, Rs. 650) and the Loaded Hotties (loaded sweet potato fries Rs. 500).

Both dishes were teeming with flavour, and for the prices provided a great ordering option for when you're with a couple of friends and want to order a shared starter that doesn't break the wallet nor your appetite.

That said, be warned, these things are surprisingly easy to tuck into; the fries in particular were exquisite. Just the right level of crunch, while the sweetness of the potato was complemented delightfully by the tartness and tang of the homemade sriracha sauce and mayo. We had to restrain ourselves from filling up on all that starchy goodness.

The wings, meanwhile, while tasty, were kind of thrown in the shade a little by the wings we had a little later in our meal (more on that later).

There are also teriyaki chicken and fried chicken salads if you're looking to add a little bit of green to your meal, while the sides allow you to choose from items such as wedges, fries, salad, mac & cheese and yellow rice.


Mains

The Hot Chook doesn't have a large menu by any means, but what it does do it seeks to do well. Even so, for the purposes of this review we weren't able to try out every single item. So, apologies in advance for those who might have got this far hoping for some insight into their hot dogs (the advertised 12 inches seemed a little more than we were able to take on, on the day) and vegetarian and pescatarian options.

But from what we did try, man oh man were we impressed. What the Hot Chook has done better than most, is pack tons of flavour into a no-frills package. Nothing exemplifies this more than the sublime Juicy Chook (Rs. 845), which is essentially just a cheese-stuffed chicken patty with caramelised onions and homemade sriracha aioli. But don't let the simplicity fool you, each bite was just bursting with flavour – the seasoning of the patty on-point – while the generous serving of caramelised onion was the ideal relief to the tangy spice of the sriracha.

Staying on the theme of simplicity is the OG Chook (Rs. 995) – batter fried chicken dipped in the Hot Chook's very own Nashville hot oil on a bed of slaw salad and pickle with New Orleans remoulade. The first thing you notice is the size of the piece a chicken, a complete chicken breast, but once you take that first bite, you're introduced to that glorious Nashville hot oil – according to Umal, 15 different ingredients have gone into it, and honestly they have an undoubtedly winning recipe – and it's that flavour from the oil, mixed with the slaw salad and crispiness of the chicken, that really sets this burger apart from anything else you're likely to have in Colombo. The hot oil is also available as dip with wings and is something we wholeheartedly recommend.

Finally, the Smash Buds (Rs. 1,095) was there most expensive burger offering, a deliciously seasoned beef patty topped with a grilled egg, caramelised onions and a trio of homemade sauces (Asian BBQ, honey mustard and creamy demi sauce). If, like me, you enjoy a sweet kick at the end of each and every bite, this is the burger for you.

We know the competition is strong in Colombo, but these burgers do not disappoint.
Wings

The chicken wings meanwhile come in 3pc (Rs. 550), 6pc (Rs. 850) and 12pc (Rs. 1,500) options. You can either have them tossed in a selection of sauces (Honey Soy Wasabi, Hellfire Sriracha, Asian BBQ, Lousiana Death Wish), have them dipped in Nashville Hot Oil, or have them 'naked' with a choice of sauce (New Orleans Remoulade, We Nuts for Peanuts, In-house Sauce).

In our opinion the best way to go about this is to order a portion of Naked Wings and get an array of sauces to try them out with. You won't be disappointed.


Conclusion

Hot Chook Co-Founder Umal Perera studied hospitality for five years in Australia – a country renowned for its food culture – and it shows. He's also not new to Colombo restaurant scene, having opened up The Viking a little over a year ago. The success of that first venture has meant that Umal and his team had the luxury of venturing into a few interesting areas, as shown by the desire to offer quite unique offerings in terms of sauces and dips (which is really what sets Hot Chook apart).

He also knows that, now, the expectations are such – and thanks to delivery services such as PickMe Foods and Uber Eats, accessibility is also no longer the issue it once was – that ordering a burger, in Colombo especially, is now akin to ordering an experience, something to tell your friends about. And on that front the Hot Chook certainly delivers.
---
Pix by Ruwan Walpola
---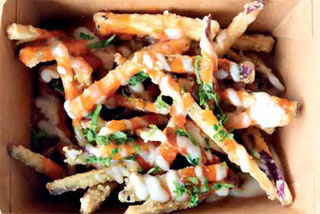 Loaded fries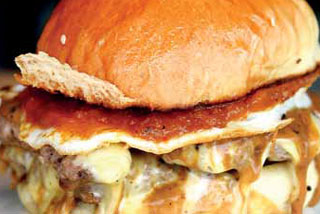 Smash Buds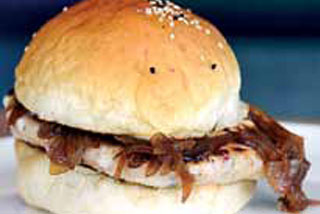 Juicy Chook