Employment Federation of Ceylon launches employer branding 'Compliance + Sri Lanka'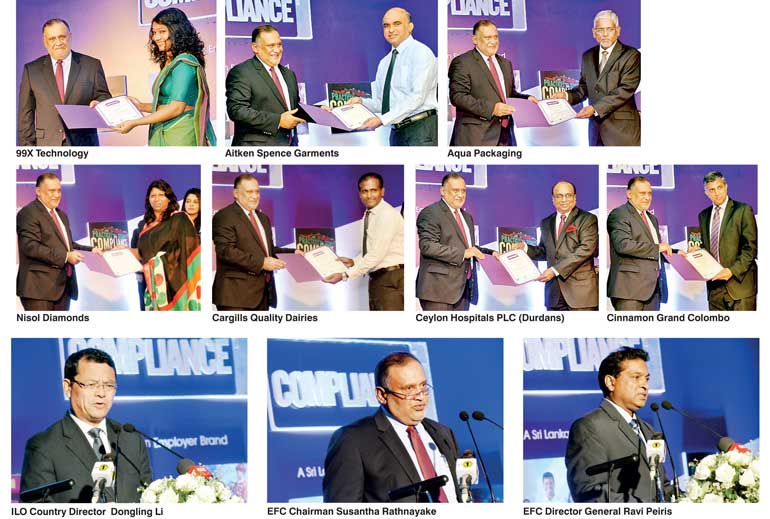 By Shehana Dain

Regardless of the impressive economic indicators Sri Lanka has been delivering, it has faced challenges with regard to noncompliance with international obligations.

International Labour Organisation (ILO) Country Director Dongling LI emphasised: "As you know, goals and sustainability not only requires economic efficiency in enterprises but also requires compliance with labour, social and environmental standards, to meet expectations of the world community."

In today's globalised world we are all being regulated through international trade regions, hence labour standards are pivotal to compete in the competitive markets which are connected globally.

Li pointed out: "It is evident that labour issues and working conditions have become clear denominators to trade arrangements across the globe. From buyers who prefer companies that engage in CSR activities and consumer movements that vary with producers who comply with labour rights and trade agreements, they always include labour rights."

He was speaking at an event organised by the Employment Federation of Ceylon (EFC) which initiated an employer branding, namely 'Compliance + Sri Lanka'. By awarding this certification, EFC became the first employment organisation to pioneer such an initiative.

Li stated that EFC which is a counterpart of ILO has been one of the most forward looking organisations to go ahead with such an initiative to promote labour standards implementation.

Compliance + is a Sri Lankan brand name that is available for all Sri Lankan business that compete in the global marketplace with their products and services. EFC stresses that the companies that deserve this certification should do something beyond basic compliance, something more than mere fulfilment of labour regulations.

The certifications will be awarded based on an independent audit carried out covering four main pillars. It has the full support of the International Organisation of Employers (IOE), which is the supreme body of employers.

EFC Director General Ravi Peiris highlighted: "The key driver of Compliance + is enterprise sustainability. It demonstrates that there is an inherent aspiration on the part of Sri Lanka employers to do business with a difference. It does not stipulate as to what it should be but gives the flexibility to the employer to show case their own practices."

The fact that Compliance + is aimed at enhancing the image of Sri Lankan business shows that it is intended even for SMEs. In fact many of the Sri Lankan SMEs needs recognition with regard to their exemplary practices. On the other hand, those that need improvement in relation to any specific areas in employment will be motivated to aspire to propel the business to another level. In short SMEs would benefit most from Compliance + Sri Lanka.

"EFC was invited to make a presentation on Compliance +as a tool for global SME competiveness at the International Organisations of Employers' Forum in Geneva," Peiris added.

99X Technology Ltd., Aitken Spence Garments Ltd., Aqua Packaging, Cargills Quality Dairies, Durdans Hospital, Cinnamon Grand, Diesel and Motor Engineering, Linea Aqua, Nisol Diamonds and The Kingsbury Hotel were the award winning corporate companies of the night.



–Pix by Shehan Gunasekara