The party will decide on action only after completion of investigations
Unity Govt. will stay, assures Kabir
The United National Party will stand by its Senior Minister Ravi Karunanayake if a no-confidence motion is moved against him without any proper allegations, General Secretary of the party Kabir Hashim told reporters yesterday.

The Minister insisted that the UNP would only decide on what action to take after the investigation being carried out proves Karunanayake's alleged involvement in the controversial bond issue in 2015.



"Until then we are open," he said.

"If there is a no-confidence motion against him without a proper allegation then we will stand by our Member of Parliament," he said, adding that the timing of the no-confidence motion and the status and results of the investigations would contribute to the decision.

"The UNP stands for accountability and transparency," Hashim insisted, adding that space to implement law and order should be given.

The Minister stressed that the UNP will safeguard Minister Karunanayake if anybody moves a no-confidence motion against him without any accusations.

During last week's hearing of the Presidential Commission of Inquiry on the bond issue 2015, evidence came to light that the former Director of Perpetual Treasuries Ltd. Arjun Aloysius, who has been accused of malpractice during the bond issue, paid the rent of the penthouse at Monarch Residencies which was occupied by Minister Karunanayake. The property was later bought by Global Logistics and Transportation Company (GLTC), in which Karunanayake's wife and daughter function as directors. Later during the hearings, GLTC Chief Financial Officer B.H.J. Sinnaiah revealed that the penthouse was bought through a loan facility of Rs. 150 million from Seylan Bank to be paid in 15 instalments which was later paid off through money held in the GLTC Chairman's safe.

Dispelling speculations of an eminent split in the Unity Government, the Minister insisted that the current partnership would continue until it completed its term in 2020.

He emphasised that the UNP put the interests of the country first in forming the current partnership when the party had "other options", stated Minister Hashim.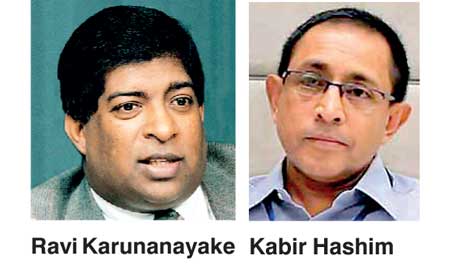 "We had the majority and we could have formed a Government had we spoken to a few people, but as a principle at the time, the President, Prime Minister, as the two party leaders, decided to go for a Unity Government," the UNP General Secretary said, answering a question raised by a journalist at a media conference held at the UNP headquarters yesterday.

The concept was created with a national aim, he said, adding that the focus is currently on solving the problems faced by the nation, not on party politics.

"We can do out party politics after fulfilling our pledges to the people of this country being a member of a National Unity Government within the next three years," the Minister assured.