New York: The United Nations on Monday reiterated that the global body wants to ensure that Sri Lanka will conduct a credible investigation into the alleged violations of human rights and international humanitarian law committed by both the LTTE and the Sri Lankan security forces during the war.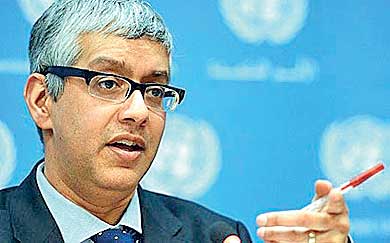 In response to a media query, the UN Secretary-General's Deputy Spokesman Farhan Haq, Monday said the UN has clearly specified its guidelines to the Sri Lankan government to ensure a credible investigation while the Human Rights Council can evaluate the process.

"The Human Rights Council can evaluate for themselves how it's going, but we want to make sure there is a credible investigation into this," the Spokesperson said responding to a question on Sri Lankan President Maithripala Sirisena's statement last Friday (18) that he will not agree to invite foreign judges if a need arises to take judicial action following the investigations.

"We have made clear what our guidelines are for what a credible investigation will entail and so we will continue to be in dialog to make sure it happens," the UN spokesperson added.

Addressing the inauguration of the National Law Conference organised on Friday, the President said he had the fullest confidence in the local judges and judicial administrators, so there was no need for international judges.

"I will not agree to get foreign judges in to any kind of investigations into human rights violations allegations. We must have faith in our local judges," the President said.

However, the UN High Commissioner for Human Rights Zeid Ra'ad Al Hussein, who visited Sri Lanka in February, said "Sri Lanka has many excellent judges, lawyers, and law enforcement officials, but over the years the system they depended on, and which depends on them, became highly politicised, unbalanced, unreliable."

He said that it is for these reasons the Human Rights Council resolution suggests international participation in the accountability mechanisms set up to deal with international crimes and gross human rights violations committed by individuals on both sides.

The consensus resolution adopted at the UN Human Rights Council (UNHRC) at its 30th session in Geneva in October 2015 calls for the establishment of a Sri Lankan Judicial Mechanism, which would include a Special Counsel's office, of Commonwealth and other foreign judges, defense lawyers, and authorised prosecutors and investigators, to investigate allegations of violations and abuses of human rights and violations of international humanitarian law.