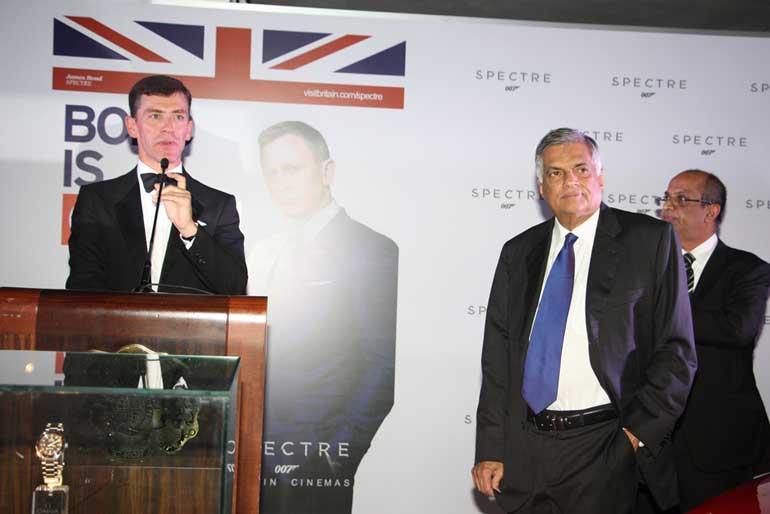 UK High Commissioner James Dauris speaks at the special screening of 007 James Bond's latest movie Spectre at the High Commissioner's residence on Thursday evening as Prime Minister Ranil Wickremesinghe looks on. James Bond movie importer Liberty Cinemas Managing Director Imthiaz J. Cader is also present
Bond is back in Spectre and VisitBritain and the Great Britain campaign is once again utilising 007's iconic international profile to show the world what makes Britain great.

The British High Commission (BHC) in Colombo hosted an event at Westminster House, with the attendance of Prime Minister Ranil Wickremesinghe, Ministers and Members of Parliament, the business community and members of the Colombo arts scene.

The evening, which highlighted the breadth and international success of Britain's creative industries, featured British brand Jaguar Land Rover and was supported by Omega. The film will be distributed in Sri Lanka by Liberty Lands and Developments and Tanweer films.

British High Commissioner to Sri Lanka James Dauris addressed the audience on the excellence of British design, innovation and manufacturing.

Spectre, the 24th James Bond adventure from Albert R. Broccoli's EON Productions, Metro-Goldwyn-Mayer-Studios, and Sony Pictures Entertainment, launches in cinemas worldwide from 26 October and in the US on 6 November. To leverage the global fascination with James Bond and the international exposure the film affords to potential visitors to Britain, VisitBritain is launching a global Bond is Great Britain film tourism campaign in partnership with Sony Pictures Entertainment and Metro-Goldwyn-Mayer Studios.

The Bond is great campaign will kick off across more than 60 countries to encourage 007 fans to choose Britain – the home of Bond – for their next holiday.


It is the third time that VisitBritain, working in partnership with Sony Pictures Entertainment and Metro-Goldwyn-Mayer Studios, has partnered with the Bond franchise to motivate and inspire even more international visitors to come to Britain.

Inbound tourism is worth £26.2 billion a year to Britain and our culture and heritage is one of the main attractions for global visitors. Spectre provides a great international showcase for some of Britain's iconic locations. The scope of Britain's historical and cultural tourism offer along with its film expertise including its production talent and facilities, have been drawing film-makers to Britain for years.