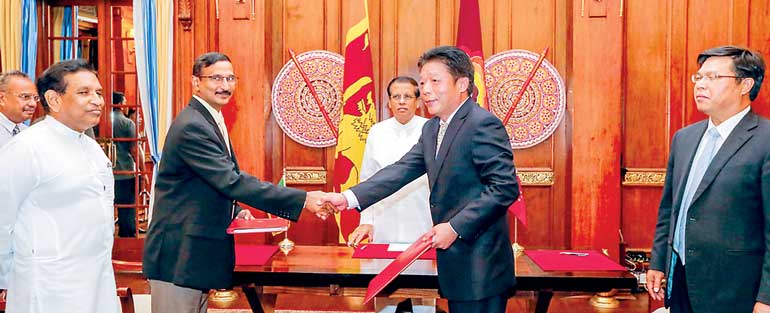 China will build a specialised hospital in Sri Lanka to treat patients with the mysterious kidney disease that is striking mainly rice farmers in Sri Lanka's north central region.

The two countries signed a Memorandum of Understanding to build a hospital for kidney patients under a donation of the Government of China at a request of President Maithripala Sirisena.

The agreement to build the National Nephrology Hospital in Polonnaruwa was signed Tuesday (6) at the Presidential Secretariat, in the presence of the President.

Ministry of Health, Nutrition and Indigenous Medicine Additional Secretary Janaka Sri Chandraguptha signed for the Government of Sri Lanka while the Chinese Embassy Economic and Commerce Advisor Yang Zuoyuan signed for the Chinese Government. The Chinese Government's donation for the kidney hospital is a result of the discussions held between Sirisena and Chinese President Xi Jinping during Sirisena's official visit to China in 2015.
The Government Information Department said the kidney hospital would consist of 200 beds, 100 blood infiltration machines and a modern surgery complex.

The hospital, which will be built at a cost of Rs. 12 billion, will also be a national level hospital with kidney transplant facilities.

The President will lay the foundation stone for this hospital next month.