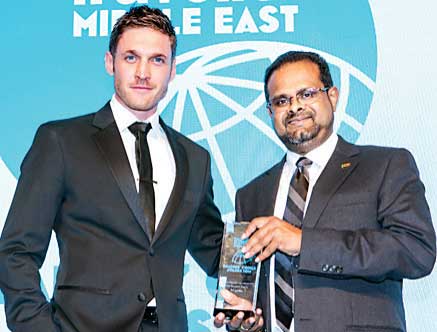 Sri Lanka Tourism bagged the 'Best Destination off the Beaten Track' award at the Conde Nast Traveler Middle East Reader's Choice Awards, held on 14 November at the Creek Ballroom of the Park Hyatt Hotel in Dubai.

Dubai Consul General Charitha Yattogoda accepted the award on behalf of Sri Lanka Tourism. Sri Lanka made an outstanding appearance as it outperformed New Zealand and Vietnam to acquire the title of 'Best Destination off the Beaten Track', which is awarded based on the votes of the readers of Conde Nast Traveler Middle East Magazine, which covers a wide cross section of the tourism sector including favourite travel experiences, from destinations and hotels to airlines and tour operators.


The Conde Nast Traveler Middle East Readers' Choice Awards is one of the premier award ceremonies held in the Gulf Cooperation Council region on an annual basis, at which top rated countries, airlines, hotels and tour operators are recognised. In addition to Sri Lanka, the US and Maldives were also won in different categories and leading airlines and hotels including Emirates Airlines, Singapore Airlines, DusitThani and Atlantis, the Palm, etc, were presented awards at the ceremony.

Sri Lanka Tourism's latest win for the tourism sector indicates that Sri Lanka is extremely popular among tourists due to its numerous attractions and rich and ancient cultural heritage. Up to October 2016, Sri Lanka has received 93,640 tourist arrivals from the Middle East, where it has generated a growth of 5.1% compared with the corresponding period of the previous year.