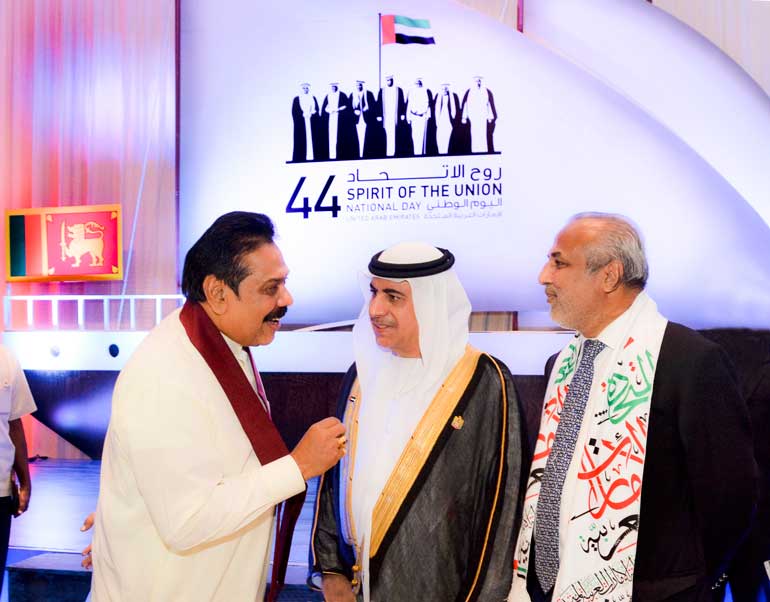 Former President Mahinda Rajapaksa, UAE Ambassador in Sri Lanka, Abdul Hamid A.K. Al Mulla and City Planning and Water Supply Minister Rauff Hakeem at the UAE National Day celebrations at Hilton Colombo on Thursday - Pic by Upul Abayasekara
City Planning and Water Supply Minister Rauff Hakeem on Thursday said the bilateral relationship between Sri Lanka and United Arab Emirates (UAE) has increased significantly in the political, economic and commercial fields.

In remarks at the 44th National Day celebrations of the UAE the Minister highlighted that the volume of bilateral trade and investment and the number of flights and tourists between the two countries is a good indicator of the developing relations.

"The UAE continues to be the largest export market to Sri Lanka in the Middle Eastern region and also a major trading partner and foreign investor in the country," he added.

The Minister pointed out that UAE has also benefitted substantially from the contributions made by the thousands of expatriate workers to all sectors of the UAE economy.

"The Ministry of Labour in the UAE has initiated three new labour decrees that are due to enter into effect on 1 January next year which would result in further strengthening of confidence and bilateral cooperation in the labour field between the two countries," he revealed.
Further the Minister said that Consular Centre in Colombo which was opened in October last year is playing a key role in facilitating visa and consular services to Sri Lankans who are taking up employment in the UAE.

"Within a short span of time Consular Centre in Colombo has been awarded the ISO certificate for maintaining quality standards," he elaborated.

Speaking on the tremendous progress and prosperity the UAE enjoys today Hakeem asserted that the country has become a dynamic and proactive in communicating with other countries and building ridges of close cooperation and strategic partnerships to lead the way in commercial, industrial, technological, scientific, educational, health and other sectors.

He also commended the wise leadership of the UAE President Sheikh Khalifa bin Zayed Al Nahyan for his direction towards development through knowledge and innovation in the footsteps of the founder of UAE late President Sheikh Zayed bin Sultan Al Nahyan.