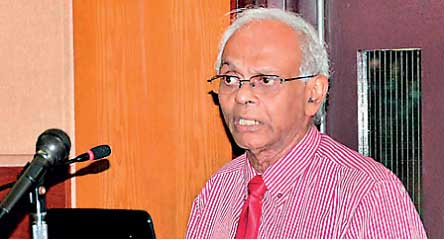 A top economist has called for fresh impetus to be injected into sustainable development, noting that it was crucial for Sri Lanka to survive in a highly volatile external sector and a growth projection of 5% in the next five years.

Speaking at the technical sessions of the Organisation of Professional Associations of Sri Lanka (OPA), former Central Bank Deputy Governor W.A. Wijewardena said Sri Lanka could sustain its projected growth rate only if the Government implements conscious policy action in the immediate future.

He outlined structural issues, non-competitiveness in business, lack of inventions and innovations, a low science and technology base and irrelevant human capital development as key issues for sustainable economic growth, adding that these had to be addressed on a priority basis by the Government in the immediate future.

Noting that the country's external sector was already facing a major crisis, he stated that the International Monetary Fund (IMF) had to bail out Sri Lanka in July but Sri Lanka could face challenges in maintaining the fiscal consolidation process as the second tranche would not be delivered unless the Government planned to introduce the necessary reforms in the financial sector.

Sri Lanka slipped three positions to languish at number 71 in the latest rankings of global competitiveness by the World Economic Forum (WEF).

He said the WEF Executive Opinion Survey 2016 listed policy instability as the biggest concern followed by access to financing and inefficient Government bureaucracy and tax rates.

"No one wants to set up business in Sri Lanka because it is not feasible to start a business. Countries were assessed on 12 pillars and we are not even among the South Asian country level. The Government will have to take immediate action in order to improve all these 12 pillars," he emphasised.

Highlighting that there was "no coordination" between the bureaucrats and businesses, he urged the Government to put the two sectors into a lab, much like the Malaysian model, and allow them to focus for six months, during which time they could make decisions on a priority basis and at the end of the six-month period they could come up with a document to implement over the next five years. (CD)
Wijewardena suggests Rs. 1 m salary scheme for Ministers
Senior economist W.A. Wijewardena said Parliamentarians should be given a "decent salary" of Rs. 1 million, pointing out that the present perk system of giving a host of allowances cost the public much more, possibly up to Rs. 6 million per minister.

"At present the salary of a Minister is at Rs. 75,000 and they portray that they are doing an honorary service to the citizens of this country.

However, unknown to us, there are all kinds of hidden benefits which Ministers are enjoying. We are in serious trouble; we have to cut down these perks of the Ministers," the former Central Bank Deputy Governor added.

He said that paying Rs. 1 million per month was always better than spending Rs. 6 million per month.

According to Wijewardena's calculations, the monthly cost of a Minister to the Sri Lankan taxpayers was around Rs. 6 million, which comes to around Rs. 72 million per annum. "If there are 100 ministers the amount will come to Rs. 720 million. The larger the Cabinet, the larger the money the citizens will have to pay. It is a crucial issue."

Referring to the late Singaporean Prime Minister Lee Kuan Yew's famous saying 'If you pay peanuts, you get monkeys,' he suggested that President Maithripala Sirisena and Prime Minister Ranil Wickremesinghe should announce this decision on national television before presenting Budget 2017.