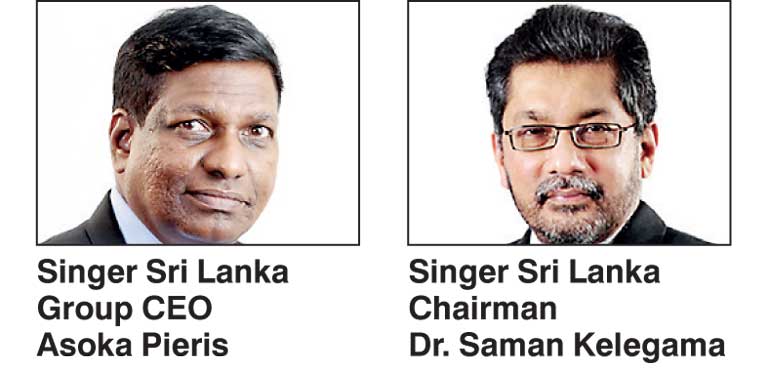 Singer Sri Lanka continued its 2015 aggressive growth agenda, posting impressive third quarter results as Group revenue increased by 34% during the period. Year-to-date revenue reached Rs. 27.1 billion, registering a growth of 30% from the previous year.

Contributing significantly to the dominant revenue and profit results were a range of initiatives and expansion plans conducted by the Group.
These included the establishing of new shops, dealers and channels of distribution, improving and renovating shops, securing new brands and distributorships and the introduction of new products.

A favourable improvement in the local business environment during the first nine months bodes well for the Group. However, the company remains optimistic that the sharp 5% devaluation of the rupee seen in September and marginal increase in interest rates will not affect growth prospects.

Group net profit for the first nine months reached Rs. 830.8 million, surging 63% in comparison to the previous year. Company net profit grew to Rs. 578.2 million, an increase of 61% against the same period a year ago.

Singer Sri Lanka Group CEO Asoka Pieris struck a cautious note: "We have a marked increase of profits in 2015 over that of 2014 and 2013. However, we need to be mindful our profit is still 6% below 2012, which was the highest profit recorded at end-September."

Pieris added: "during the third quarter, net profit is below the prevision year. However, the previous year third quarter had a reversal of provisions created in first and second quarters for possible liabilities. If the impact of this reversal is discounted, profits for this third quarter will be substantially above prior year."

Sparking revenue growth was the Communication and the Digital Media segment which grew 78% and has become the second highest segment surpassing the Consumer Electronics and Sewing category.

All other segments also witnessed remarkable growth; Agro segment grew 43%, Kitchen related products and White goods 31% and 29% respectively, Sewing products 26%, Furniture 24% and Electronics 12%.

The company's new subsidiary Singer Digital Media Ltd. specialising in the sale of mobile phones and computers to the trade channel reported revenue to external parties of Rs. 2,304 million.

The Company's public listed subsidiary Singer Finance (Lanka) PLC reported a 4% revenue increase and 42% net profit growth for the first nine months of 2015. Despite noteworthy growth in business volumes, the reduction in lending rates has contributed to low revenue. However, a corresponding reduction in borrowing rates led to a growth in net income.

The company remains well positioned to deliver strong growth in its respective product categories and assume an even more dominant industry position in the final quarter of 2015.