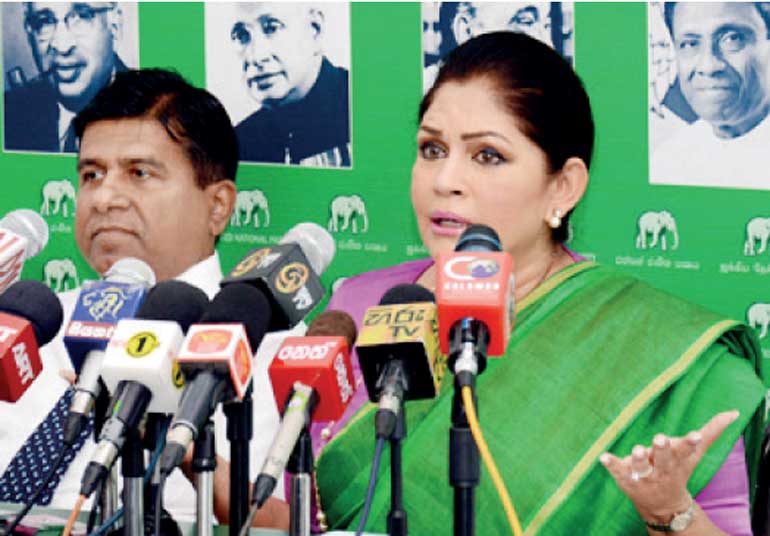 State Minister of Child Affairs Rosy Senanayake and Minister of Justice Wijeyasada Rajapakshe addressing the media briefing at Sirikotha

– Pic by Ishanka Sunimal
By Chamodi Gunawardana

The United National Party (UNP) yesterday challenged former President Mahinda Rajapaksa to expose the names of the wrongdoers he had previously admitted were engaged in fraud and other crimes during his tenure in office.

"Former President Rajapaksa had said several times in election meetings that he had uncovered some offenders who engaged in fraud and crime under his regime. We challenge Rajapaksa to reveal those namesbefore the UPFA hands over its nominations," Senanayake asserted.

However, she added that the UNP had already accumulated sufficient evidence to prove their charges of corruption against the previous regime despite alleged attempts by Rajapaksa loyalists to bury such evidence.


"The Rajapaksas tried to hide evidence of their fraud and corruption, however we have already foundthem all. We believe that Rajapaksa cannot be the next prime minister. The UNP will not let him," Senanayake asserted.

Meanwhile, commenting on the state of "so-called Rajapaksa development projects" launched under the previous regime, Senanayake claimed that such projects had failed to bring any meaningful benefit to the country, with many being a burden to public coffers.

"Former President Rajapaksa is always highlighting his development projects.Actually it is not true development. All those projects are running up losses and the general public has to pay those losses with their taxes," she argued.

Senanayake cited losses of Rajapaksa's namesake airport and port in the Hambantota region, which she claimed had generated losses of Rs. 7 trillion and Rs. 19 trillion respectively before deriding Rajapaksa for the performance of Mihin Lanka, the Uma Oya Development Project and the Norochcholai Power Plant.

Meanwhile, shifting gears to focus on political issues,Senanayake charged that concepts of justice and fairness had taken a backseat during the Rajapaksa years.

"A large number of rape cases and murders occurred under the previous regime.However, the wrongdoers were never properly punished. Because those were the days when there was no space for justice and the fairness," she stated.

Meanwhile, Minister of Justice WijeyadasaRajapakshealleged that Mahinda Rajapaksa's attempts at a re-entry into the Sri Lankan political sphere were merely an attempt to regain sufficient power to cover up the misdeeds of this regime.

"Rajapaksa does not want to save the country or develop it. He just wants come back in order to hide his fraud and corruption and continue it. Since he has done this he will not hereafter be able to obtain the respect which a retired presidentusually receives from the people,"Rajapaksheclaimed.

He went on to criticise the UPFA for providing nominations to candidates whom he alleged had engaged in fraud during their time in office and vowed that the UNP would not allow such politicians to secure victory at upcoming 17 August polls.

"The UNP has already proved that we could do anything that a majority government could. We expect to create a majority government after the upcoming election and we believe that President Maithripala Sirisena will guide the next election in a fair and unbiased manner," Rajapakshestressed.
UNP accuses DEW of violating Parliamentaryprocedure
The United National Party (UNP) yesterday alleged that Committee on Public Enterprises (COPE) Chairman and MP D.E.W. Gunesekerahad violated Parliamentary tradition by issuing anincomplete interim report regarding the Central Bank Treasury Bond issue.

Minister of Justice WijeyadasaRajapaksheaccused Gunesekera of failing to follow proper procedure in attempting to pass the interim report.

"According to the Parliamentary procedure, the COPE subcommittee cannot hand over an interim report to the Parliament. However Gunesekera suddenly called a meeting and tried to pass new interim report regarding Central Bank Treasury bond issue. He wanted to hand it over to the Parliament before dissolution. It was contrary to the established procedures,"he stated.