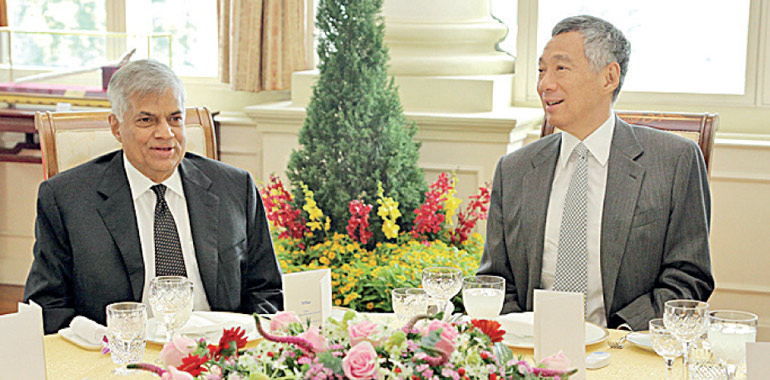 Sri Lankan Prime Minister Ranil Wickremesinghe with Prime Minister of Singapore Lee Hsien Loong
Sri Lankan Prime Minister Ranil Wickremesinghe and his Singaporean counterpart Lee Hsien Loong on Friday discussed further means of promoting bilateral cooperation between the two countries during a meeting at the Istana, the PM's Office said.

During his visit, the Prime Minister also met with several key ministers of Singapore, including Tharman Shanmugaratnam, Deputy Prime Minister and Coordinating Minister for Economic and Social Policies, K. Shanmugam, Minister for Home Affairs and Law, Vivian Balakrishnan, Minister for Foreign Affairs, S. Iswaran, Minister for Trade and Industry and Heng Swee Keat, Minister for Finance.

The Prime Minister's visit aims to obtain support and funding from Singapore for the proposed development program to be implemented in Sri Lanka.
The visit is expected to attract Singaporean investors to participate in the economic revolution carried out in Sri Lanka, according to the Government Information Department.

PM Wickremesinghe was accompanied by Minister of Development Strategies and International Trade Malik Samarawickrema, Secretary to the Prime Minister Saman Ekanayake, Governor of the Central Bank Arjuna Mahendran, High Commissioner-Designate of Sri Lanka to Singapore Nimal Weeraratne, and Acting High Commissioner Wishwanath Aponsu.