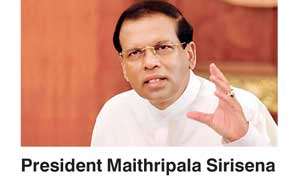 President Maithripala Sirisena stressed that he will not allow politicians or public officials to hide behind the label of "Yahapalana" and commit bad acts.

The President said if everyone in the government does not work according to their conscience, the public would lose hope they placed in the government and all the politicians and other officials in the government therefore should commit themselves to make the concepts of good governance and reconciliation successful to lead the country to victory overcoming the challenges.

The President said it was the responsibility of all politicians to safeguard the good governance concept and requested politicians and state officials to act in a manner that the people can continue to place their trust in the good governance government.

President Sirisena made these remarks on Friday speaking at a special seminar at the BMICH on the theme of "Development Challenges of Sri Lanka".

The President promised to establish an impartial and neutral corporate structure to address the pressure on public officials and to hear their grievances.

Pointing out that while the politicians misbehave they cannot point the finger at state officials, the President said politicians have to provide the first example to build a prosperous country protecting the good governance concept based on discipline and capability.

The President further told the officials said that what needs to be done today to get the country out of the economic slump is not to point fingers at each other but to carry out the work undertaken and fulfill their responsibilities to the people and the country.

The Governor of the Central Bank Dr. Indrajit Coomaraswamy delivering the keynote speech at the seminar pointed out that the government's target is to increase the current foreign investments five-fold.

The Governor further said that he will work to liberate the country from the current economic challenges by utilising the current government's friendly foreign policy to enter into new international trade agreements to improve exports and increase investments.

Attorney General Jayantha Jayasuriya spoke at the seminar on the theme of "The role of state official in overcoming development challenges within the current legal structure".

Prime Minister Ranil Wickremesinghe, Ministers, parliamentarians and state officials also participated on the occasion.