President Maithripala Sirisena, Prime Minister Ranil Wickremesinghe, Finance Minister Ravi Karunanayake and Foreign Minister Mangala Samaraweera, who are the top policymakers of the Government, will address the Sri Lanka Economic Summit 2015, the countries topmost economic forum next month.

Apart from them, Deputy Minister of Policy Planning and Economic Affairs Dr. Harsha De Silva and Deputy Minister of Highways and Investment Promotion Eran Wickremaratne are also expected to take the stage during the upcoming summit, which is to be held on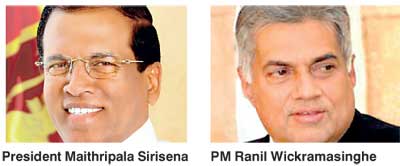 4 and 5 August at the Cinnamon Grand Hotel in Colombo, under the title of 'Towards Exports of US$ 50 billion'.

The two-day top forum will consists of eight sessions, covering the most important economic sectors of the country with Government policy makers, top economists, sector based professionals, both from the public and the private sector, political leaders and academics joining as resource persons.

The planned eight sessions will focus on areas such as 'National Vision: Policy Implementation and Perspective,' 'A New Global Economic Strategy for Sri Lanka', 'Driving Exports – Use of Social Media and Technology', 'Challenges In and Opportunities For Financing of Exports', 'Championing Value Addition in Agri Exports', 'Sustainability Led Export Growth', 'Going Up the Value Chain – Export of Knowledge Services' and will conclude with a CEO's forum.