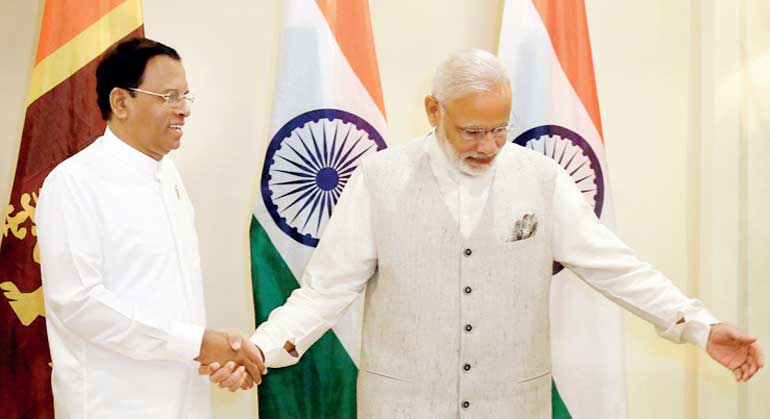 Indian Premier Narendra Modi gestures to President Maithripala Sirisena during their meeting in Goa, India yesterday
​President Maithripala Sirisena who is in India to participate at the BRICS Outreach Summit held bilateral discussions with the Indian Premier Narendra Modi at the Taj Exotica Hotel in Goa yesterday (16).

Prime Minister Modi who warmly welcomed President Sirisena stated that the President's participation at the BRICS Outreach Summit is a great strength for him, for India and also for the entire BIMSTEC region.

He further stated that Sri Lanka has a significant role in the South Asian Region at the moment. "I invite Sri Lanka for a deep relationship beyond the agreements and regulations", he said.

President Sirisena thanked the Indian Premier for his invitation to the BRICS Outreach Summit. "This strengthens the long friendship between Sri Lanka and India," he stated. He also recalled the assistance India provided Sri Lanka whenever the country has been in difficult situations.

A Reuters report said Indian Prime Minister Narendra Modi on Sunday held bilateral talks with Sri Lankan President Maithripala Sirisena in the western resort state of Goa, on the sidelines of the Bay of Bengal Initiative for Multisectoral Technical and Economic Cooperation (BIMSTEC) Summit.

"Early morning bilaterals to begin a packed day of diplomacy. PM @narendramodi meets President @MaithripalaS of Sri Lanka for 1st engagement," tweeted spokesperson of India's foreign ministry, Vikas Swarup.

The details of discussions between the two leaders were not immediately known.

Sirisena participated in the BRICS-BIMSTEC Summit later in the day.

For summit host Modi, the gathering of leaders from Brazil, Russia, India, China and South Africa and BIMSTEC offers an opportunity to highlight the threat he sees to Indian security from recent frontier clashes with Pakistan.

The final BRICS summit declaration is expected to repeat earlier condemnations of "terrorism in all its forms", said diplomats and analysts, but avoid levelling blame over tensions between the nuclear-armed South Asian rivals.

Such discussions will make security a dominant issue at the eighth annual summit of the group, even as leaders also address core themes such as the global economy, financial cooperation and mutual trade.

India is Sri Lanka's largest trading partner and the South Asian neighbours are considering a broader trade agreement as Sirisena's Government tilts towards New Delhi after his predecessor pursued a pro-China policy.

The BIMSTEC is group of seven nations of South and South-East Asia comprising Bangladesh, Bhutan, India, Myanmar, Nepal, Sri Lanka and Thailand. It was established in 1997.