Prime Minister Ranil Wickremesinghe yesterday revealed that the Government planned to privatise loss-making State enterprises through the stock market.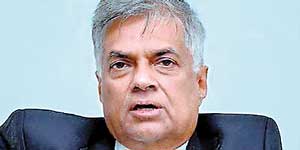 "We are unable to continue paying off the debts of the Hambantota Port and the Mattala Airport while all efforts have been taken to keep SriLankan Airlines from winding up," the Prime Minister said.

Listing the reasons that compelled the Government to restructure loss-making enterprises, the Prime Minister said: "Most State corporations are loss-making or generate low profits. On the other hand, the heavy debt burden prevents the country from moving forward.

There were no proper reports available when Budget 2016 was prepared. The previous Government obtained loans using State enterprises and those loans were not included on the national debt list. According to current reports there is Rs. 1,358 billion worth of debt accumulated by State enterprises which is not included in national debt reports. There is a long list, which includes the Rs. 424 billion owed by the Ceylon Petroleum Corporation, Rs. 240 billion owed by the Ports Authority, Rs. 308 billion owed by SriLankan Airlines and Rs. 236 billion owed by the Ceylon Electricity Board," he said.

"Privatising loss-making institutions will help secure jobs and prevent these institutions from becoming a burden on the public. The privatisation process will be transparent and beneficial for the Government. We have purposefully-established State enterprises as well as those that are not. Hyatt and LHCL are enterprises that were not built with a purpose but are mostly a burden to Sri Lanka Insurance. Paying the Mattala loan is a big burden and we don't have the ability to bring one million passengers to this airport every year. The Port is also a problem. The Port alone will not make it viable. Vehicles are now unloaded at Hambantota Port and an additional cost of Rs. 20,000 is charged to bring these vehicles to Colombo. This Port may have to close if we prevent vehicles from being unloaded at Mattala. We are trying to save SriLankan Airlines without closing it. If we continue to keep the A340 Airbus we will have to continue paying for it without any income. We will not be able to use the oil tanks in Trincomalee. The market dynamics are different," he added. (AH)
---
Sri Lanka to ground ex-president's 'vanity airline' Mihin
​
AFP: Sri Lanka will scrap an airline set up by the country's strongman former president and widely seen as a vanity project, with the national carrier set to take over its routes, an official said Wednesday.

Budget carrier Mihin Lanka was founded by Mahinda Rajapaksa in 2007 but operated at a huge loss.

SriLankan airlines chairman Ajith Dias said the flag carrier would cover flights to all destinations serviced by the airline, which officials said had accumulated losses of $117 million. "By the end of the year, there will be no Mihin Lanka and we (SriLankan airlines) will be servicing the routes they operated," Dias said in Colombo at the opening of a new call centre for the national carrier.

Mihin, which operates four Airbus aircraft to several Indian cities as well as Bangladesh, Indonesia, the Seychelles, the Maldives and Bahrain, is expected to cease flying by the end of 2016.

The former president launched Mihin to compete with SriLankan airlines, which was then part-owned and managed by Dubai's Emirates airline, amid personal disagreements with the national carrier's managers.

The Emirates deal was cancelled in 2008 after SriLankan refused to bump fare-paying business-class passengers to economy and give their seats to members of Rajapaksa's family, who were returning from London.

A furious Rajapaksa removed the Emirates-appointed CEO of SriLankan from his post and replaced him with his brother-in-law.

SriLankan airlines has also sunk into the red since the Emirates deal ended, with an estimated debt of $3.2 billion.

Other vanity projects launched by the former president include an international airport in his constituency in the island's south. It is widely regarded as a white elephant, with only one airline using it.

An investigation is underway into a $2.3 billion deal to buy Airbus aircraft during Rajapaksa's presidency over graft allegations.

The mounting debt crisis at SriLankan has forced the government to seek international partners to inject capital and manage the airline.